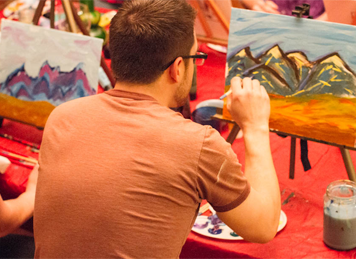 They say marijuana can unleash your creativity — but if you're a certain type of stoner, it's hard to resist the temptation to just re-watch old episodes of Sex and the City for the billionth time.
But, if you can surround yourself with people with similar interests — namely getting high and painting things — you'd be surprised what you can accomplish.
That's kind of the idea behind
Puff, Pass, and Paint: a collection of cannabis-friendly art lessons
.
Denver-based artist Heidi Keyes founded Puff, Pass, and Paint in 2014, and has since expanded to Washington, D.C., Portland, Las Vegas, and other cities. As of January of this year, you can now find her classes in Oakland and San Francisco.
The format is familiar to anyone who's taken one of those "paint and sip" classes: You gather for a few hours with other imbibers to paint a mountain landscape or some other scene, only instead of downing a bottle of wine, you're taking hits of a joint.
Puff, Pass, Paint provides all the art supplies, but it's BYOC: You can't buy weed there, but you're welcome to bring whatever you want.
"Some people are cannabis connoisseurs, some people are beginners, some people are smoking for the first time," Keyes said of her students.
"And it's the same with making art, as well: Some people paint regularly, and some people say they haven't painted since grade school, or ever."
Local classes started small, with 20 or so people participating in one of a handful of courses a month. Then, the wait list started to grow.
"I always want to make sure that everybody who wants to legally consume cannabis and make art is able to," Keyes said.
So, starting in April, she added more classes — and more variety. If painting's not your thing, there are pottery and cooking classes now, too.
For first timers, Keyes recommends wearing clothes you don't mind getting dirty. It's also important to be aware of your cannabis limits; "start low, go slow," she says.
"This isn't about making a masterpiece," Keyes explained. "It's about doing something creative, laughing with friends and strangers, passing joints, and celebrating being able to consume cannabis legally."
Learn more at PuffPassAndPaint.com.