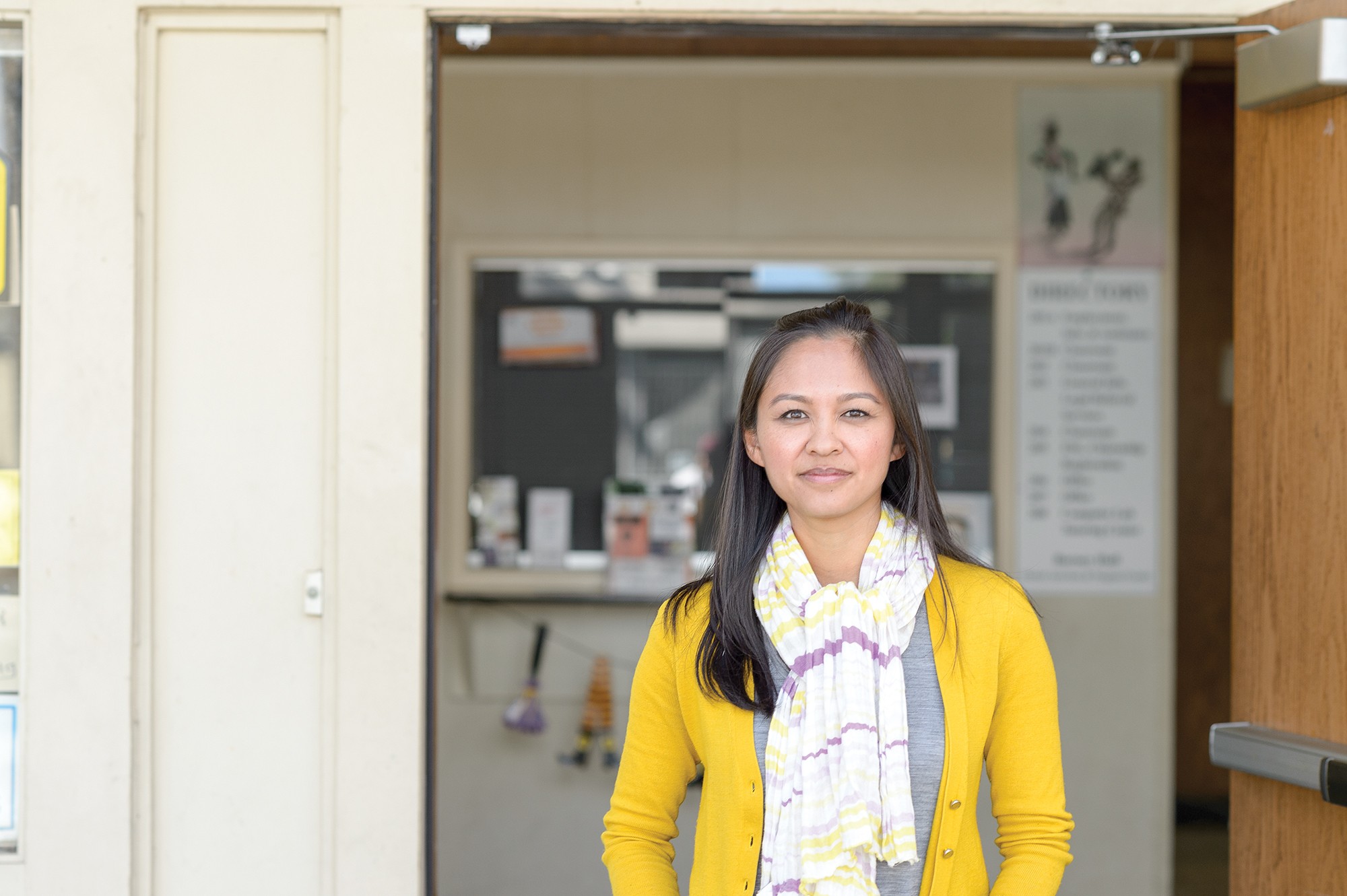 In the middle of Eastlake's Clinton Park, surrounded by pho restaurants and boba shops, sits the Vietnamese American Community Center of the East Bay. It's a place where Vietnamese immigrants and refugees frequent for support — and it's just a few blocks from where the Oakland A's want to build a 35,000-seat ballpark.
Program manager Thao Dang Weldy is worried about how the stadium might impact the neighborhood's small business owners. In the short term, construction may block access to storefronts and parking. In the long term, rents could rise, leading to widespread displacement.
"I feel like it's our imperative to make sure [small business owners] are given a voice, because they're out working," Dang Weldy said. "They're trying to support their families and become more self-sufficient in future generations."
People of color and immigrants dominate the Eastlake neighborhood. The 94606 zip code, which includes Eastlake, is 42 percent Asian, according to 2010 census data. Among the Asian population, 58 percent is Chinese and 20 percent is Vietnamese. Many of the businesses in Eastlake specifically cater to these communities. There are small markets, florists, a dentist, a seamstress, and an immigration law office, for example, with many employees who don't speak English. If development rolls in and property prices skyrocket, there's a fear that these small businesses could lose their clientele and be forced to leave as well.
"If you go to lunch around here, I'd say 80 to 90 percent of the patrons are Vietnamese," Dang Weldy said. "If the Vietnamese residents aren't able to live here and eat here, I think it'd be possibly to the detriment of the business owners."
The Express visited or called 20 Southeast Asian-owned businesses in the greater Eastlake area. Many business owners hadn't heard about the ballpark. Others declined to speak, stating they had no opinion. Some of those who did, however, expressed hope.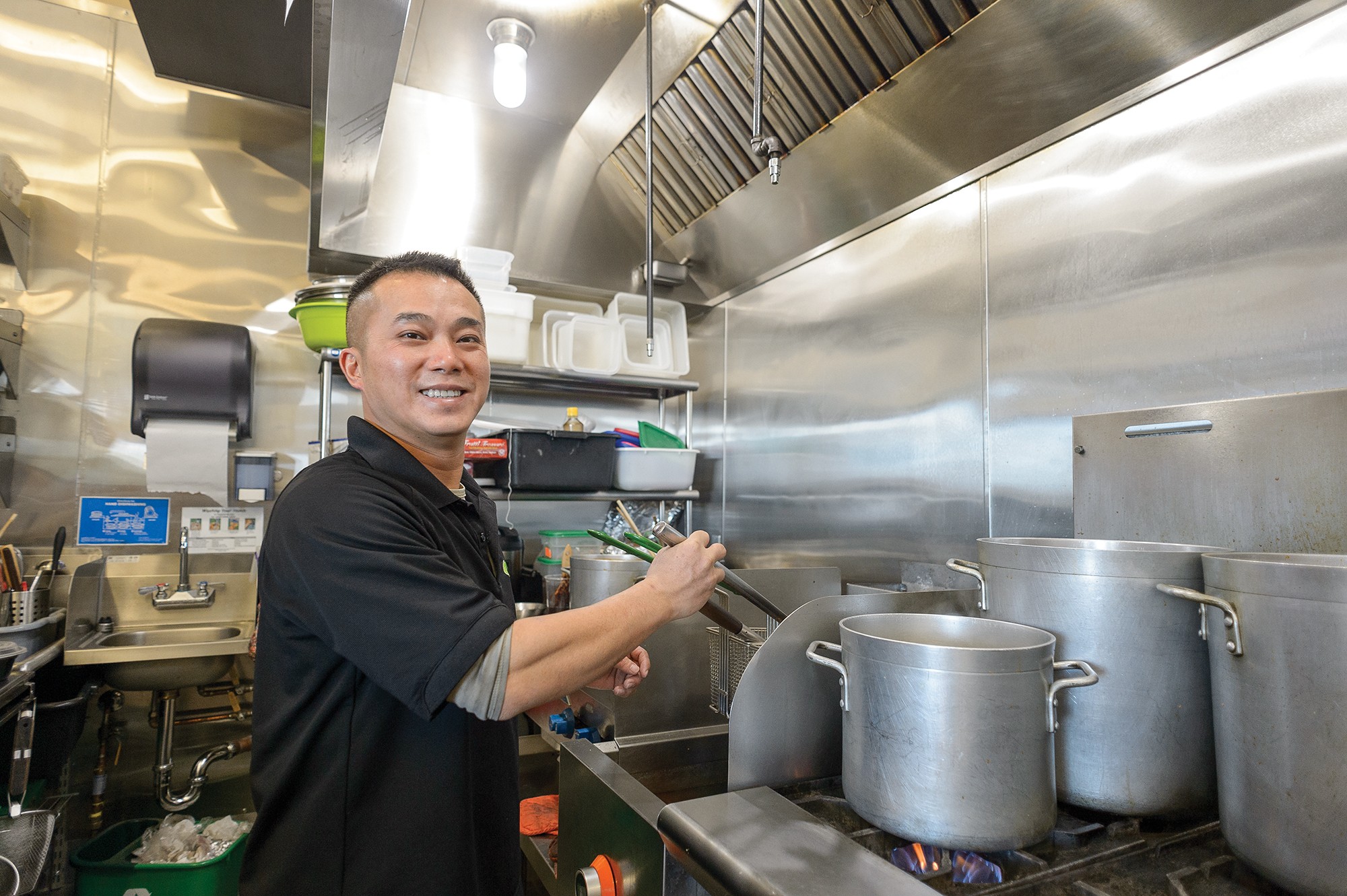 "It can make the city more clean, less homeless," said Puan Tran, an owner of Mien Tay Restaurant, the Vietnamese spot on 15th Avenue near International Boulevard. "Nothing has changed all these years."
He's not too worried about Mien Tay's rent rising — that's just an inherent risk in operating a business in Oakland, he said.
"It's not a good or bad thing," Tran said. "We're just looking for an opportunity to grow our business."
Over in Chinatown, the main concerns among business owners are displacement and increased traffic.
Andy Chan's Bay City Auto has sat on the corner of Oak and 6th streets since 1999. His rent has steadily increased over the years, but he's worried the A's stadium would raise it considerably higher and faster. To start over at a new location would be prohibitively expensive, he said.
More congestion on the road would also throw a very specific wrinkle into his business operations, since Chan constantly needs to drive clients' cars to determine what needs repairing. "Right now, after 3 p.m., we can't even road test the cars. It takes an hour to go around," he said. "If they have a game during the day, we probably can't do business."
The traffic is also a major concern for Alicia Wong, owner of the Fortune Cookie Factory, which has been run by the same family in Chinatown for more than 50 years. The factory crafts cookies for special events, and deliveries comprise 60 percent of its business.
"Traffic equals less stops, less product, less profit," Wong said.  
Wong also doubts the stadium will bring in more business to Chinatown's existing mom-and-pops because they cater to different populations, and she worries the increased crowds would actively discourage Chinatown locals from patronizing their usual businesses on game days.
"The demographics aren't really applicable to smaller businesses [in Chinatown]," she said. "It's just going to impact and inconvenience community members who live and work here."
The Oakland chambers of commerce and other business leaders have come out in support of the A's stadium, including the unofficial mayor of Chinatown, Carl Chan, with eyes set on increased foot traffic and job creation. Wong isn't so sure this applies to many of the current businesses in Chinatown.
"When you see a concert or a game, you're not really thinking about checking out the other businesses nearby," she said. "No one is gonna stop by the Fortune Cookie Factory on the way home. They're going to try to beat the traffic and leave early."
According to Jennifer Tran (no relation to Puan Tran), a board member with Oakland's Vietnamese Chamber of Commerce, the chambers are supportive of the A's under the assumption that a series of criteria will be met. The chambers are still crafting a joint statement on these criteria, but Jennifer Tran expects it to include transparency, "genuine community engagement," a racial and economic impact assessment, and promises for affordable housing and business improvement districts. She emphasized that this is not all on the A's, though.
"The city needs to do its part to manage revenues so they're equally and equitably distributed," she said. "We all want the same thing, and that's for Oakland to be prosperous and for folks of color to have equal access to services."
But Dang Weldy and other community members said they're not sure the city always has the Asian-Pacific Islander (API) community's best interests in mind. "Traditionally, Asians — folks from the Chinatown and Eastlake neighborhoods — are at a disadvantage because there are not as many politicians that are speaking out for our concerns," she said.
Jennifer Tran is a self-described optimist, though, and sees the A's' move as an opportunity to enact positive change in these neighborhoods — and keep history from repeating itself. "This is the first time we have API leaders — immigrants, former refugees — saying, 'This time, it's going to be different.' It's a different time," she said. "They're used to being invited to the table but not necessarily eating at the table, making the decisions. We don't want to be invited as guests but as equals."
If the A's do wind up moving to the Laney College site, Dang Weldy said she hopes Eastlake won't lose its distinctive Southeast Asian culture. "We need to make sure there is some kind of funding in place for cultural maintenance of the area … so that it does feel like a community and not just a corporate village environment, which is what I'm afraid it's gonna turn into," she said.
Similarly, business owners in Chinatown already see more non-Chinese businesses opening in the area every year. If the A's move in? "I don't know if Chinatown will still exist," Andy Chan said.
Jennifer Tran, who was raised in Eastlake, said the chambers might advocate for some cultural protections for these neighborhoods, but she's also wary of the idea of "preserving a monolithic identity."
In her view, the best-case scenario is that the A's, the city, community organizations, and business owners all band together. The worst-case scenario is that folks stay divided on the issue while the A's agree to the chambers' demands but don't wind up following through on them.
"When I take off the chamber hat, I am concerned that if this decision passes it might be business as usual, because historically, these big moves have irreversible consequences for communities of color," she said.
"I'm optimistic about the conversations, the process, the partnerships. That doesn't necessarily mean we don't need to work with the Oakland A's in order to materialize what our communities desire so we can have longevity," Jennifer Tran went on. "How can we turn this opportunity into an exceptional case study?"