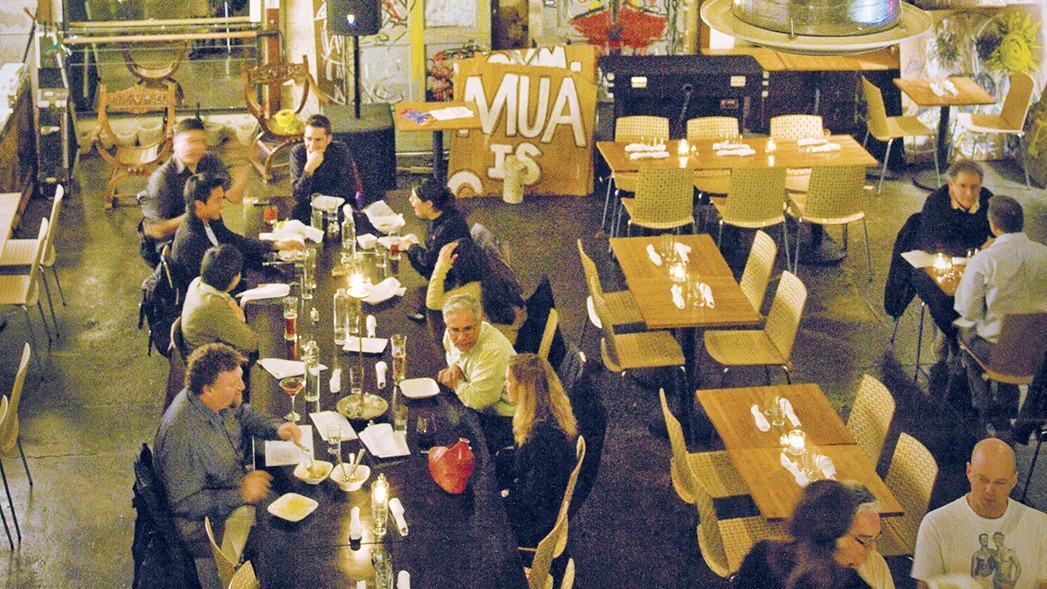 There's a lot to like about the holidays — but the best part, at least for me, is getting together with family and friends and eating gut-busting amounts of decadent food. But it can be hard to organize such gatherings, especially if you're not much of a cook or you just don't have the space to host all your friends and relatives at once. Take a look at these East Bay restaurants, which all have private dining areas you can reserve for your group. (Note that since many of these restaurants rely on seasonal ingredients, menu items listed may change.)

A16
If your family's tastes tend toward the Italian end of the spectrum, look no further than A16. The pizza is the real deal — A16 is the only restaurant in the East Bay to be certified by the Associazione Verace Pizza Napoletana, which sets out strict standards for "real" Neapolitan-style pizza. With varieties like margherita, marinara, funghi, salsiccia, and more, there's bound to be something to satisfy each member of your family. You can also choose from a wide range of primi; a recent menu featured items like Marin Miyagi oysters, Neapolitan tripe, and farro and beet salad. Or choose from mains like uni bucatini, lemon ricotta gnocchi, or a braised half chicken with apricots, fennel, garlic, and mustard greens. There's also a cocktail menu and a wine list, featuring the wines of Campania and nearby regions. And on top of all that, the recently renovated private dining room, featuring whimsical mermaid paintings by local artist Kelly Tunstall, can seat up to 40 people.
5356 College Ave., Oakland, 510-768-8003, A16Pizza.com
East Ocean Seafood Restaurant
While a lot of people are familiar with East Ocean's dim sum, insiders know that the Alameda restaurant is also a great place for a family banquet. The prix-fixe banquet menus include items like vanilla honey walnut prawns, twin lobsters cooked with ginger and scallions, twin roasted squabs, Peking duck, and live black bass. But my personal favorite is the smoked black cod, a flaky, rich, oily fillet, which gets its deep red color from sweet cha siu sauce and has just the right amount of char at the edges. Owner Millie Low is happy to work with families to create custom banquet menus according to your budget. It's an ideal pick for large families; according to East Ocean's website, the bright, no-frills private dining room complete with round tables and lazy Susans can seat up to 120 guests.
1713 Webster St., Alameda, 510-865-3381, EastOceanSeafoodRestaurant.com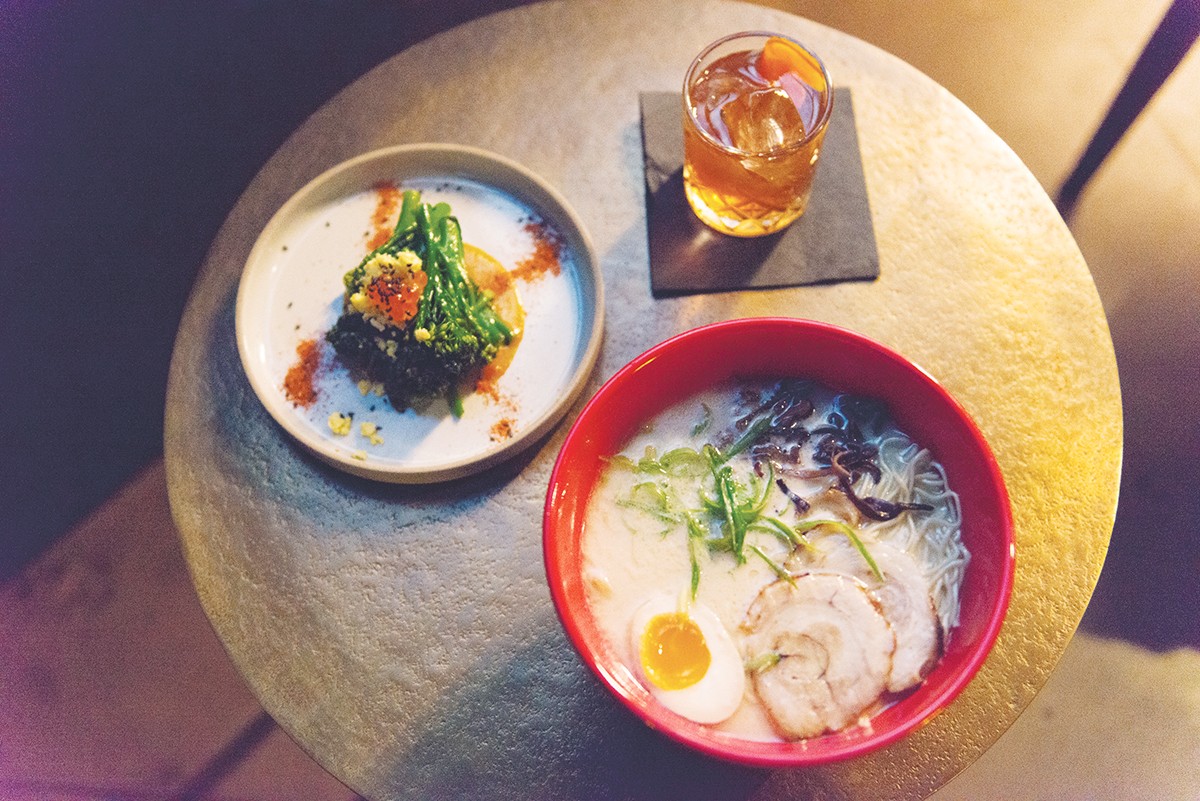 Shinmai
Shinmai is a modern and sleek izakaya and ramen spot, located on a burgeoning section of San Pablo Avenue in Oakland. Shinmai is best known for its ramen, which comes in tonkotsu, shoyu, and vegetarian varieties. The menu also includes some raw fish items, like ocean trout and hamachi; some izakaya items like chicken karaage and Brussels sprouts with pear, bacon, and soy vinaigrette; and some grilled items like soy-glazed shishito peppers with yuzu aioli and sesame. There's even a list of Japanese-inspired cocktails, made with ingredients like Kikori rice whisky, Yuzuri liqueur, and the house shochu blend. There's also a sake list, along with a selection of unique Japanese beers — and let's face it, most family dinners need some sort of booze. The private room can seat up to 24 guests.
1825-3 San Pablo Ave., Oakland, 510-271-1888, ShinmaiOakland.com
Henry's
Maybe a burger and fries are more your family's style. Henry's, the restaurant located inside the Graduate Hotel in Berkeley, recently got both a renovation and a culinary makeover thanks to chef Chris Kronner of Kronnerburger fame. The burgers are served on a Tartine sweet potato bun with pickles, onions, lettuce, and Henry's sauce. You can even add bone marrow to your burger for an extravagant treat. Aside from burgers, Henry's is also known for its Parisian gnocchi, made from choux pastry dough rather than potatoes, and offers a wide variety of Californian fare. The Durant Room can seat up to 50 people, and blends modern décor with old-school details, like curved window booth seats that let in plenty of natural light.
2600 Durant Ave., Berkeley, 510-809-4132, GraduateHotels.com/Berkeley/Restaurant/Henrys
Mua
Industrial, hip Mua brought upscale dining to this section of Oakland's Auto Row when it opened in 2008. It's an expansive, multi-level space located inside what used to be a rim and wheel shop, with eclectic decorations. The menu is equally eclectic, but that's not a bad thing when you're looking to please a large group. You can choose from one of its prix-fixe group menus or work with staff to create a personalized menu for your party. There are plenty of small plates, which are ideal for sharing, including pressed watermelon with feta, olive oil, and pine nuts; asparagus salad with potato, grapefruit, and grain mustard; and bone marrow toast. If you're looking to sneak vegetables into a picky kid's diet, look no further than the no cheese "mac and cheese," a cheese-less pasta made with cream and butternut squash. There are also larger main courses like duck confit, fried chicken, lamb tagine, and burgers. Round out the meal with one of the signature cocktails, like the Mua Negroni, made with junipero gin, Campari, and sweet vermouth. Best of all, there are plenty of private dining spaces available to accommodate groups of various sizes.
2442A Webster St., Oakland, 510-238-1100, MuaOakland.com
Paradiso Restaurant
Since 1996, Paradiso has been a destination for Italian cuisine in downtown San Leandro. The restaurant is a bit upscale with a hint of industrial flair, and bold paintings adorn the walls. Per the restaurant's group reservation policy, parties of 35 or more (or smaller, with a guaranteed minimum) can reserve the private back room and choose from a selection of options from the group prix-fixe menus. On the dinner menu, there are appetizers like a Caesar salad with garlic croutons, parmesan cheese, and anchovies; entrées such as filet mignon, cioppino, or Cabernet-braised short ribs with polenta; and desserts like tiramisu or crème brûlée. If you're considering a daytime gathering, there's also a weekday lunch prix-fixe menu and a weekend brunch prix-fixe menu with dishes like short rib hash, gruyere cheese-and-vegetable frittata, and Grand Marnier French toast.
685 Bancroft Ave., San Leandro, 510-430-9310, ParadisoSanLeandro.com