Pretty Penny, a popular vintage clothing store in Rockridge responsible for outfitting stylish women and men throughout the Bay Area, will close its doors on Sunday, Aug. 18, after nearly 13 years in business.
The well-curated but never inaccessible shop carried a large collection of vintage clothes, shoes, accessories, and jewelry from the 1940s to 1990s, as well as contemporary clothes and goods from local designers. During its decade-plus in the East Bay, Pretty Penny evolved from merely a buy/sell/trade shop into a community focused on inclusivity, body positivity, and a commitment to local culture.
Owner Sarah Dunbar has a particularly keen eye for style and what she described as "this real relationship with clothes." Everything in the store is thoughtfully curated for textile, fit, hanger appeal, and "translation through era," she said. You'll never feel like you're wearing something that "isn't you."
Dunbar opened Pretty Penny in 2006 using funds from a student loan. The store was one of the few vintage shops in the East Bay at the time.
"What I heard over and over and over again, through lots of tears, was that Pretty Penny was an introduction to vintage," Dunbar added. "It opened the door to people who were like, 'I'm too big,' or 'I don't have a chest' or 'vintage isn't for me.' It doesn't have to be a pin-up dress, you don't have to look like Twiggy, it doesn't have to be a costume. You find what makes you feel good."
Dunbar was born in San Jose, lived in Oakland for 20 years, and has a background as a vintage buyer — at Mars Mercantile in Berkeley and at the legendary Beacon's Closet in Williamsburg, Brooklyn. She founded Pretty Penny as a monthly pop-up inside her apartment on 42nd and Telegraph; when those monthly events became too popular, she moved the business to Berkeley and, a year later, to College Avenue in Oakland.
Pretty Penny was immediately successful for its excellent selection and easygoing vibe, offering a welcoming and affordable space for fashionistas, vintage fiends, and even those who aren't big shoppers. Pretty Penny's stock of high-end labels, European vintage, funky jewelry, and 1950s evening gowns helped shape East Bay fashion and became a focal point for other vintage shop owners.
Pretty Penny also bucked expectations of snobbery often associated with selling clothing. "My whole goal was always to make it feel like they were at their house, or their grandmother's house, or somewhere they felt very comfortable," said Dunbar. "I wanted to kill that misconception that people who work in vintage stores are 'too cool' or snotty."
In addition to having an art gallery for a time, Pretty Penny offered space to dozens of burgeoning local businesses. "So many businesses started out of pop-ups in Pretty Penny, and now people are doing their own thing," Dunbhar said.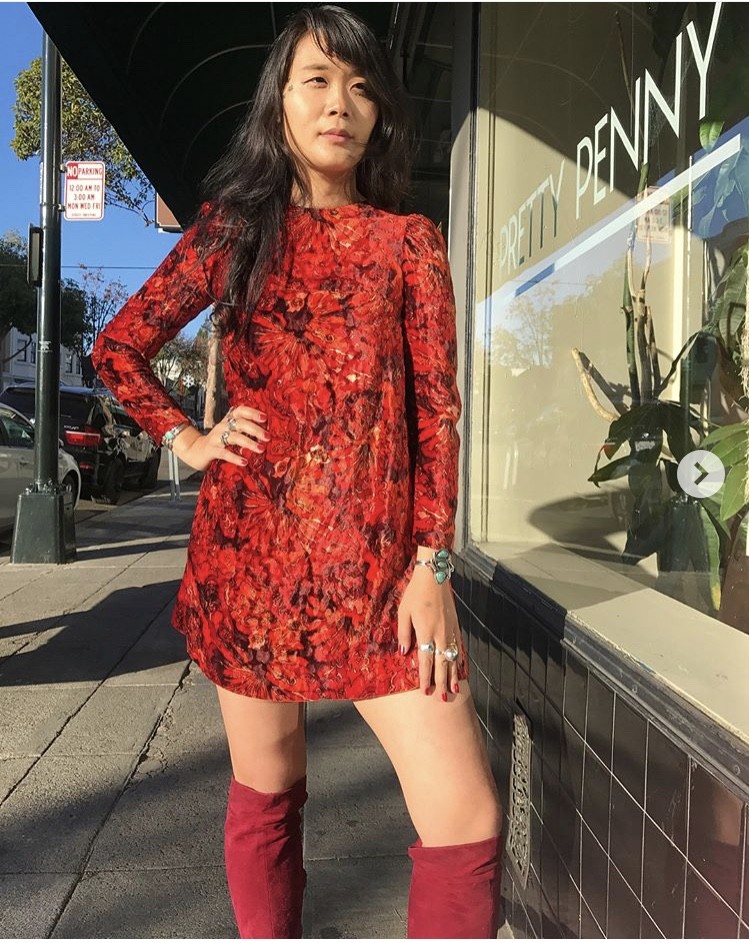 In 2012, the employees began an Instagram account that eventually attracted more than 31,400 followers. Beyond posting a lot of #OOTD inspiration and popularizing #cutecustomeralerts, the account also showcased Pretty Penny's political opinions.
Throughout the 2016 presidential election, family separations at the border, and overt racism in public discourse, Pretty Penny let its leanings be known – often with the hashtag #wearemorethanashopweareacommunity. "If you're given a platform, you have an obligation to use it," Dunbar said.
An Instagram post announcing Pretty Penny's closure garnered hundreds of comments expressing shock and happy memories. "Thank you for being such a magical and special place, I feel I grew up inside that storefront in so many ways. A delight for the senses and the heart," wrote Marina Weiner.
Oakland resident Claire Meyers wrote that she was "SUPER BUMMED" to lose Pretty Penny's "warm and friendly community."
"The first time I bought a Pretty Penny dress….I was hooked. As the years went by I bought many pieces," wrote Lea Willcox, a former Oakland resident who still shops Pretty Penny online. "Sarah gave me the opportunities to show my work in the art gallery above the shop (when it existed) and I made pieces for the fashion shows. Every experience I've had with PP made me feel good from buy[ing] to window shopping online to participating in events. Oakland will be missing a special spot, a special vibe. Nothing will fill that Rockridge space like PP did."
While Pretty Penny has hung on through continued gentrification in Oakland, Dunbar wasn't so fortunate. She was priced out of her home and moved to Washington state with her family in 2016. Dunbar commuted by plane and operated the store remotely with the help of a dedicated team of fashionable employees, led for many years by manager Delaney Gonzales.
While Dunbar had grown weary of running her business from out of state, the closure caught her and many others by surprise. Dunbar said the brick-and-mortar's closure is largely the result of mismanagement by new staff, and many customers treated the closure as loss, bringing comfort food and flowers.
"I knew how much people liked it, but I haven't been there that much physically to hear how deep it is. It's heartbreaking," Dunbar said, hchoking up. "The fact that it brought people so much joy was the whole intent of the entire thing."
Pretty Penny plans to rebrand and continue selling online, focusing on its curated collection and apothecary and home goods, with free shipping to Bay Area residents. Dunbar also plans to launch a podcast about the store's history, which will also offer tips to entrepreneurs. Pretty Penny will return to the Bay for pop-up vintage market A Current Affair on Nov. 3.