Simply put, Feed Me has been killin' it in the last couple years. I first caught wind of this British dubber from his release "Blood Red", which displayed his dark and heavy style in the embryo stages. Now, he has found his sound and evolved into a mean, bass-boostin' bad boy.
Quickly snagged by the Mau5trap, you can hear the mild influences from Deadmau5 and Skrillex in his samples and oscillations — if you ask me, he is takin' leads from all the right places.
His newest album, "Escape from Electric Mountain" brings some serious fire. He teams up with Gemini and Hadouken on a few tracks to only increase the complexities and craze that drops throughout these tunes. It's about a month old now, but nonetheless, I had to throw it up here just in case you have yet to hear it — 'cause if you haven't, you are surely missing out.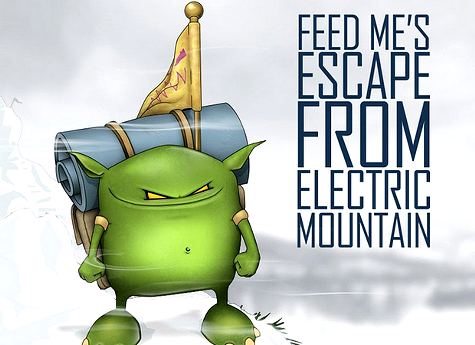 The first tune, "Trapdoor," brings the heavy from the get-go, and while the second track, "Relocation" seems a little outta place, once you hear the track that follows, it's quite clear that "Relocation" acts as a nice and tranquil segue into the heaters to come.
Feed Me definitely shows his versatility from start to finish, jumping up and down the tempo range — starting hard with some drumstep, keeping the pulse up with some electro house and heavy moombahton, then finishing with, of course, some raunchy dubstep.