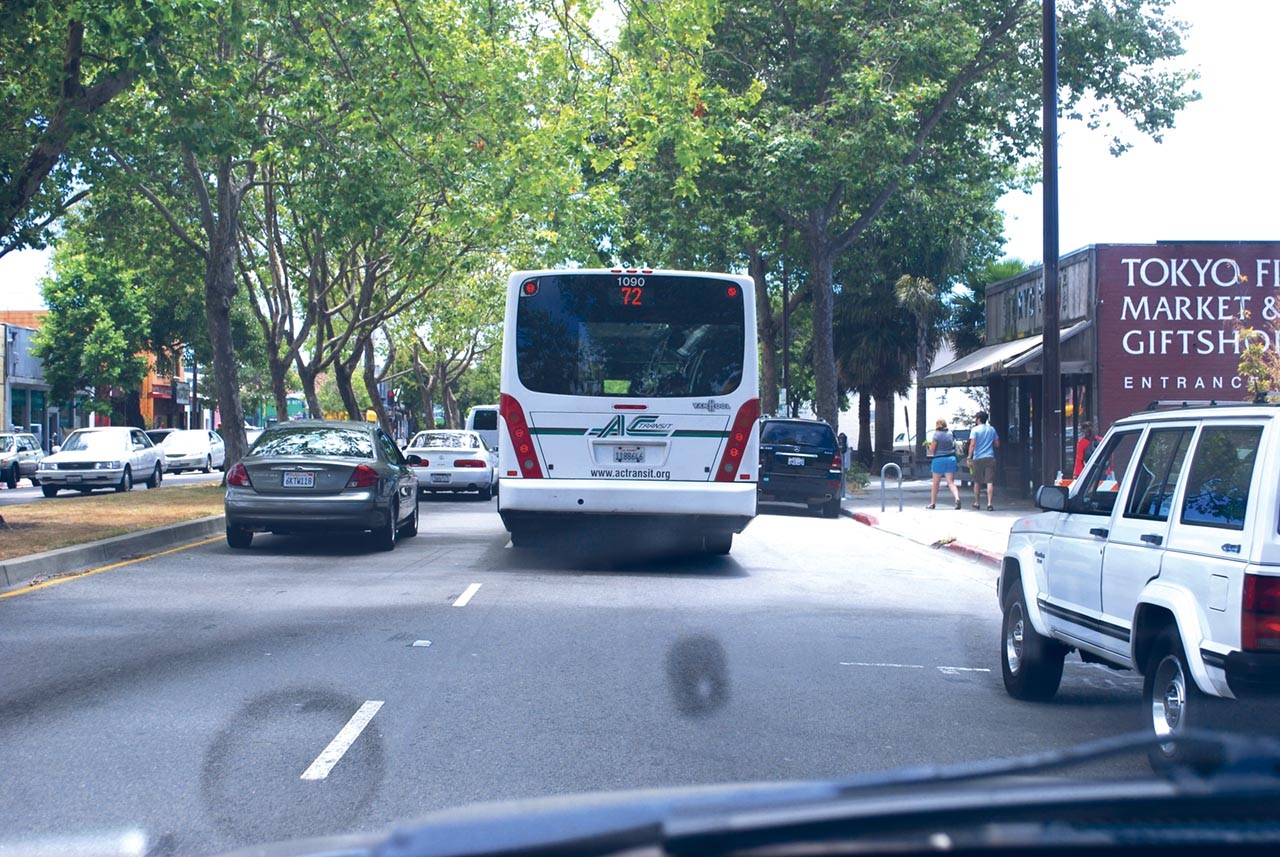 San Pablo Avenue is the oldest road in the East Bay, but the region it serves is no longer a one-horse town. A major project to redesign the corridor from downtown Oakland all the way to Hilltop Mall in Richmond is in its earliest phases. With overlapping jurisdictions and conflicting priorities along the way, it could be a bumpy ride.
As the Bay Area's population surges and traffic congestion hits catastrophic proportions, activists and transportation planners are hoping to reduce solo car trips and increase traffic safety to move more people, faster, without exacerbating climate change. While the project is in the early stages of feasibility studies, and most elements remain uncertain, it's clear that the vast majority of on-street parking will be on the chopping block.
The Alameda County Transportation Commission has issued a survey presenting three rough concepts of what that might look like: Option A would eliminate the most on-street parking and reduce auto traffic to one lane, while allotting the center lanes for buses only, and providing a protected bike lane along the curb. Option B retains the center-running bus lane and most of the parking, only eliminating parking on the northbound side during peak commute hours for an additional car lane. Option C is the closest to the status quo: it simply adds a protected bike lane along the curb, but preserves two traffic lanes for cars and buses to share. Under mixed traffic conditions, bus service would likely be as slow and unreliable as it is today.
Activists take issue with what they see as a false choice between protected bike lanes and bus lanes. "The discussion really should be about parking vs. everything else we want," said Chris Kidd, a transit planner and founding member of the advocacy group Transport Oakland.
The plan is likely headed in that direction, though the commission's Deputy Director of Planning and Policy Tess Lengyel explained that the three surveyed concepts weren't necessarily in conflict, and could be used to solve different problems on different stretches of San Pablo.
"It might be that we have one concept in part of the corridor and we transition to another concept, but there has to be as much consistency as possible," Lengyel said. "When people travel, they're not concerned about boundaries."
In collaboration with the Caltrans, AC Transit, the Contra Costa County Transportation Authority, and the various cities along the San Pablo corridor, the commission has begun to host community meetings to solicit feedback on the so-called San Pablo Avenue Corridor Project. It is the first major plan to emerge from a broader commission project finalized in 2016, the Alameda Countywide Multimodal Arterial Plan. That plan identified transit, pedestrians, and bicycles as the highest-priority transportation modes, above automobiles. Yet some observers say the emerging options are not fully consistent with the original plan's vision.
"Some of these concepts don't follow the priorities of the approved plans," griped Bike East Bay organizer Dave Campbell.
Regional agencies anticipate an additional 45,000 households living along San Pablo by 2040, according to a commission report. Parking and auto traffic are less-urgent priorities: a majority of the corridor passes through low-income communities, and 21 percent of residents along San Pablo don't own cars. Meanwhile, 32 percent of car trips on San Pablo pass through to adjacent residential areas, and most blocks with on-street parking are less than 60 percent full during peak hours. Of the 13,900 trips that start and end along the corridor, the commission estimates that more than 6,900 trips could shift to transit, another 5,400 trips could shift to bicycle, and 600 could shift to walking.
Historically, though, retailers have resisted bus lanes on major corridors over concerns that a loss of street parking would deprive them of customers — but survey after survey has shown these worries to be largely unfounded.
Berkeley's city council shot down a Telegraph Avenue Bus Rapid Transit plan in 2010 over concerns that lost parking would hurt local businesses, but these beliefs are consistently undermined by the available data. In a 2014 study of the Temescal neighborhood by UC Berkeley's Department of City and Regional Planning, 87 percent of merchants interviewed believed that most of their customers arrived by car. In reality, only 32 percent did; the rest arrived on foot, by bike, or via transit. Similarly, a 2017 survey of the Geary corridor in San Francisco found that 55 percent of respondents took transit to Geary, and 35 percent walked, while just 6 percent drove. The survey also found that pedestrians and cyclists shopped more frequently than motorists.
While San Pablo motorists have less to lose under the proposed changes, cyclists and pedestrians suffer the most under current conditions. According to the report, pedestrians account for 37 percent of all fatal and severe injury collisions, while cyclists account for 27 percent. The designs with a single traffic lane, Lengyel explained, offered the greatest potential to reduce speeding and improve safety.
"We know there are safety issues," Lengyel said. "While we're looking long-term, we want to make short-term investments because of the safety issues that are out there." She said the commission is already working with Caltrans to implement some safety improvements before project construction begins in 2022. That includes increased lighting, removing some on-street parking to increase crosswalk visibility, and accessibility improvements under the Americans With Disabilities Act.
Prioritizing bus lanes would eliminate some left turns along San Pablo, Langyel said, but the design should ideally avoid making San Pablo strictly into a north-south throughway for automobile trips. "We can't just close off all the right and left turn lanes, because the corridor is so important for people traveling into these communities," she said.
Bike East Bay's Dave Campbell noted that drivers using San Pablo for longer trips "already have a multi-billion dollar option for their trip right over there: the freeway."
After the initial feasibility studies are completed by the end of the year, the commission expects to begin environmental assessments in the summer, complete final designs by 2023, and finish construction by the end of 2026. Despite this seemingly distant horizon, the San Pablo Corridor Plan already serves as a bellwether for regional transportation planning efforts that thread the needle between encouraging economic development and reducing carbon-intensive car trips.
The commission will host a town hall to discuss the project on Wednesday, April 24, 6:30 p.m. at the Emeryville Center for Community Life, 4727 San Pablo Ave.