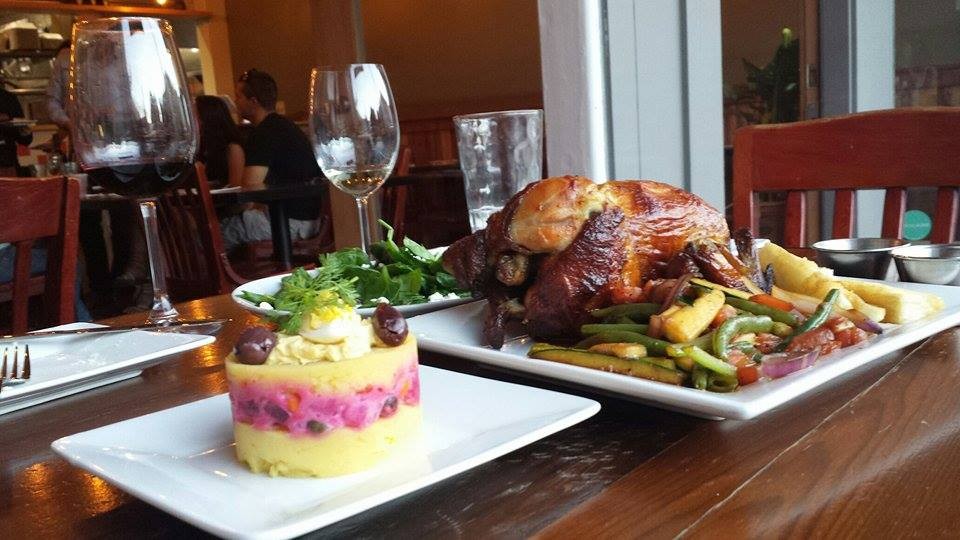 The East Bay has had a dearth of Peruvian-style rotisserie chicken spots since downtown Berkeley's
Brasa
closed two years ago. Good news for those who have had a hankering:
Mistura
(3858 Piedmont Ave., Oakland), a Peruvian restaurant specializing in the dish, opened last week in a converted fabric store on Piedmont Avenue.
[jump] Mistura is the first restaurant venture for chef and co-owner Daniel Luna, a 34-year-old Oakland native who cites his Peruvian ancestry on his father's side of the family — as well as his many years of traveling in the coastal South American country — as inspiration. The name, Mistura ("mixture"), is borrowed from the name of a
well-known food festival
in Lima, Peru, that brings together the cuisines of all of the different regions of the country.
"Peruvian food is pretty much a fusion from the start," Luna explained, citing the cuisine's Chinese, Japanese, Italian, and Spanish influences. You'll see some of those influences on display on Mistura's menu — both in the Peruvian classics, as well as some original fusion dishes that Luna and his co-chef, Beli Reyes, will eventually incorporate.
For now, during the restaurant's soft opening period, the menu is limited to two potato-centric appetizers, some salads, and two entrées:
lomo saltado
(stir-fried steak) and, the highlight, Luna's version of Peruvian-style chicken — Mary's free-range birds that are brined for 24 hours in a mixture that includes dark beer and various herbs and spices, and then roasted over an open flame on a horizontal rotisserie. The results, Luna said, feature slightly crispy skin and meat that is very, very tender. 
According to Luna, the restaurant will gradually build toward its
full menu
, adding a dish or two each week. For now Mistura is open, with full table service, for lunch and dinner every day (11 a.m.–2:30 p.m. and 5–9 p.m., respectively) except for Saturdays, when the restaurant is only open for dinner.