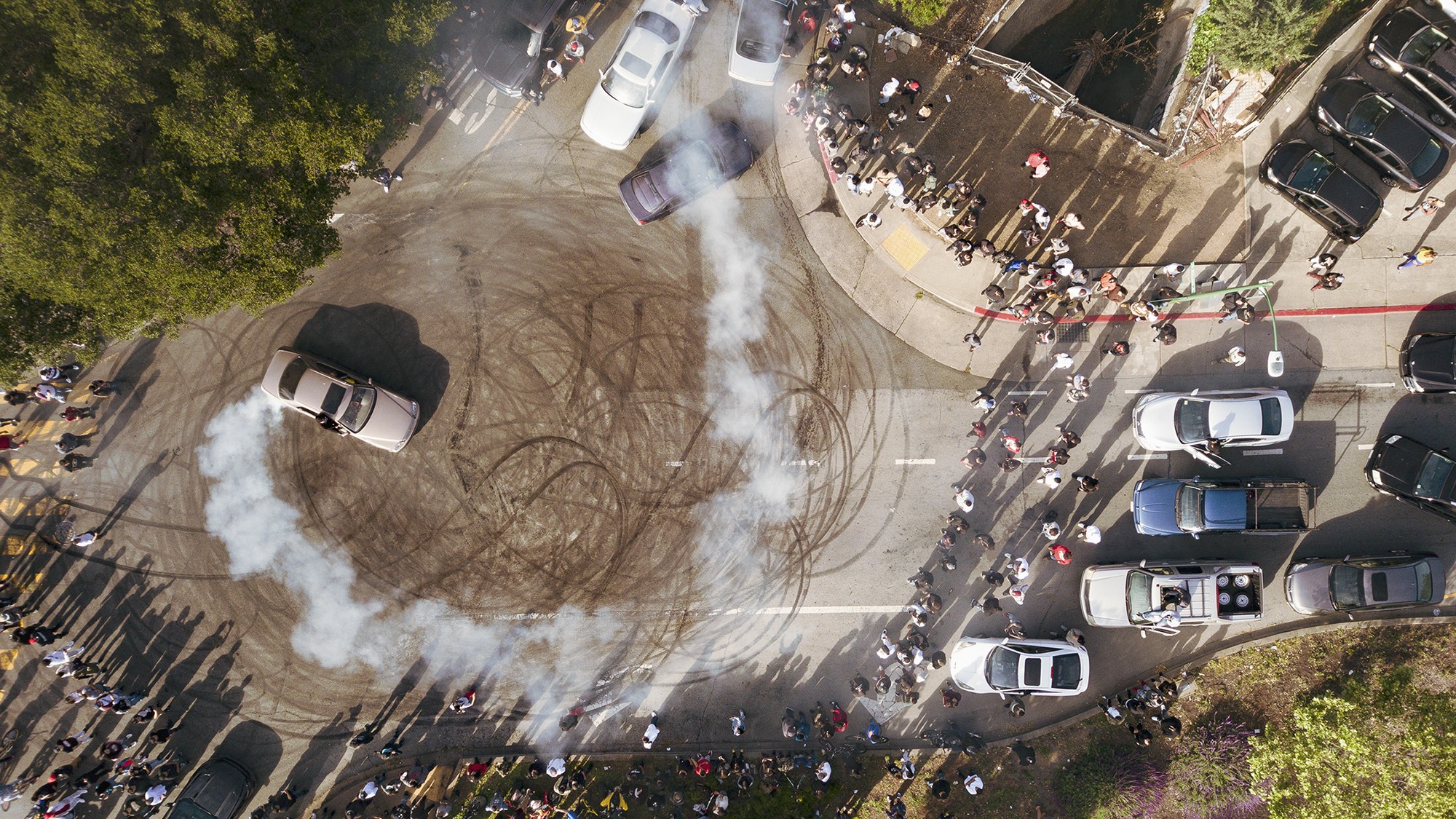 On a Sunday evening in late April, police converged on East Oakland to watch the sideshow.
It was one of the bigger events of the season, with an estimated 100 cars squealing tires and spinning doughnuts in the self-created plumes of smoke that bathed the growing congregation at the intersection of 100th and MacArthur. But while both the cops and the revelers were keeping their eyes on the grounded wheels, a new vehicle emerged on the scene from above.
"Just be aware they've got a drone here as well," an officer said over the police radio.
But the small, whirring spec of silver lurking overhead didn't belong to the sideshow participants. And it wasn't some deep sting operation by a different jurisdiction of law enforcement. It belonged to local photographer Stephen Loewinsohn, continuing his ongoing documentation of Oakland and its environs from his roving perch in the sky.
"This folds down to the size of a burrito," said Loewinsohn, removing his Mavic Pro drone from his messenger bag. "I try to bring it with me everywhere I go, in case I see something that I'm like, huh, I wonder what that looks like 400 feet in the air."
It's impossible to analyze Loewinsohn's drone photography without addressing the affordances offered by the unique technology. The drone he uses is currently middle-of-the-road in terms of quality and price (under $1,000 with a 4K camera), but it can withstand gusts of 40 miles per hour, can last in the air for about 20 minutes at a time before a recharge, and all it needs is an iPad hookup to control the many readouts and navigational instruments. More to the point, it's good enough to allow his eye to approach places and locales that, for the entirety of the invention of photography, had been impossible to reach.
"Cameras have been around so long that pretty much everything has been photographed from 5-and-a-half feet up," Loewinsohn said.
But his body of work isn't just neat for neat's sake. There's an expertise to his composition, editing techniques (particularly when it comes to his short videos), and color effects that can only be obtained through a long history of "earthbound" photography.
Loewinsohn started young after being gifted a Kodak disk camera as a kid. In 2006, he went back to school at San Francisco State University to study photojournalism, and, in 2009, began the full-time freelance hustle. (Full disclosure: His work has appeared in these Express pages, as well as in other publications, some of which accompanied this writer's own assignments.) He'd mostly take portraits to accompany written profiles — Dan Fontes, who painted that giraffe mural under the 580 freeway; Bruce Beasley, the abstract expressionist sculptor; Brontez Purnell from The Younger Lovers; Berkeley homeless philosopher-king Hate Man — and provided occasional documentation for events like Occupy Oakland.
But those were to pay the bills. In 2017, he pulled the trigger on buying the drone, and soon began exploring his own backyard from above.
After his lengthy trips into the field, he uploads the best of the best shots to his Instagram account, @peoplelooklikeants. The collection is alternatingly hypnotic and illuminating, giving viewers a new idea of what it means to live in this jurisdictional mess we call the Bay Area.
So much of what makes the work important is how it reveals places that are off-limits, either due to security walls or simply the bounds of the human body. We've seen the iconic Grand Lake Theatre sign, but what about up-close? We've driven through the mess of the Grove Shafter freeway interchange, but it's only when you see it in its entirety that it looks like something from Giovanni Piranesi's "Imaginary Prisons" series. Apparently, there's a tree growing out of the roof of the baroque Mutual Stores building on International. "It's cool to just be able to explore places that are totally inaccessible," he said, carefully noting that he follows any and all FAA regulations for drone use.
Loewinsohn is also aware of the negative connotation that drones have in our current cultural discourse, particularly in a region with a learned skepticism to technical innovation. "I hate the word 'drone' because they do get a bad rap, not only because of the ones blowing people up, but there's a lot of jackasses flying them low over people's backyards, or into trees at parks and doing stupid shit," he said. "I prefer to think of it as a 'flying camera,' but I know that term isn't going to catch on."
At a new construction site just south of the 880, Loewinsohn unsheathed the drone, unfolded its wings, and sent it whirring into the sky. He got a cool shot, but nothing worth publishing. He said he'll return when the light is right, preferably when workers are in action, to give the composition some scale and movement. He's not worried about his drone being spotted by security or workers — he said the laws governing airspace are murky enough not to cause legal concern, and anyway, because the photos are so high up, anyone in them is anonymous. "In a way, it's less creepy than walking up to someone on the street and taking a photo," he said. The people indeed look like ants.
"Plus," he said with a grin, "nobody ever looks at the sky."
Using a drone, the man behind the @peoplelooklikeants Instagram account shoots places ordinarily impossible to reach.