Like any self-respecting New Jersey native, Jeff Mason won't hesitate to regale you with memories of the delicatessens of his youth. Mason — who recently moved his popular lunchtime pop-up Pal's Take Away to Uptown Oakland — spent his formative sandwich-eating years at places like the Town Hall Delicatessen in South Orange, New Jersey. Town Hall specialized in triple-decker sloppy joe sandwiches that were made not with ground beef, but with assorted cold cut meats, which the German deli men would layer atop slabs of rye bread with coleslaw and Russian dressing. And Pals Cabin, a West Orange restaurant that was Mason's go-to spot for a late-night Reuben, became so embedded in his consciousness that he decided to name his own fledgling sandwich business after it.
"All these places, they just sort of live inside you for a while," Mason said. "Now, you try to carry that spirit."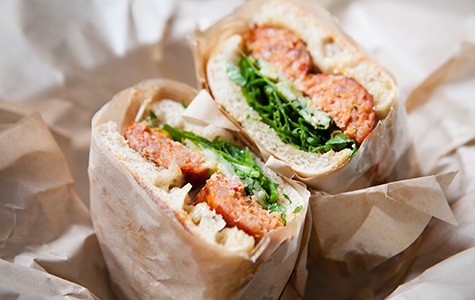 However, Pal's, which Mason, started seven years ago in the back of a San Francisco Mission district liquor store, is not a traditional East Coast-style deli. In fact, the place is best known for the uniqueness of Mason's excellent sandwiches. For example, fried Laotian sour sausage and mayonnaise spiked with yuzu and soy sauce are the main components of one of his most popular sandwiches. And another of his sandwiches features roast wagyu ("American Kobe") beef and house-made pimento cheese.
In November, the shop moved from its modest liquor store digs to a fully equipped kitchen inside the Firebrand Artisan Breads bakery in Uptown's Hive complex. The bakery's owners, Matt Kreutz and Colleen Orlando, recently set up shop there and brought on Mason to run a lunch program that puts their bread to good use. For Mason, a Berkeley resident, it's both a homecoming and an upgrade: Pal's is now open seven days a week instead of just on weekdays, and the full kitchen allows Mason to put seven or eight sandwiches on the menu at a time instead of just three or four.
And despite the ritziness of the deli's new location and the fact that most of the sandwiches are priced at $11 or $12, Pal's Take Away has some of that same old-school, no-nonsense vibe as the East Coast delicatessens Mason remembers frequenting when he was a kid. The humble sandwich window sits in the middle of the cavernous bakery — a sort of walled-off kitchen within a kitchen. Through that literal hole in the wall, I watched Mason assembling each sandwich, tearing roast chicken apart with his bare hands and tapping a bell with a little "ding" — old-school — to let the cafe employees know that another order was ready. Thick-rimmed glasses give him the look of a 19th-century watchmaker or some other professional tinkerer.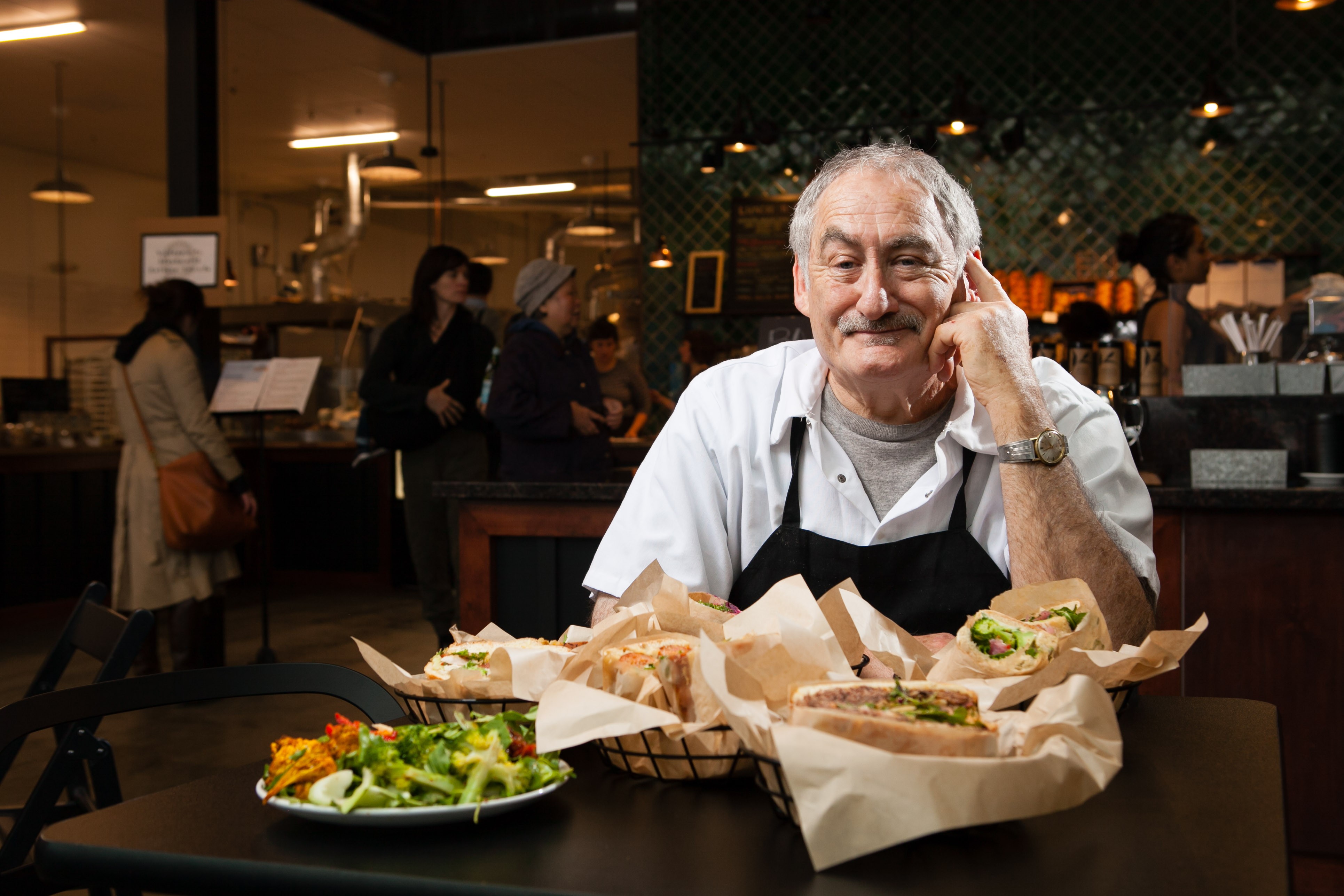 In a phone interview, Mason told me what he tells other food writers — that he doesn't have any "secrets," that he tries not to take himself too seriously as a cook. "I take it as seriously as Thomas Keller takes his food, for sure," he said of the noted chef and founder of The French Laundry in Napa. "But you're making food for people. You're doing something that's real basic."
The fact that Mason doesn't take cooking too seriously is evidenced in the playfulness of some of his sandwiches — and that playfulness is an essential part of what makes them great. A sandwich Mason dubbed the "Almost a Lamb Sloppy Joseph" was a riff not on the North Jersey-style sloppy joe, but instead the more typical ground beef version — but with ground lamb, cooked down slowly like a chili with spices, including sumac and Aleppo pepper, which gave the sandwich a Middle Eastern bent. The unexpected crowning touch: a couple of corn chips inserted right in the middle of the sandwich, adding a bit of crunch and recalling, for me, the moment of wonder and pride I felt the first time I added Doritos to an otherwise run-of-the-mill turkey sandwich.
The best sandwiches at Pal's inspired me to pull them apart to figure out what exactly made them so good. A sandwich featuring olive oil-poached local albacore tuna was a luxurious take on a tuna salad sandwich — the fish as thick as my wrist and slightly pink in the center. Layers of flavor and texture revealed themselves one at a time: the tangy crunch of chopped cornichons; steamed stalks of gailan-like sprouted broccoli; and slow-roasted cherry tomatoes that were spiked with sherry vinegar for a bright pop of acidity; and, because why not, a layer of potato chips. The Firebrand kaiser roll was just sturdy enough to hold it all together.
The aforementioned fried Lao sausage sandwich balanced the heat and the tangy, fermented funk of the sausages — from Vientian Cafe, which, not coincidentally, makes the best version in Oakland — with the cooling crunch of a cilantro-cucumber relish and the creamy richness of Mason's house mayonnaise. A thick layer of arugula resembled a stack of frilly dollar bills — more arugula than I'd ever think to add, but just the right amount, it turned out, to keep the toasted torpedo roll from getting soggy.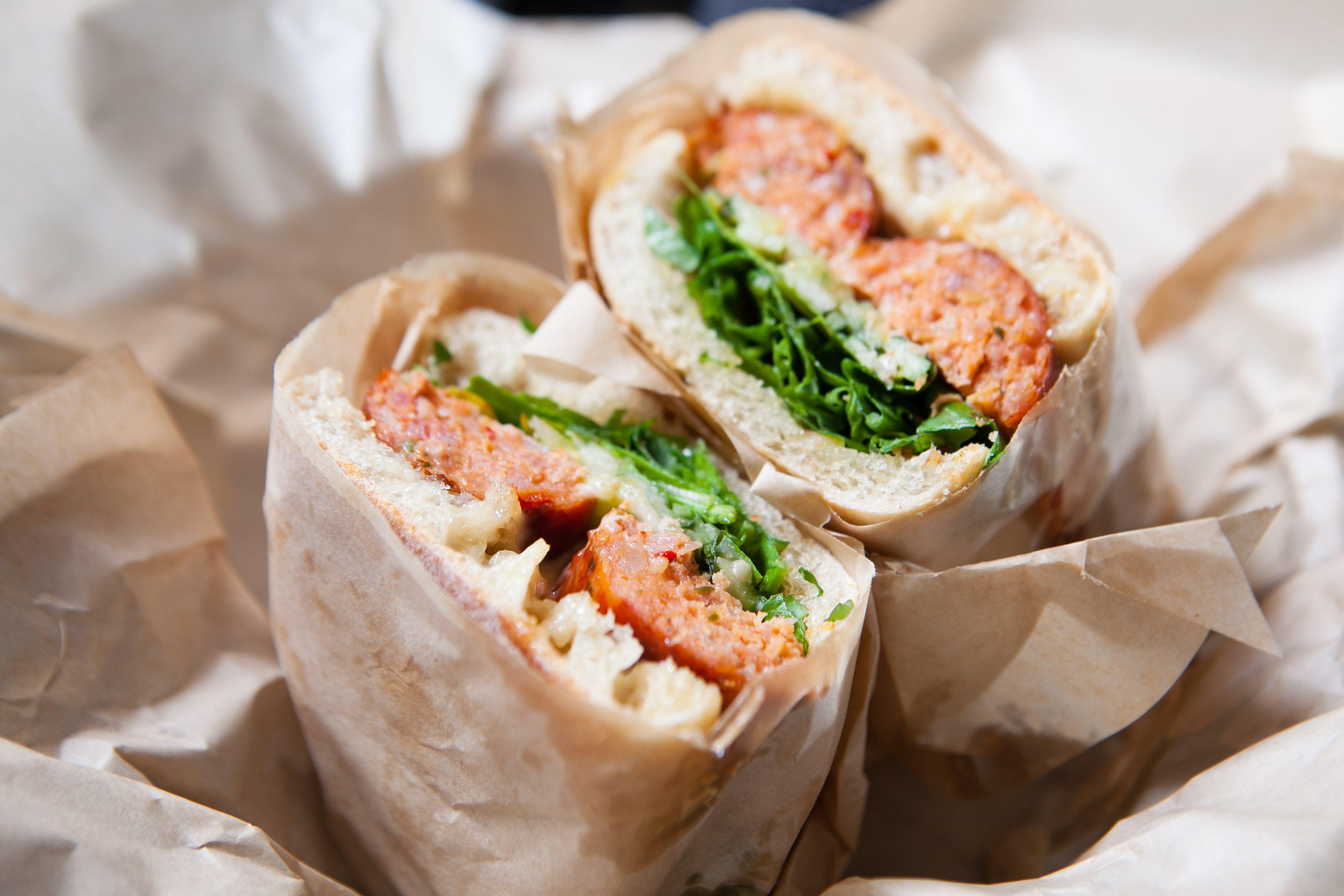 Every sandwich had similarly thoughtful touches. The "veg" sandwich, which looked unpromising at first glance, like a bunch of lettuce on a bun, was loaded with good stuff: hard-boiled egg that smooshed rich yolkiness into every bite, broccoli rabe that added an intriguing bitter note, and pickled onion to perk things up. When I opened up the sandwich, I saw that Mason had hollowed out the bun — the same tactic banh mi makers use to ensure the proper bread-to-stuff ratio. House-made pimento cheese gave the roast beef sandwich the decadent quality of a good cheesesteak; a sweet cabbage slaw cut into that richness without being too sweet or too mayonnaise-y.
Even my carb-phobic dining companion was able to cobble together a good lunch at Pal's by ordering the seasonal veggie salad, which was made up of similar stuff as the veg sandwich — plus turmeric-tinged roasted cauliflower, the crunchy lower stalks of some bok choy-like vegetable, and a tub of Firebrand's excellent, garlicky croutons (which tasted like an "everything" bagel). Add a cup of the seasonal soup — a mildly spicy curried cauliflower-and-carrot purée during each of my visits — and you'll have a helluva satisfying vegetarian meal (meat eaters can add some smoked trout or roast chicken to their salad).
More than anything, my visits to Pal's made me want to make better sandwiches myself — to incorporate more roasted and steamed vegetables, and to be on the lookout for outside-the-box possibilities that Mason simply calls "good stuff to put between two pieces of bread."
What I'm hoping, then, is that now that Pal's has come home to the East Bay, the place will stick around for a while and become a local institution — like what Mason remembers from his childhood. It isn't too hard to imagine an Oakland kid — some future sandwich savant — coming in with mom or dad, marveling at that Lao sausage sandwich, and soaking in all these impressions of what a kick-ass sandwich shop that doesn't take itself too, too seriously looks like.

Correction: In the original version of this report, we listed the incorrect phone number for Pal's Take Away. The correct phone number is 415-203-4911.