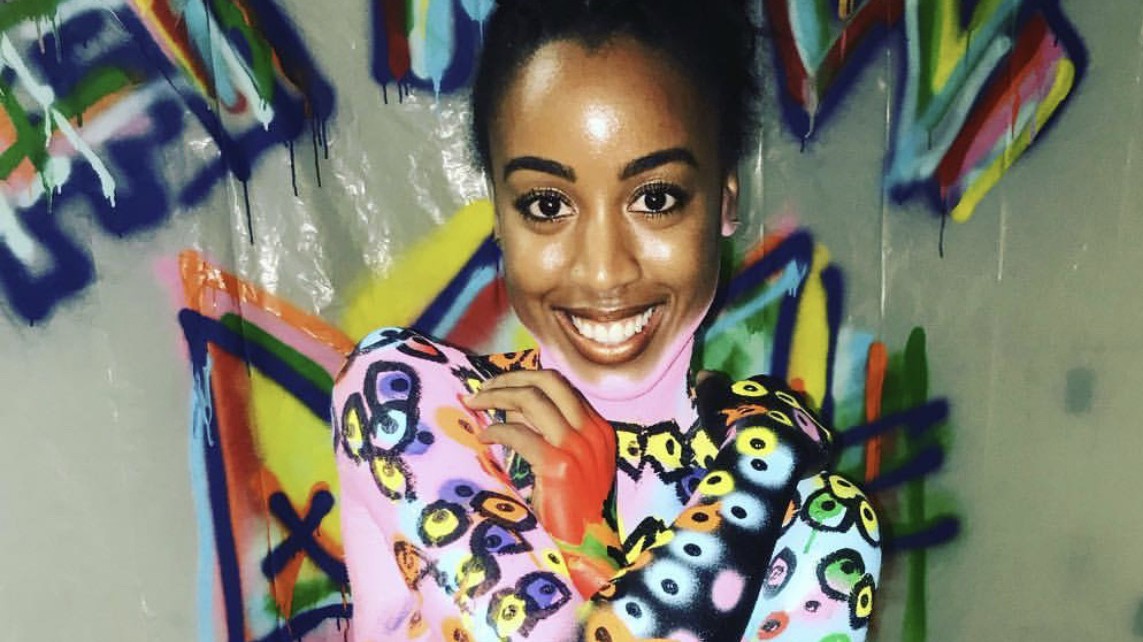 It's difficult to neatly categorize Paint My World, an East Bay art show that uniquely blends different forms of self-expression. At the center are pairs of artists and poets, but there's also live body painting, photo booths, gallery spaces, live music, food, and drinks. Throughout the evening, a poet reads their work while a painter simultaneously creates a piece inspired by the poem.
This performance lets the audience see, in real time, the ways in which artistic interpretations can both overlap and differ. "You kind of get to see two different stories and two different perspectives," explained Malkia Gordon, creator of Paint My World. In this way, she hopes that these two artists can find unexpected common ground — or at least come to an understanding. "I feel like people can find themselves in each other, or different pieces of themselves."
One past performance that particularly stood out to Gordon featured a poet who shared a story about a family member's experience as a refugee. By chance, she was partnered with a visual artist who experienced something similar. Their dual performance revealed that even though their stories seemed alike, their unique backgrounds meant that they had processed those events very differently. "It was really breathtaking," Gordon said. "You can hear [the poet's] story, but when you see this painting, you see so much of this other artist and her story in that, too. And you just realize there's a disconnect between us."
Folks will be able to experience this dynamic for themselves at the next Paint My World show on Saturday, Jan. 5, at the Flight Deck in Oakland. This is the fourth edition. Gordon presented the first show in April 2018 with hopes of providing a platform for artists to showcase their work as well as facilitate conversation, creativity, and risk-taking in an accepting space.
"The reason why I created Paint My World was to create a platform for artists to grow their craft and expand their audience," Gordon said. "I wanted a place where we can talk about what's going on in society, we can share our experience, talk about love, talk about everything."
Gordon started by showcasing artists on her own Instagram but wanted to take her project further. "I knew I wanted to do a show," Gordon explained. "We can have spoken word and a gallery — but no, we can do more than that."
The idea of live painting emerged as the ideal blend of expression and performance that she wanted for Paint My World, and she found welcoming settings in the Flight Deck and the Black Repertory Group in Berkeley. Not all artists are that familiar or even comfortable with painting live in front of an audience under a time limit. She hopes that Paint My World will encourage participants to expand their boundaries. "It's not something that they normally do," Gordon said. "Each artist that has participated in a live painting has been like, 'Oh my goodness, that was incredible.' … It's cool to see them take their art in different elements."
Gordon doesn't establish specific themes and instead invites artists and audience members to experience something unfold organically. "I like the freedom of just going along with what we feel at the moment," she explained. "It will definitely create an experience that they'll feel like they're all a part of."
In addition to the four or five pairs of artists, the show features a variety of performers who open and close the show. Past iterations of Paint My World have opened with singers and musicians, but this time Gordon wants to try something new: dancing. These days, she's especially interested in turf dancing and the way it shows men in a different light. "It's so amazing to see something that can be kind of aggressive, but so expressive," she said. "That's been the way for a lot of men to find their outlet to express themselves, too."
The multidisciplinary aspect of Paint My World is informed by Gordon's own creative background. She grew up dancing and found her way to theater, but also explored writing and painting. "I feel like I am very diverse in all forms of art," Gordon explained. "I found a way to express myself through everything."
Gordon is thinking about the show's future — both long and short term. In the near future, she wants to work on incorporating more elements into the show, and maybe trying new pairings, like dance with poetry. Long term, she ultimately wants the show to travel. Gordon's idea of creating a space for local artists to cross boundaries, she believes, could work anywhere. "There's so many people out there that I just want to give them the opportunity to showcase at our show."
Saturday, Jan. 5, 7-11:30 p.m., $25-$35, 1540 Broadway, PaintMyWorld.org