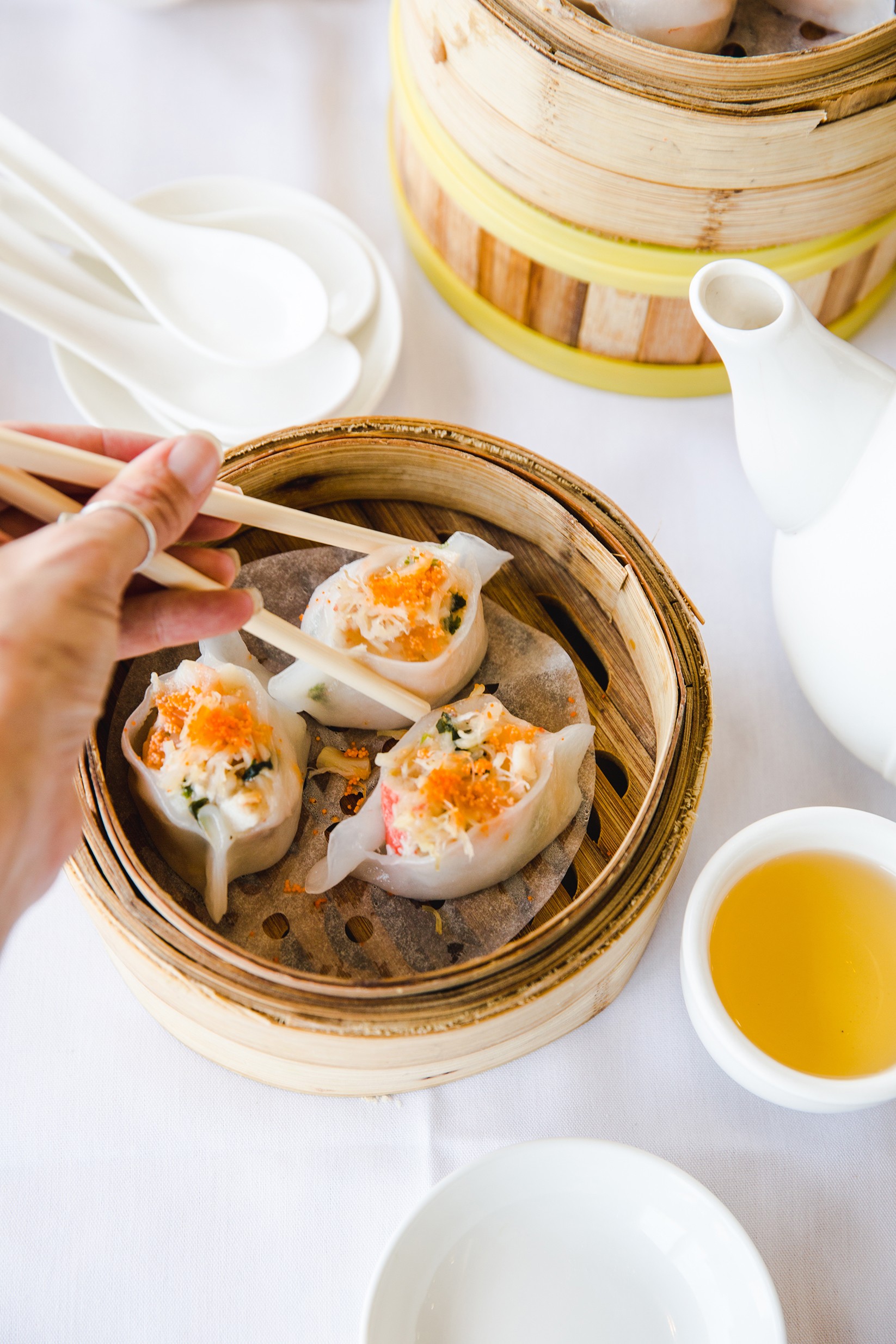 I grew up in Alameda, but dim sum always happened in Oakland's Chinatown.
I remember piling into the car, driving to a market to do some grocery shopping — or in my case, beg for Pocky — and finishing our morning over steaming-hot har gow in a large banquet hall.
At a certain point, solid dim sum restaurants started opening in Alameda, and we no longer made the drive. Then, Chinatown's historic restaurants began to close, and more and more people turned to Alameda for dim sum. The parking is easier, the waits not so nightmarish, and the food, reliable.
About a year ago, another dim sum house opened in Alameda: Pacific Lighthouse. Its enviable traits include a free parking lot, stunning scenery, and some of the best dim sum around.
Even if you live on the Island, you're forgiven if you've never heard of Pacific Lighthouse. It's in Marina Village, a section of town full of anonymous business parks and zero foot traffic.
Once you pull in, you realize the location is special. It's set right on the estuary, with floor-to-ceiling windows looking out on the water, a line of yachts, and the downtown Oakland skyline. In the mornings, it surrounds the dining room with shades of blue, and in the evenings, sunsets bathe the place in orange light. The only other dim sum restaurant that remotely rivals this view is Hong Kong East Ocean Seafood Restaurant in Emeryville.
Even if Pacific Lighthouse was cramped and dark, though, it'd still earn my pick for dim sum. Just about everything I tried was on par with or far better than competitors — albeit, at a slightly higher price point.
The most life-affirming item is the "French style" char siu bao, which boasts the ideal pork-to-bun ratio and an unusual topping that's thin, crispy, and almost cookie-like. Flecked with herbs, these buns feel lighter and taste a notch sweeter than most char siu bao, but it's the textural contrast that really sends it over the top. Dim sum fanatics have probably heard of Hong Kong's Tim Ho Wan, which is often referred to as "the world's cheapest Michelin-starred restaurant." If you've been dreaming of tasting Tim Ho Wan's most famous dish — its crispy char siu bao — you could do far worse than trying Pacific Lighthouse's version.
The restaurant's classics like siu mai and har gow perform well, but it's fun to explore the harder-to-find items, too. I've never seen the Zhongshan-style pork dumplings before: all-white, steamed, stretchy ovals that burst with a wet and savory char siu filling. Nor have I ever spied walnut buns on a dim sum cart. These were steamed yet golden brown, and filled with whole, sticky-sweet walnuts. Many restaurants have some sort of seafood dumpling, and here it's a sublime and delicate scallop-and-shrimp dumpling that tastes like the sea.
I'm rarely keen on steamed beef balls, the bouncy kind that often come out a tough, unappetizing gray-brown. Pacific Lighthouse's version looks and feels softer, with a brighter, more herbaceous flavor.
The only miss was the vegetarian rice noodle roll, which looked messy and tasted gummy. I appreciated the attempt at creating something for vegetarians, but the shiitake-carrot combo just didn't work.
When Pacific Lighthouse first opened, carts flooded the dining room for dim sum service — an exciting experience, but ultimately, you risk receiving lukewarm dishes that have been sitting out too long. And because of the restaurant's enormity, it was very likely you wouldn't even spot the dishes you'd want. Fortunately, Pacific Lighthouse ditched the carts in favor of a menu, and it's better for it. For English speakers, this arrangement is also more user-friendly: Your table gets a big menu with pictures and descriptions for more than 100 items, and you mark directly on the menu what you want. Within minutes, your food starts arriving.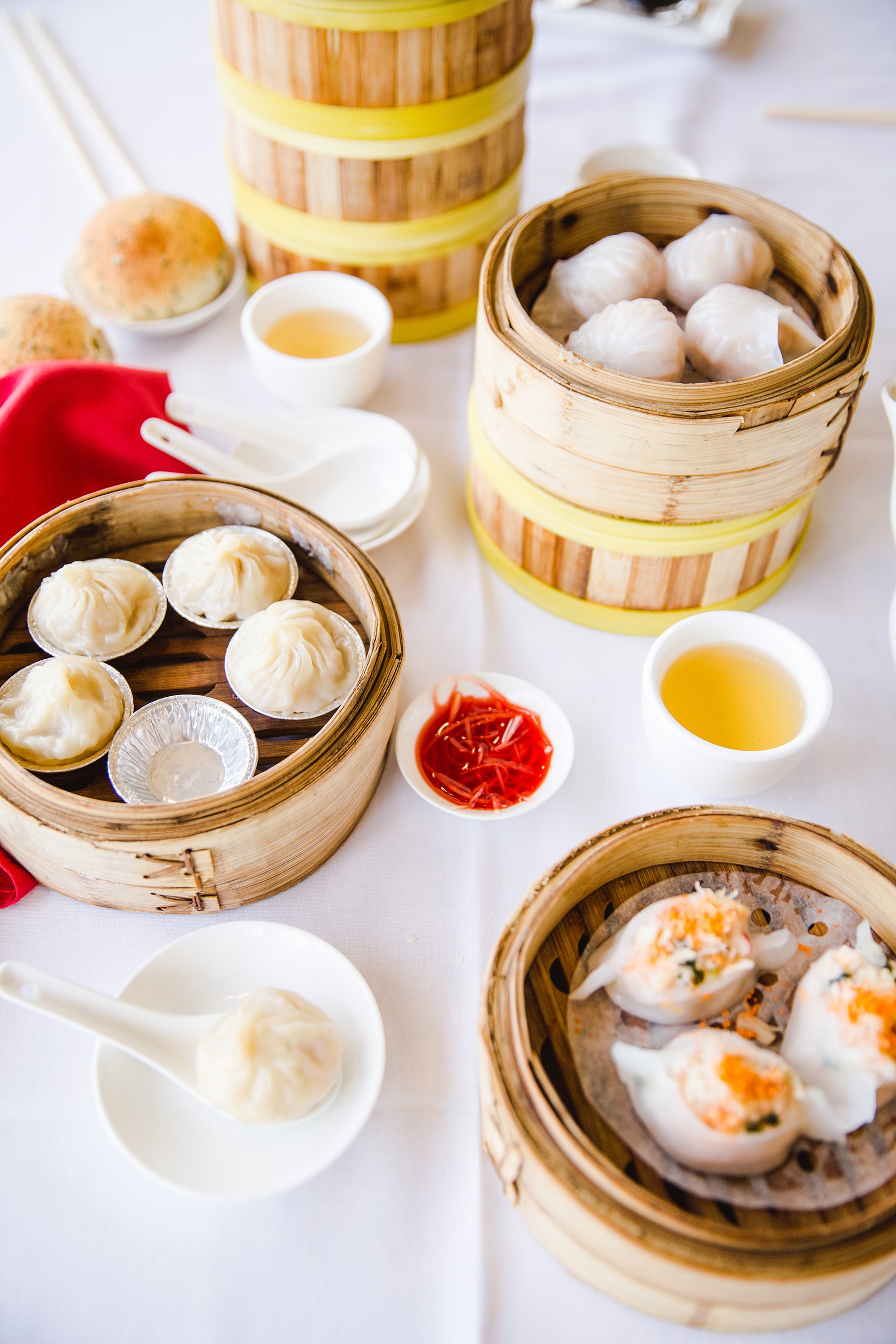 As with most big dim sum halls, service isn't always the best. It can be challenging to flag down someone to actually put in your order or get your bill or ask for a hot water refill — and if you have a more complicated request, I wish you luck.
About 45 minutes after I first ordered, I realized one dish never made it to the table. After informing three people about the case of the missing daikon puffs, it still wasn't clear whether they would actually come. The moment my group decided to bail on the idea, the puffs arrived — hot, flaky, and buttery — and all was forgiven. I handed over my credit card, only to get a different table's bill back. Then, I watched as several servers and a manager ran in circles balancing checks trying to figure out what the hell happened.    
When I returned for dinner, I was pleasantly surprised to find the service so attentive and polished — granted, the restaurant was far less busy. Water, tea, and a free appetizer of tangy, spicy cucumbers immediately hit the table. The beverage refills never stalled, nor did the check-ins to make sure the setting sun wasn't hitting my face too directly.
The enormous menu hits Cantonese classics, Americanized Chinese fare, and non-traditional creations, and it goes on for pages and pages. In these cases, it helps to have a Cantonese speaker ask what's particularly good that day. (Thanks, mom!) Our server recommended an off-menu special of giant clams, chopped up and served with cellophane noodles, scallions, and raw and fried garlic. Simple and delicious.
Another server came by to recommend a live cod fish — at more than $35, it felt like a bit much to spend, but I appreciated the invitation to check out the specific fish I'd be buying first. There's a clear emphasis on live seafood, with large tanks containing fish, crab, and prawns toward the front of the restaurant.
Instead, Cantonese barbecue and the promise of suckling pig caught my eye. We wound up with a build-your-own platter, which included tea-smoked chicken, char siu, jellyfish, and seaweed prepared in the same vein as Japanese wakame.
The chicken came out juicy with a smoky, slightly floral aftertaste, quickly asserting itself as the best protein of the night. The roasted pig featured shatteringly crispy skin stuck to thin layers of fat and flavorful meat, but it tasted slightly oily.
Whole suckling pig definitely isn't offered at every Chinese restaurant in the East Bay — it's typically reserved for special occasions, as is bird's nest soup, abalone, and geoduck. But Pacific Lighthouse's menu is full of these high-end preparations, and fittingly, the restaurant has already proven popular for weddings and other celebrations. It suits the space. The circular building used to function as an events hall and has been gussied up with regal-looking columns, gold accents, and chandeliers — an effect that manages to lean more elegant than gaudy.
Despite the service issues, it's the sort of place I'd bring out-of-town guests — even if that means I've come full circle by driving from Oakland to Alameda for my dim sum fix.
1051 Pacific Marina, Alameda 510-263-9232
PacificLighthouse88.com
Hours: Sun.–Thu. 10 a.m.–3 p.m., 5–9:30 p.m.; Fri.–Sat. 10 a.m.–3 p.m., 5–10 p.m.
Cash, all major credit cards
French style
char siu bao
… $4.50
Steamed scallop dumpling … $5.50
Suckling pig combination platter … $38