Ethan Jayne looked up excitedly from the crates at Stranded, a record store in Oakland's Temescal neighborhood, as he picked up a copy of The Shaggs' Philosophy of the World. The 1969 outsider rock album is hard to come by: The three sisters who formed the group recorded it at the behest of their father, who, as legend has it, believed his daughters would become famous musicians because of a fateful palm reading. Only 1,000 copies of Philosophy of the World were originally pressed, and 900 of them were allegedly stolen.
"They didn't really know how to play their instruments," explained Jayne. "It's primitive rock — it's really endearing. It's psychedelic, but without paisley or wah-wah pedals."
Jayne, a multi-instrumentalist and the bandleader of the punk outfit OVVN (pronounced "Own"), has an almost encyclopedic knowledge of rare vinyl. He grew up surrounded by records at his family's shop, The Last Record Store in Santa Rosa, which he helps run in addition to making music with his bandmates, to whom he often affectionately refers as "the boys." Jayne and OVVN's drummer Connor Alfaro are roommates in Santa Rosa, while bassist Jonathan Reddick and guitarist Max Kaufman both live in Oakland.
OVVN began as Jayne's studio project after he moved back to the Bay Area in 2013 to join the family business following a four-year stint in Portland. After playing in several bands there, he started OVVN as a solo effort, recording in his father's studio after spending his days at the store. On OVVN's first EP, b l o vv n, he played all the instruments himself, cobbling the project together through a cut-and-paste process without intending to perform the material live. However, when Alfaro heard the tracks on b l o vv n, he convinced Jayne to recruit him, Reddick, and Kaufman as collaborators and start playing shows.
b l o vv n by OVVN
On its last EP, Two Lives, which came out last summer, OVVN creates a dissonant alchemy of clashing sounds to captivating effect. Demonic, pitch-shifted vocals reverberate over asymmetrical instrumental arrangements that rapidly and unexpectedly change tempos. Gritty, distorted guitar riffs and sporadic bass lines weave in and out of thunderous percussion phrases. The group deftly uses negative space, allowing tension to build and dissipate within each track through artful pauses and frenetic bouts of atonal playing. Jayne creates thrilling contrasts with his disconcerting vocals: On "Acre Of," for instance, he layers robotic chanting over dissonant "Oohs" that evoke warped, inside-out pop harmonies.
The most rewarding moments in Jayne's compositions emerge when he finds ways to make discordant elements work together. "Taking a chance on two notes that hate each other; not necessarily having a chorus, or any kind of anchor, that could keep you attached to reality or what you think a song should do — those are the things I like to do."
Processed vocals became OVVN's signature after Jayne began experimenting with plugging his microphone into a guitar pedal he purchased when he was thirteen, around the time he started his personal record collection. The pedal, he said, is similar to the one Tom Morello used on Rage Against the Machine's The Battle of Los Angeles — the first record Jayne purchased — to make his guitar sound like a turntable. It essentially multiplies Jayne's voice into a chorus while falling short of perfect harmony, making his already-intense delivery sound refracted and monstrous.
"You throw in that pitch-shift, and the human voice — which is such a natural way of communicating — becomes foreign and alienating," Jayne said. "It was a weird idea that turned into my thing, I guess."
Two Lives by OVVN
Jayne still sketches out the majority of OVVN's tracks alone in the studio, but he said that his collaborators' involvement has added an element of spontaneity to his songwriting process that was missing when he had full creative control.
"The way the songs are, they rely so much on feedback and chaos. They rely on too much variable stuff for me to be a perfectionist about it," he said. "To make it work, you have to give up some trust and give some agency to your players. I definitely tell them where to put their hands and when to hit, but the rest just naturally happens."
Perhaps unsurprisingly given Jayne's affinity for vinyl, tangible media is fundamental to OVVN's work. Though the group just finished recording its next album, tentatively titled I Love Myself and Want to Live, it's holding off on releasing the new material online until the records have been pressed.
"I'm shooting for … 2016, that would be great," Jayne said offhandedly, shrugging. "Right now, vinyl is so hard to get. You're really at the mercy of the pressing plants."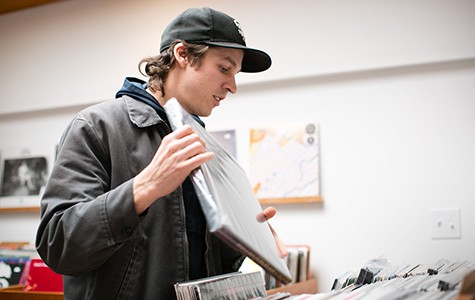 I Love Myself and Want to Live, he said, is a tongue-in-cheek nod to the original title of Nirvana's canonical final album, In Utero, which Kurt Cobain originally wanted to call I Hate Myself and Want to Die. Jayne said he wrote the majority of its tracks in solitude while dealing with depression and insecurity. Though the album's title sounds upbeat, the unmastered cuts he played for me contain more strains of doom metal than his past work, cultivating a sense of foreboding with ominous riffs and pulsating drum beats. Shrill guitar solos pierce through the subterranean-sounding rhythm section, sometimes clashing with Jayne's elastic vocals. In some instances, his real voice is audible through the effects, but only enough to highlight the pitch-shifted vocals' artificiality.
While Jayne wrote many of the tracks on I Love Myself without the involvement of the rest of the band, OVVN's live shows have given the other musicians an opportunity to refine and edit the record's tracks.
"After bringing in the boys and playing shows, that's when it was like, 'Oh, [these tracks] sound better with four people playing them — four different instruments and all that energy,'" Jayne said. "The rest of the songs were business as usual — just me writing them myself. But I'm sure when we start playing those new songs live, I'll want to record them again."