Dan Clarke pulled a large box from a shed in his backyard. He reached inside and removed a bag holding a black rock the size of a softball. "I found this one while gardening," he said, as he placed the big rock on the table. It crumbled slightly.
For the past five years, Clarke has amassed a collection of similar black rocks from his backyard in San Francisco's Marina district. Some are big and shiny, and others, small and dull. Clarke has found all of the black rocks while gardening, with the exception of the one set of rocks he discovered unexpectedly underneath his home when a sewer pipe burst in his garage. "After that moment," he said, "we realized it was everywhere."
The black rocks that Clarke has found beneath and around his home are made of coal and coal tar, a legacy of old manufactured gas plants (MGPs) that operated more than a century ago and powered homes and businesses throughout the Bay Area. MGPs converted dirty coal (or sometimes oil or wood) into gas that was then used for heating, lighting, and cooking. Although MGPs provided a vital service, they generated a slew of waste now known to be hazardous to humans and marine life. The waste, including the coal tar found beneath Clarke's home, is now a part of the city's — and the rest of the region's — ecosystem.
The concern over the discovery of the black rocks has moved people to take action and address the potential negative effects of living on top of a former industrial dump and working near it. Clarke, who has lived at his home on North Point Street since 2000, and the San Francisco Herring Association filed a lawsuit last year against the gas plant's owners, Pacific Gas & Electric Company, alleging that the byproducts created by three old San Francisco gas plants — Beach Street in the Fisherman's Wharf area and the Fillmore Street and North Beach facilities in the city's Marina district — are not only endangering human health, but also the herring that spawn in the bay.
PG&E officials declined to be interviewed for this story, but in an emailed statement, company officials said the utility is abiding by state environmental regulations.
However, Clarke and herring fishermen contend that PG&E has no real interest in solving the toxic problems that gas plants created years ago. "This needs to be addressed," said John Mellor, a herring fisherman and vice president of the San Francisco Herring Association. "It can't be swept under the table."
Clarke and the fishermen are not asking for monetary damages — rather, they want PG&E to conduct more extensive testing and clean up the polluted sites before the toxic waste spreads further.
---
MGPs represented a big leap in convenience and comfort for city dwellers between the mid 1800s and early 1900s. Initially invented to light street lamps, MGPs soon advanced to provide a constant source of energy for homes and businesses. Gas plants did this by turning solid coal into gas. The process began by heating coal in an oxygen-poor oven and waiting for it to gasify. The resulting gases contained a mix of toxic chemicals — including coal tar, residual coal, hydrogen sulfide, and ammoniac liquor — that the gas plant owners needed to remove before pumping the gas to residential and commercial buildings. After extracting the chemicals, gas plant owners sold some of them, including lampblack that was used for dyes, ink, tires, and other goods. Gas plant owners then buried the rest of the waste or dumped it into nearby waters.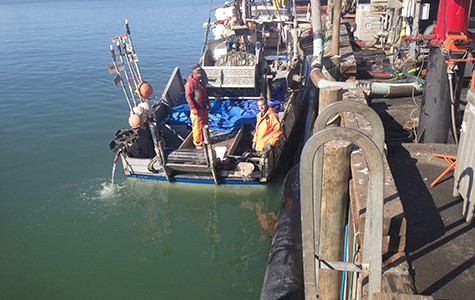 The first commercial gas plant providing light for residents, streets, and businesses was in Baltimore in 1816. Small groups of local entrepreneurs soon began developing other gas plants in New York City and Philadelphia. As demand grew, gas entrepreneurs made their way west. Town after town adopted the new technology, until MGPs eventually arrived on the West Coast. By the mid-nineteenth century, almost every town in United States with a population of more than 10,000 had MGPs. After the discovery of gold in the Sierra Nevada, San Francisco's population increased 200-fold in a span of seven years, rising from about 200 residents in 1846 to about 40,000 in 1852. That same year, three brothers from Newark, New Jersey built one of the first MGPs in San Francisco.
Originally tradesmen who worked in the iron industry, the brothers — Peter, James, and Michael Donahue — opened and operated many MGPs in San Francisco, including the North Beach facility on North Point Street near Clarke's Marina district home. (The North Beach facility was in what is now known as the Marina district.) But ownership of MGPs changed hands often. In October 1905, PG&E formed and became the last owner of the North Beach, Fillmore Street, and Beach Street facilities. Six months after the utility acquired the North Beach and Fillmore Street facilities, the Great Earthquake of 1906 destroyed those plants, and PG&E abandoned them.
The 1906 earthquake also caused severe damage to the rest of the Marina district, an area where the city planned to construct the Pan Pacific International Exposition. The exposition, originally meant to celebrate the completion of the Panama Canal, instead became an opportunity for the city to showcase its recovery from the earthquake. This was especially apparent between April and September of 1912, when workers quickly filled in Marina Cove, a body of water next to the Marina district, with sand and sludge to make room for temporary exposition buildings.
Before the earthquake, the owners of the Fillmore Street gas plant used the cove as a dumping ground for toxic waste. According to Allen Hatheway, a geologist who specializes in waste cleanup of former MGPs, many plant owners built their facilities near the shoreline for this reason. "It was gas industry practice to put the plant in such a location so that they would have a ready means of disposal," Hatheway explained. "They simply wanted to get as close as they could to the shoreline." The locations of the North Beach and Beach Street MGPs also demonstrated this trend.
Many years later, homebuilders replaced the temporary exposition buildings that had been built on piles of sand and toxic MGP waste with residential homes. In fact, most of the Marina district, which is now one of the most affluent neighborhoods in the nation, sits on top of former MGP waste. And today, Marina Middle School is located right near where the Fillmore Street facility used to turn coal into gas.
PG&E continued to operate other gas plants in the Bay Area until the mid-1920s, when the discovery of natural gas eventually led to the demise of the MGP empire. Manufactured gas was dead, but it left behind an unsettling legacy of highly contaminated soil and water.
---
For fifty years, PG&E did not address the toxic MGP waste generated from the North Beach, Fillmore, and Beach Street gas plants. But after the US Army Corps of Engineers discovered hazardous MGP waste in Pennsylvania while dredging a creek in 1980, the US Environmental Protection Agency launched investigations into all former gas plant sites across the country.
In California, the EPA placed the responsibility on state and local agencies to require gas plant owners to conduct adequate testing of soil and groundwater at all former gas plant sites to ensure the protection of human health and the environment. PG&E, under the oversight of the California Department of Toxic Substance Control (DTSC) and the state Regional Water Quality Control Board (RWQCB), began establishing programs to test and remediate 41 former gas plants it owned in the Bay Area, including one at the Port of Oakland.
One of the many tests conducted was in 1991 at the San Francisco Marina Substation owned by PG&E and located at the former North Beach MGP site. The company tested both soil and groundwater for contamination. In a report to regulators, PG&E stated that its tests revealed that the soil and groundwater at the substation were contaminated with hazardous chemicals called polynuclear aromatic hydrocarbons. But the company ultimately concluded that the toxic waste created "no apparent threat to public health and the environment posed by a release or threatened release at the site."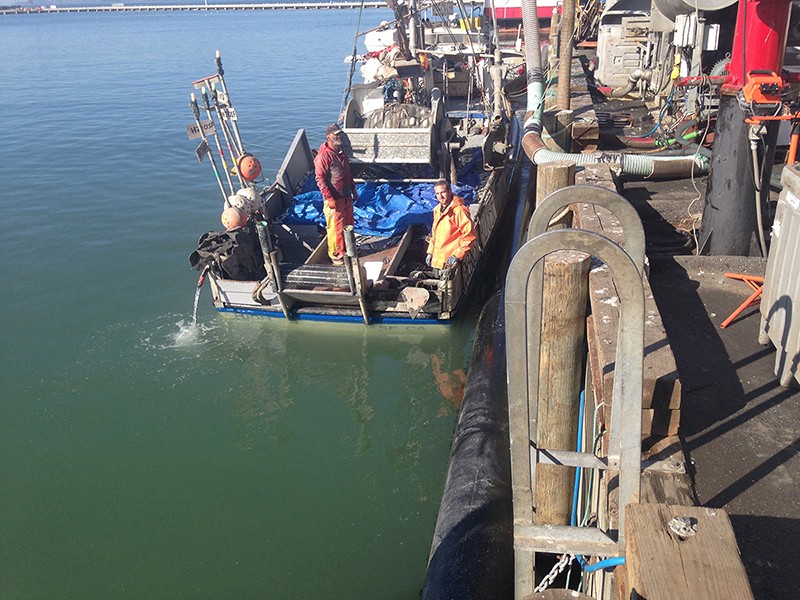 In a letter to the DTSC on November 12, 1991, the water board stated that it "strongly disagree[d]" with PG&E's assessment. Water board officials requested that the DTSC urge the company to conduct additional soil and groundwater testing in and around the former gas plant areas.
Polynuclear aromatic hydrocarbons (PNAs) — the hazardous chemicals found at the former North Beach gas plant — are a subset of a larger family of chemicals called polycyclic aromatic hydrocarbons (PAHs). They're a group of organic contaminants that occur naturally in coal, oil, and gasoline. Once created, PAHs are difficult to get rid of, because they don't burn well, can turn into vapor very easily, and generally do not break down in water. The chemicals have been found to cause cancer in humans who breathe or touch them. Additionally, PAHs are extremely harmful to marine life. After the Cosco Busan oil spill in 2007 dumped 55,000 gallons of heavy fuel oil containing PAHs into San Francisco Bay, herring egg samples collected in February 2008 by the US Fish and Wildlife Service found genetic abnormalities in herring in the spill areas. Before the spill, herring populations were already at their lowest on record, and fisherman stopped catching fish until populations began recovering in 2010.
On June 29, 1992, seven months after the water board strongly disagreed with PG&E's claim that the toxic chemicals at the former North Beach MGP site posed no risks, DTSC officials sent a strongly worded letter to the utility. "We disagree with the apparent conclusion by your consultant," wrote Donald Cox, chief of DTSC's site evaluation unit, "that the site is not a hazard and removal or remedial action is not necessary."
By July 1992, PG&E changed its recommendation to regulators, stating in a site evaluation report that "additional investigation" was needed regarding the sources and transport of chemicals in "soil and groundwater." PG&E conducted soil and groundwater testing five years later, in 1997, at the Gaslight Building (also owned by the company) next to the Marina Substation at the North Beach gas plant. The findings, according to the lawsuit, revealed "notable levels" of soil and groundwater contamination, particularly in groundwater where tests discovered a large amount of naphthalene, a type of PAH that is more water-soluble.
Groundwater is rainwater that seeps into soil and sediment. It's almost everywhere, flowing very slowly through crevices below land, saturating whatever sediment it lies in. If soil is contaminated, Hatheway explained, the water will become "more contaminated by concentration" than water that flows freely above ground. The tainted groundwater, in many cases, can eventually leak and further contaminate nearby bodies of water.
The test at the Gaslight Building was the last time PG&E conducted a groundwater test at the North Beach MGP site. The company would not do soil testing again until 2010.
In regard to testing groundwater at Clarke's home, the lawsuit filed against PG&E alleges the company refused to test because "the Clarkes do not drink the groundwater, and DTSC is not requiring PG&E to do such testing."
Clarke said PG&E's decision to not test the groundwater was "despicable" and "totally irresponsible."
"They have not been doing the right thing for a long time," he said.
---
Clarke first learned about the contamination on his property in 2010, when PG&E sent a letter to him and others living in the North Beach MGP footprint. The letter stated the company was going to investigate the area for MGP waste. "I didn't know what that was," Clarke said.
PG&E officials sent residents fliers and hosted a number of open houses to discuss MGPs and what they were looking for. Investigation of a property owner's home was voluntary. Soon after, Clarke discovered peanut-sized black rocks in his backyard while he was gardening. '"Maybe this is what they're looking for,'" he recalled thinking. He placed the rocks in a plastic bag and gave it to a PG&E representative at the open house. PG&E determined it was coal but said nothing about contamination.
Within a few weeks, Clarke discovered another black rock, this time the size of a softball. He placed it in a shoebox, walked a few blocks to the Marina Substation, and informed the same representative of his discovery, he said. Soon after, PG&E sent an email to Clarke stating that the company wanted to meet with him. PG&E representatives and lawyers sat in an office with Clarke at the Gaslight Building; the same building where PG&E had discovered soil and groundwater contamination thirteen years earlier. PG&E officials told him that they had tested the rocks and that it was definitely MGP waste, he said. "This was a momentous time for me," Clarke said. "From that time on, we knew we had to deal with it."
PG&E has taken seven soil samples at Clarke's home during the past five years. The tests showed a "presence of MGP residues on the property," wrote Jeff Smith, a PG&E spokesperson, in an email to me. "We have requested his permission to clean up those residues." (Clarke said he didn't agree with the terms of the cleanup, primarily because of PG&E's refusal to test the groundwater beneath his home.)
Toxic waste also has been found at other properties besides Clarke's. PG&E has tested 25 properties since the company began the voluntary program in 2010, including some soil testing in public areas, such as sidewalks. The company has conducted remediation operations at seven properties in the Marina district, meaning that PG&E either relocated property owners or purchased the property outright from the owner in order to remove and refill all the contaminated soil.
During the mid and late 1990s, the City of San Francisco found PAH contamination in nearby waters, which could have potential effects on herring that spawn in the area. In order to receive a permit for a future dredging project, the city conducted tests from 1994 through 2000 at Gas House Cove in the Marina district near the former North Beach gas plant. The tests uncovered traces of gas plants waste, including PAHs. The results also concluded that some of the waste came from sources on land. The findings were worrisome, but not surprising. Contaminants on land, be they from fertilizers, trash, or, in this case, PAHs, have a direct effect on nearby waters. Fertilizers used by farmers eventually get washed into waterways. Trash from streets flow down storm drains and eventually into the water. And MGP waste, collected and buried deep underground for more than one hundred years, can and has seeped into the bay through stormwater runoff, and, possibly, groundwater. Yet despite the city's discovery at Gas House Cove, neither the city nor PG&E has conducted further tests to determine if one of the possible sources of PAH contamination came from groundwater beneath the former North Beach gas plant. Furthermore, PG&E has not been required by the state to test groundwater in the area.
In the meantime, Gas House Cove remains toxic, possibly endangering future herring stocks. According to Mellor, the herring fisherman, it is very uncommon for herring to spawn in Gas House Cove. "It's odd because the cove is protected," Mellor noted. "Herring generally prefer to spawn in areas like that." Mellor believes that herring rarely spawn in the area because of high levels of PAH contamination.
But Ryan Bartling, an environmental scientist at the California Department of Fish and Wildlife, disagrees with Mellor's assessment. Bartling contends that the high ocean currents in the area deter herring from spawning at the cove. Bartling said that PAH contamination can be a detriment to herring but is something "we are not really concerned about at this time." Bartling declined to comment on PAH contamination from MGP waste due to the pending lawsuit.
DTSC has not required PG&E to test groundwater since the agency's letter to the utility in 1992. DTSC representatives declined to be interviewed for this story, but agency spokesperson Sandy Nax stated in an email to me that, at the time of the 1991 test, "contamination was not considered a threat to public health because the groundwater was not used as drinking water" and "the site was paved preventing direct contact with contaminated soil or airborne releases of dust." It should be noted that Nax's statement contradicted the original language in the DTSC letter, which cited the regulators' concerns of MGP waste on human health and the environment.
Nonetheless, determining the source of PAH contamination in areas such as Gas House Cove will remain a mystery — at least for now. Stuart Gross, attorney for Clarke and the San Francisco Herring Association, contends that PG&E is not interested in solving it. "PG&E is testing on a piecemeal basis," Gross said, "to obscure the larger problem."
---
Thus far, no published evidence has directly linked MGP contamination in the North Beach, Fillmore, and Beach Street MGPs to higher than normal cancer levels or of causing any immediate harm to herring that spawn in nearby waters. But according to Hatheway, the geologist who has studied hazardous waste sites across the country for more than forty years, the extent of contamination in the area must be addressed. "It is a big enough problem not to be allowed to go unanswered," Hatheway said.
In an email, PG&E officials stated that they wanted to ensure that any potential impacts to the environment from former MGPs are "addressed in accordance with today's regulatory standards."
But Clarke and the SF Herring Association have questioned PG&E's commitment to protecting the environment in a holistic way. "Everything in nature is connected," Clarke said. "This contamination is like one big spill."