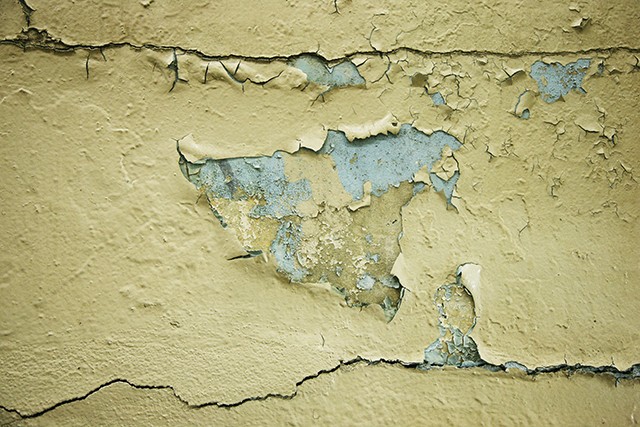 Irina Dessaint's 18-month-old daughter, Teddy, turned around and looked at her with a mouth full of paint chips. Teddy liked to hang out by the window of their Oakland apartment to wave at people on the street. Standing on the couch to peer over the windowsill, she took a bite out of the frame.
The next day, Dessaint asked Teddy's pediatrician for a lead test, knowing that their cramped North Oakland apartment building was constructed in 1906, seven decades before lead paint was banned nationwide. When the results came back, Dessaint and her husband rushed Teddy to the emergency room.
Teddy's blood lead level was 59 micrograms per deciliter, well above the toxicity level of 5 micrograms set by the Centers for Disease Control and Prevention. The following day, in the ER, it dropped to 33, and for the past several months it has hovered at 8. "I didn't realize how much of an effect a little bit can have," Dessaint said.
Teddy was one of the lucky ones. Her doctors think it was a one-time exposure to lead because the levels dropped so quickly, but each year dozens of Oakland children are poisoned by lead. Up to 7.5 percent of children under the age of 6 in eight Oakland zip codes were lead poisoned in 2012, according to a housing report published by the Alameda County Department of Public Health in April. This is five times greater than the state lead poisoning rate and 2½ times greater than the county average in the same year. The California Department of Public Health has not released more recent numbers.
Lead paint toxicity is a long-standing issue in Oakland, and one that's well-known to local officials. But critics say the city has been too slow to tackle the problem, despite studies showing lead poisoning is one of the most common and preventable childhood ailments. There's an easy solution on the table, advocates say, but the city staff has yet to move it forward. Meanwhile, substandard housing conditions, increased poverty, and lack of oversight have sentenced Oakland children to high rates of lead in their blood.
Larry Brooks, director of the Alameda County Healthy Homes Department, said multiple factors contribute to the problem, including property owners unwilling to pay for repairs and unlicensed contractors unwittingly spreading the contaminant in a home by not taking proper precautions.
The Oakland Planning and Building Department, meanwhile, doesn't have the financial resources to undertake the lead-paint issue right away, said city spokesperson Karen Boyd. In October, Oakland and nine other cities and counties won a multimillion-dollar lawsuit against large paint companies who advertised lead paint use despite its known toxicity in the 1950s, but the money has yet to be doled out.
As a result, "people are getting away with creating lead hazards because no one is policing them," Brooks said. "Unfortunately, we're the ones that end up dealing with the tragic results."
The effects of lead poisoning are serious and permanent. Children with a blood-lead level as low as 5 micrograms per deciliter can have learning and developmental disabilities, decreased IQ, behavioral problems, stunted growth, and kidney problems, among a host of other complications. Lead levels higher than 45 micrograms per deciliter can cause severe neurological problems and death.
"The normal lead level is zero, because lead serves no functional purpose in the human body," said Carl Baum, pediatrician and an expert on environmental health for the American Academy of Pediatrics.
Bay Area children aren't ingesting lead through drinking water like in Flint, Mich., where improperly treated water caused the corrosion of lead pipes in 2015. Instead, like Teddy, kids are most commonly exposed to it through old paint in and around their homes.
"The water issue in Flint was a double-edged sword. It got a lot of attention, but people ignored the housing problem," Baum said.
More than 80 percent of Oakland housing was built before 1978, the year lead-based paint was banned from residential use. With each passing year, that paint becomes more of a hazard as normal wear and tear and weathering takes its toll. Children under the age of 6 are most at risk of inhaling dust that contains lead, playing in lead contaminated soil, or ingesting lead paint chips.
"Their behavior is different than adults," said Jerry Paulson, chair of the American Academy of Pediatrics' environmental health committee. "Think of a 2- or 3-year-old. Those kids are down on the ground, they're playing on the floor, crawling, and then they put their hands in their mouth."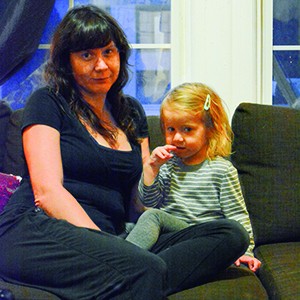 Teddy's case isn't unusual, but Dessaint's quick reaction was. Typically, lead poisoning is an inconspicuous disease with few obvious symptoms, Paulson said. At low levels, lead toxicity shows no symptoms, and at higher levels, many of the behavioral and developmental signs — difficulty learning, irritability, loss of appetite — are mistaken for common child behavior.
But the effects are lasting.
"I wondered for a long time after, when she screams is it normal toddler behavior, or is it lead?" Dessaint said.
Tram Nguyen, policy coordinator for the county health department and lead author on the Housing Habitability and Health report said there's a clear connection between dilapidated housing and decreased health. Pests, mold, poor ventilation, dirty carpet, and cracks in the walls or roof increase the incidence of respiratory diseases like asthma, while peeling, damp, or chipped lead-based paint increases the risk of lead poisoning.
"We know homes that are not well-maintained are more of a risk," healthy homes director Brooks said.
Historically, Oakland has relied on code violation complaints or Rent Adjustment Program petitions, which can include health and safety violations, to force landlords to repair run-down homes. But renters, especially those who live in or near poverty in Oakland, are often afraid of complaining about rental unit issues, said Sophia DeWitt, program director for East Bay Housing Organizations. Consequently, many tenants put up with dilapidated conditions like peeling lead paint because they don't want to risk losing housing.
"That family could easily face retaliation for making the complaint in the form of a rent increase or eviction," DeWitt said. "Both of those things are illegal, but they're very hard to prove."
It's clear to housing advocates the self-policing system isn't working. Between 1996 and 2018, fewer than 600 health and safety RAP petitions were filed, according to city data, representing little more than half a percent of all rental properties in the past two decades.
There is a potential solution, advocates say, one that has been pending before the city for decades. "As a matter of fact, 2019 will be 30 years that I've been doing this," said Gwen Hardy, founder of People United for a Better Life in Oakland and a board member of the county Lead Poisoning Prevention Program.
Three decades ago, Hardy's work led to the creation of the lead poisoning prevention program, part of the Alameda County Healthy Homes Department. The program's staffers help families with lead-poisoned children, check homes to find sources of lead, and in some cases provide grants to help property owners remediate the problem. Their work is recognized as a model by the Environmental Protection Agency and has contributed to the steady decline in lead poisoning across the county — even though rates in Oakland remain high.
According to experts and local residents, the ideal solution would be to prevent lead poisoning before it happens. "We need to switch to a system where we screen buildings instead of screening kids," said Paulson of the American Academy of Pediatrics.
But the most recent push to get the city council to address the issue has taken nearly seven years to make it to committee and has yet to be presented before the full council. Margaretta Lin, executive director of the Dellums Institute for Social Justice, first introduced the idea of a proactive rental inspection program in 2011 when she worked for Oakland as deputy city administrator. She left the city in 2015, but in 2017, a working group composed of Lin, the Healthy Homes Department, the Oakland Tenants Union, real estate agents, city staff, and other stakeholders developed a pilot program and presented it to the council's Community and Economic Development committee.
Their proposal was to take the burden of reporting code violations off renters and allow city inspectors to do routine checks on properties, particularly those built before 1978. A similar program implemented in Rochester, N.Y., reduced childhood lead poisoning by 60 percent.
In June 2017, the economic development committee recommended the program be put before the full council, but that has yet to happen.
City officials say the program hasn't moved forward because the building department doesn't have enough staff or funds. City spokesperson Autumn King said the building department will ask for program funding in the next budget cycle. "The city is committed to developing a program that is effective, efficient, and sustainable for the benefit of all Oakland residents," King said.
Oakland can also expect an influx of cash soon to clean up lead around the city. In October, the U.S. Supreme Court turned down an appeal from three major paint companies, letting stand a lower court ruling that held them responsible for $409 million in abatement funds. The decision brought to a close nearly two decades of litigation wherein Oakland, San Francisco, and eight other California cities and counties argued that paint companies created a hazard by knowingly marketing a toxic product for home use.
"It is long past time for these companies to be held accountable for the harm their products have caused and continue to cause in homes throughout Oakland and California," city attorney Barbara Parker said in a statement.
It's too late for families like Katherine De Pooter's. Her son, Robbie, was the picture of a healthy, happy infant when he was born. But between the ages of 1 and 2, things changed.
"He used to love the camera. He loved to look at me and play with me," De Pooter said. "And then as he started getting older, he wouldn't look you in the eye. He would play with his toys but in slow motion, kind of like he wasn't all there."
Robbie was diagnosed with severe autism before his second birthday. He had temper tantrums and never slept. He wouldn't respond to his name no matter how loudly De Pooter screamed it.
"We didn't know what was wrong with him," she said.
Six months later, during his annual checkup, Robbie's doctor screened him for lead. The results came back positive: 12.9 micrograms per deciliter.
A year ago, the Healthy Homes Department inspected the East Oakland home and found lead in every room. There was one wall where the paint was peeling from water damage from a leaking roof. The department provided De Pooter's landlord with a grant to make the property safe. She in turn tried to get the family to sign a paper saying they wouldn't sue, De Pooter said.
Slowly, Robbie's lead levels have been dropping. His doctors won't correlate his autism to the lead exposure, De Pooter said, but he has been reclassified with mild autism.
"Now look at him," De Pooter said, while Robbie, now nearly 4, played with a train set on their living room floor. "He's calm. That's how I know the lead is going down."
This report was originally published by our sister publication,
Oakland Magazine.