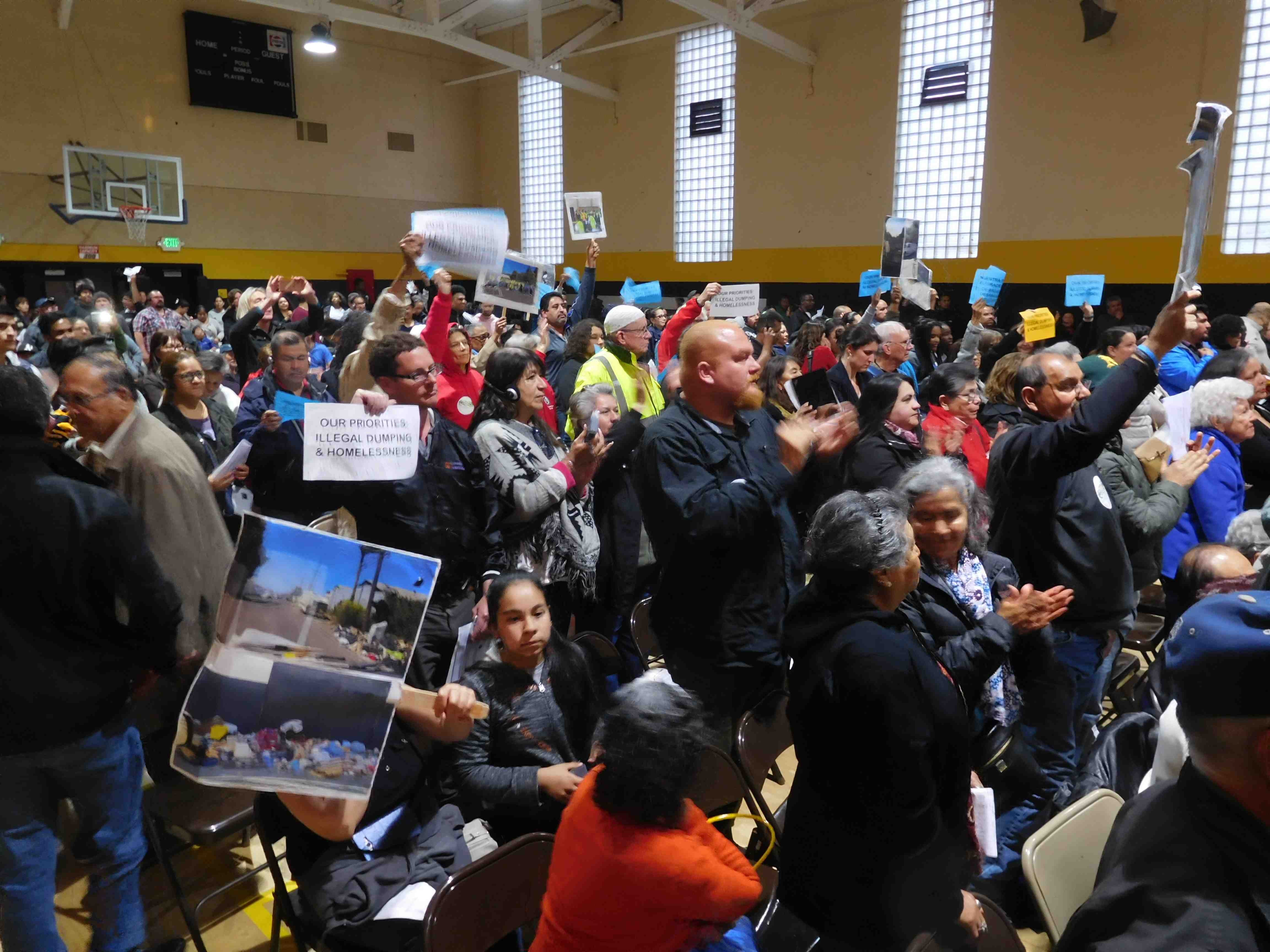 Hundreds of Oakland residents, most of them from the city's flatland neighborhoods, packed a town hall meeting last night to demand that city leaders dedicate greater resources to clean streets.
Illegal dumping is a perennial problem in Oakland, especially in communities of color, and many feel that piles of garbage are allowed to fester near homes and schools because this public health hazard doesn't inconvenience Oakland's more affluent and predominantly white residents who live in the hills.
Last night, activists from the East Oakland Congress of Neighborhoods talked about there being "two Oaklands," and how problems like trash and broken infrastructure are addressed differently in separate parts of the city.
Neighbors also cried foul about rising garbage bills and parcel taxes, which never seem to improve their physical surroundings.
Oakland's Mayor Libby Schaaf was put on the spot by organizers of the event who questioned why the streets of her neighborhood, the Oakmore, located in the hills above the Dimond District, appear clean and in good repair while other streets just a mile away in the Fruitvale are pocked with potholes and sidewalks are obstructed with piles of garbage and dangerous materials like needles and dead animals.
Pastor Michael Wallace, the chair of Oakland Congregations United and an organizer of the town hall, questioned why
Schaaf is promoting a new $198 parcel tax
to fund pre-school and Head Start programs while "basic priorities" like safe and sanitary streets are neglected.
But Schaaf pushed back and said that residents shouldn't be led to believe that it's an either/or choice between clean streets and better funding for Oakland's schools. She said residents deserve better on both.
"No one elected me to work on only one thing at a time," Schaaf told the audience. "I assure you I have the capacity to work on many things and you should never compromise anything for your children."
[embed-1]
Members of the Oakland City Council were interrogated about whether or not they will support hiring two additional public works crews to pick up piles of illegally disposed waste, and to hire three inspectors who will try tracking down the culprits who drop garbage onto the streets, usually late at night.
Residents also demanded that city leaders repair and add streetlights in areas that are known hot spots for dumping. The councilmembers were repeatedly told to answer "yes" or "no" to the demands, and not give political speeches without a commitment.
Councilmember Noel Gallo drew applause by reminding people of his weekly cleanup activities around the Fruitvale.
"This last Sunday alone I picked up 105 drug needles and 15 dead rats," Gallo said. He promised to support spending more money on clean streets.
Councilmember Abel Guillen told the gathering that he would advocate for another illegal dumping cleanup crew next month when the budget revisions are made.
Councilmember Rebecca Kaplan also pledged to spend more on cleaning up the streets. "Yes, si, amen, and so it is," she said in response to whether she'll support hiring more illegal dumping crews and inspectors.
Councilmember Dan Kalb said he supports adding public works crews, but he also tried to temper expectations, telling the hundreds of people gathered in the auditorium that the city's budget office has yet to provide the council with an update on how much money will be available to expand city services.
Next month, Oakland will begin its May revisions to the budget. If additional revenue has poured in, above and beyond what's already been allocated in the current budget, it could mean that one or two more public works crews can be hired.
Another complaint made last night is that the city dispatches public works crews to areas that receive the most complaints, but that often means that more affluent neighborhoods where residents are more able to advocate for themselves get faster and more frequent service than the city's working-class flatlands.
Organizers of last night's town hall demanded the city clean up streets by prioritizing known hot spots rather than responding to complaints.
Absent from last night's town hall were councilmembers Annie Campbell Washington and Desley Brooks. But also in attendance were District Attorney Nancy O'Malley, Alameda County Supervisor Nate Miley, Oakland school board members James Harris, Aimee Eng, and Roseann Torres.
Nikki Fortunato Bas, who is running for Oakland City Council in District 2, was also in attendance.