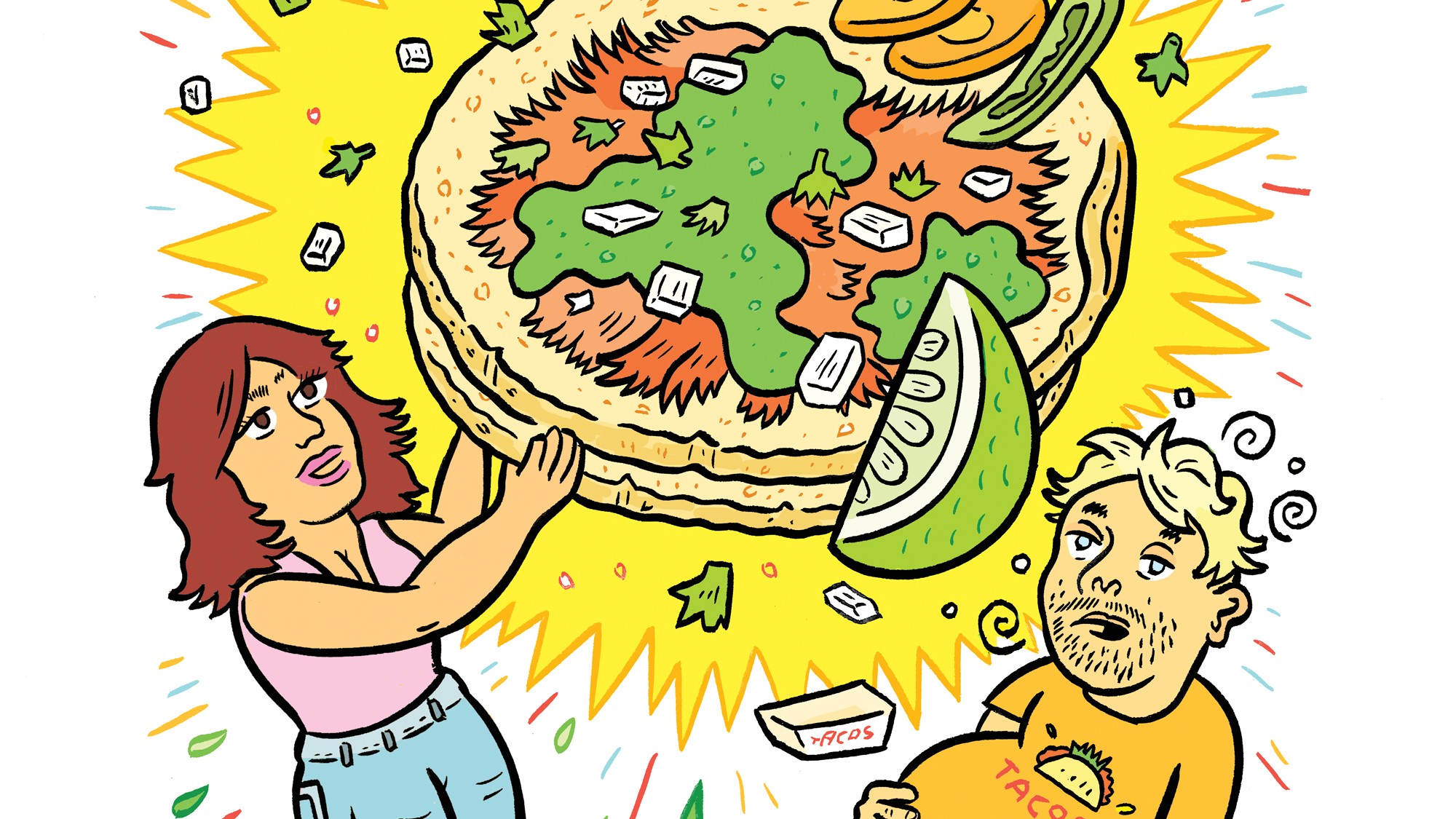 The conventional wisdom is that the best places in Oakland to grab a plateful of tacos include a well-known truck by the lake, another orange-painted truck in the Dubs, and maybe also the fat truck farther out near High Street. You know which spots we're talking about. Supposedly they have yummy burritos, too.
But all of that is wrong. It's not that they're bad. They're just over-rated, and there are literally dozens of other spots that are better. Keep in mind this list isn't even remotely comprehensive. It's a small sampling of the many delicious places you should try. Some of the best taqueros, however, happen to be among the least well-known. They're mostly located in the Fruitvale and farther East, but there's a handful of great trucks in West Oakland, as well as some sit-down places that we had to include.
Around the lake, Rockridge, and the hills are taco deserts. Avoid these sad, flavorless places.
The other oft-repeated claim is that some taquerias and trucks serve more "authentic" food than others, and are therefore superior. That's also incorrect.
There's no point in seeking out the "authentic" taco. That's like trying to find El Dorado. Like all food, tacos have an origin, in this case the brilliant cuisine of the Mexican peasantry. But tacos are all-American, even global. They're almost everywhere, and they're certainly a staple of Oakland's culinary culture. Our city's taqueros experiment with this versatile dish just as much as they prepare it from old recipes that reach back to the regional variations found in places like Mexico City, where spits of al pastor rotate in sidewalk restaurants, and Quintana Roo, which is known for its fish tacos. The new twists are just as authentic as the old styles.
So here's our guide to enjoying tacos in Oakland. But before we get to the specific locations you need to visit, a few words on how we scored the food: First, we tried several types of meats from each place, usually including pollo, al pastor, carnitas, and carne asada. Most taqueros have these staples on their menu. But if a place specializes in seafood, or something else, we tried that, too.
Second, we paid close attention to the salsas, pickles, and roasted vegetables. These sides are key to any taco feast. We also made sure to note the quality and freshness of the tortillas. There's nothing more unfortunate than amazing meat, salsa, cilantro, and onion slapped on a stale-thawed tortilla. And salsa. Salsa matters a lot. A really good taqueria should have different kinds of salsas to pair with different types of meats.
Finally, we paid attention to ambience. But that doesn't mean we scored trucks worse than sit-down restaurants. The places are listed in two sections: trucks, listed from best to not-so-best, and sit-down locations, all three of which scored high on our rating sheets. The thing about tacos is that they're often better when you're eating them behind a truck in a muddy parking lot near the freeway. Street food, of which the taco is royalty, has a way of making all parts of the city feel special.
Taco Panzon
Located between a barbed-wire fence and a derelict warehouse on a pothole-filled road caked with mud and strewn with garbage, this could be the best truck in Oakland. It is the second oldest taco truck in The Town. Panzon definitely has the greatest al pastor we've tried. The meat is perfectly roasted and glazed in sauce with bits of pineapple cooked in. (Why most other places don't incorporate pineapple is a mystery to us.) The tacos de chicharron in salsa is another must-try for anyone who eats here. And their carnitas has that necessary fluffy-yet-crunchy texture, while the carne asada is made from quality steak. We wish there was nearby seating, and besides the big slices of pickled carrots, they don't offer much in the way of vegetable sides. But the meat is so excellent we had no problem eating off the hood of a car. We spent $18 for eight tacos and one agua de jamaica.
Campbell St. at West Grand Ave.
El Taco Oaxaco
Located on a dirty side street close to the 880 Freeway in Jingletown, this truck is all-around excellent. The meat selections are solid, with the asada and tripas being the best, closely followed by the al pastor. The tortillas are warm and soft, and you get three different salsa choices in small to-go containers: a red, green, and an extra spicy habanero one. Unlike most trucks, they have a table under a tarp where you can dine in style. We spent $16 for eight tacos and one horchata.
Kennedy St. at Diesel St.
El Novillo
This truck popped up in the parking lot where the Casa Jimenez restaurant used to be, and praise the gods! Operated by the Guadalajara Restaurant (there's a twin El Novillo parked outside Guadalajara on Fruitvale Ave.) this is one of the better trucks in Oakland. The carne asada and al pastor are both excellent. The chicken, however, was underwhelming, even bland, and their salsas aren't much either. But they load your plate with picked carrots and jalapeños, and a grilled onion and roasted serrano pepper. Plus, you get chips and pico de gallo without asking for it. The location is central, but there's no seating. We also liked the horchata. We spent a total of $16 for eight tacos and one horchata.
4345 International Blvd.
Aguachiles el Tamarindo
This new truck is located in what used to be a used car lot in the Fruitvale. It's also owned by the El Grullense empire, but even though it's a spinoff of their sit-down restaurant and two nearby trucks, Aguachiles el Tamarindo is far superior. This spot is really all about the seafood. The fish and shrimp tacos come covered in a mildly hot, creamy sauce with diced cabbage. These fish tacos are better than Cholita Linda's. There, we said it. And surprisingly, el Tamarindo's carne asada is better than at the other El Grullense locations. The outdoor seating is shaded and they play music so you're not just listening to the traffic on E. 14th. Finally, they sell BYOB micheladas. You bring the beer and pour it into a tall glass they've primed with juice and seasoning. Can't beat that. We spent $26 for 10 tacos and a tamarindo agua fresca.
3053 International Blvd.
La Chole
Located outside the Port of Oakland's gates, this truck caters to the workday lunch crowd. The reason you should go here is the view, and the random conversations you can have with longshore workers and truckers. From the little picnic table in front of the truck, you can see San Francisco, the port's cranes, downtown Oakland, and the railroad yard. To be honest, the food is mediocre. Tortillas are generic, and they don't have any salsa options. What they do give you isn't very spicy, plus they don't drop any pickles or vegetables on your plate. Their selection of meat is standard, except they don't have carnitas. But the view! Also, the truck advertises freshly pressed juices, to which they have none. We spent $16 for eight tacos and one Jarrito.
Middle Harbor Road near the Matson Terminal
Taqueria El [email protected]
Out of the three sit-down places that we visited recently, El Paisa still reigns supreme. Our rating hasn't changed one bit since our former food critic, Luke Tsai, reviewed it back in 2015. His words remain true: "the end product is often so spectacular, it's difficult to describe an El Paisa taco without just lapsing into profanity." El Paisa also offers the best salsa bar of them all, with an outstanding selection of salsas, the tastiest chili-laced cucumber slices, and tangy carrots. They don't dump onion and cilantro and sauce on your tacos. Rather, they let you decide how to spice them. Seating includes indoor tables and a shaded patio. We spent $18 for eight tacos and one horchata.
4610 International Blvd.
Taqueria Reynoso
This sit-down spot in the heart of Fruitvale is worth the drive and the slight challenge to find parking. Their salsa bar is outstanding, with a variety of three red salsas, two green ones, pickled jalapeños, radishes, lemons — you name it, it's there. They also have self-serve chips. Like at El Panzon and El Novillo, Reynoso's meat is superior quality, and they pack each taco so much that you might want to rethink your typical taco order. Get half of what you normally ask for. Their crispy beef barbacoa tacos, which served on a double tortilla and are more expensive, are outstanding. They also use the leftover meat grease to fry the tortillas. There are plenty of comfy booths, and the only distraction is the TV mounted on the wall. We spent $29 for 10 tacos and a tamarindo agua fresca.
3329 Foothill Blvd.
Mi Zacatecas
This new taqueria is a small kitchen in deep East Oakland's Toler Heights where you order from a bullet-proof window and dine on a tarp-shaded stone patio. Everything's made to order by two chefs, so the wait is longer than at most taquerias and trucks, but here's the reason to go: They offer meat and vegetable toppings you can't get at most other places, and it's all excellent. The lengua and cabeza both had a rich but not greasy texture. The nopalitos con cerdo (cactus with pork) is a unique treat. Same with the chicharron in red salsa and rajas con queso. And the picadillo con papas, a rich beef, potato, tomato, and onion filling. Like most taquerias, they could up their game if they had pickles, grilled vegetables, and a salsa bar, but the quality and variety of meat are so perfect that this place still rated very high with us. We spent $25 for eight tacos and two jamaicas — and it was well worth the wait and the price.
9896 MacArthur Blvd.
Editor's note: We misspelled the name of Taco Panzon. This version has been corrected.