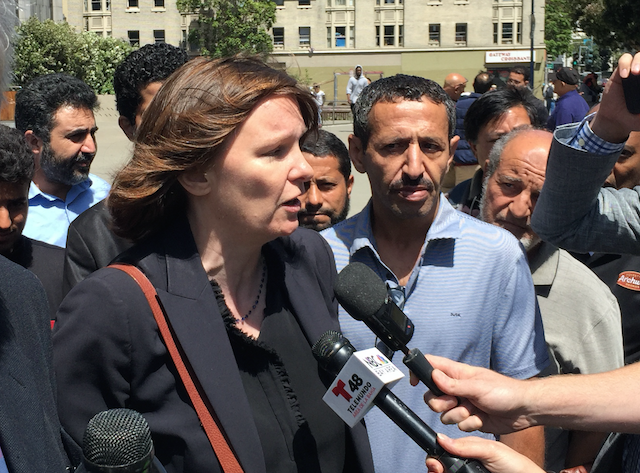 Amer Sinan Alhaggagi, a 23-year-old Oakland man who was charged last year with attempting to provide material support to a terrorist organization, initially pled innocent, but today in federal court, he reversed course and pled guilty.
His attorneys said, however, that while Alhaggagi is guilty of the exact conduct federal prosecutors charged him with, he is "not a terrorist."
They requested an unusually lengthy full day sentencing hearing later this year at which they plan to elicit testimony from an expert who will describe reasons why Alhaggagi doesn't fit the definition of a radicalized terror suspect.
Mary McNamara, Alhaggagi's attorney, said after today's hearing that her client has been "slammed by the system" merely for opening five Twitter accounts, two Facebook accounts, and several Gmail accounts.
"This is really a case about what the appropriate sentencing should be," said McNamara.
Alhaggagi was charged one year ago with attempting to provide material support to the Islamic State because he created social media accounts that were later used by two other foreign individuals to spread ISIS propaganda.
In a document attached to his new plea, Alhaggagi wrote that he was initially contacted by ISIS supporters through a chat app called Telegram in October of 2016. He admitted to engaging in "trolling" behavior, including falsely reporting other users of the app as Shiite Muslims in hopes moderators would block them. He re-posted pro-ISIS messages and was later approached by two individuals through the online forum who asked him to create social media accounts.
He did, and he shared the passwords to these accounts with the individuals, who were identified by federal prosecutors as ISIS members.
As part of his new plea, Alhaggagi admitted that knowingly opening these social media accounts for ISIS members constituted a "service" within the definition of providing "material support or resources" to a foreign terrorist organization.
"I deeply regret what I have done," Alhaggagi wrote. "And, since the time that I was charged, I have seen evidence that some of the Twitter accounts that I opened were in fact used to distribute news and other materials about ISIS."
US Attorney Waqar Hasib told Judge William Breyer he agreed with the need for a full day sentencing hearing. But he described Alhaggagi's conduct in far different terms.
Prosecutors also charged Alhaggagi with aggravated identity theft and possession of an illegal "access device" because he used a fake credit card to steal clothing from an online retailer.
The FBI set up a sting operation against Alhaggagi and, according to agents who worked the case, Alhaggagi expressed plans to plant backpack bombs around UC Berkeley, set fire to the East Bay hills, and distribute strychnine-laced cocaine at nightclubs in San Francisco. He made several other statements about his desire to carry out terrorist attacks.
But McNamara pointed out after today's hearing that the government did not ultimately charge Alhaggagi for any of his statements or actions that occurred during the attempted FBI sting operation.
In fact, said McNamara, when an undercover FBI agent asked Alhaggagi to shop for chemicals and bomb-making materials, he refused. He later broke off contact with one undercover agent.
Describing Alhaggagi as an "ordinary American kid who just had a big mouth," McNamara said that he is being prosecuted under a law that was vastly broadened after the 9-11 terrorist attacks.
She said the Congress should revisit the specific statute —
18 USC Sec. 2339B(a)(1)
 — that defines the crime of attempting to provide material support to a terrorist organization and consider tightening up the language so that actual dangerous criminals are the focus of prosecutions.
She called it possibly a "dangerous statute" because of how many otherwise mundane actions like opening email and social media accounts can be defined as supporting terrorism.
About 100 of Alhaggagi's family and close friends packed today's court hearing in a show of support. McNamara said the young man's arrest and mark as a terror suspect has been a tragedy for the Bay Area's tight-knit Yemeni community.
For more on Alhaggagi's case, and other Bay Area terrorism cases,
see our previous reporting.