The City of Oakland has agreed to pay a $4.5 million legal settlement to Scott Olsen, the 24-year-old Marine Corps veteran who was critically wounded by Oakland Police on the night of October 25, 2011 during a chaotic confrontation between law enforcement and Occupy Oakland demonstrators. Police had evicted the Occupy Oakland encampment from Frank Ogawa Plaza that morning, prompting thousands of people to return to downtown that afternoon.
[jump]
Olsen, who is now 26 years old and has permanent brain damage, was struck in the head by a shotgun-fired beanbag that consisted of lead birdshot wrapped in cloth. At the time, he was standing about 15 feet from police barricades at 14th Street and Broadway. The firing of the beanbag round was a blatant violation of OPD's own crowd control policy. Then, while Olsen lay on the ground, an Oakland cop lobbed a "flashbang" grenade into a crowd of people who had rushed in to help the wounded veteran. Video of a dazed and bleeding Olsen being carried to safety by fellow demonstrators went around the world within hours. Occupy Oakland retook the plaza the following day and led a demonstration of thousands that shut down the Port of Oakland on November 2, 2011.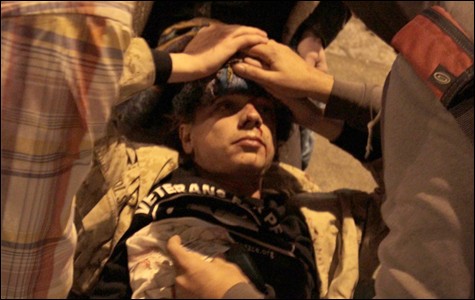 In 2012, this reporter and independent investigator Jacob Crawford
identified Robert Roche as the Oakland police officer who lobbed
the CS "flashbang" grenade" toward a prone Olsen and the group of people who rushed to his aid (Full disclosure: Jacob Crawford worked as an investigator for Olsen's attorneys Jim Chanin and Rachel Lederman in this case. This reporter was not involved in the lawsuit). OPD fired Roche for his actions, but he is challenging the termination in arbitration. The Oakland police officer who shot Olsen has still not been identified, according to court documents.
"I'm grateful this is over," Scott Olsen told me in a recent interview. "It's been very difficult to think about or plan for a future during this lawsuit." Olsen, whose current medical expenses are more than $200,000, said he is relieved that his injuries were not worse. After the shooting, he temporarily lost his ability to speak and to perform basic motor functions, and while he has improved significantly during therapy, his memory, concentration, and speech are still impaired. Olsen said he hopes OPD discontinues the use of flashbang grenades and less-than-lethal beanbags so no else gets injured liked he did. To this day, being at the intersection of 14th and Broadway makes him uncomfortable, as does being around police. "When I talk to police now, most of the time I'm shaking inside," he said.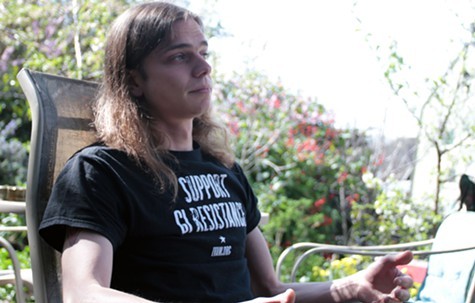 Scott Olsen said he hopes that OPD will stop using beanbag rounds and flashbang grenades.
OPD's response to Occupy Oakland on the night of October 25, 2011 was the subject of heavy scrutiny by both former compliance director Tom Frazier and Independent Court Monitor Robert Warshaw. In addition, an officer from OPD's Criminal Investigations Division, which was tasked with investigating the Olsen incident, was
accused of compromising the case
in 2012. In Frazier's report, he called into question the veracity of the Tango Team officers who unleashed the barrage of less-than-lethal munitions into the crowd of demonstrators. The officers claimed they did not see Olsen fall or the flashbang that was tossed at him. "After review of hours of video footage involving the injured party (who appears to be approximately 15-25 feet in front of the police skirmish line when he was struck and fell to the ground), the fact that no law enforcement officer, supervisor, or commander observed the person falling down or prostrate in the street during the confrontation was unsettling and not believable," Frazier wrote in his report.
Tango Team officers commanded by Sergeant Roland Holmgren in particular were singled out for submitting use of force reports from October 25, 2011 that were alarmingly similar in their statement that they did not see Olsen lying in front of the barricade, the people who came to his assistance, or the flashbang grenade that was thrown toward them.
Then-City Administrator Deanna Santana attempted to redact portions of Frazier's report that concerned details of OPD's misconduct surrounding October 25, 2011, including criticisms of OPD's inadequate planning before the October 25 raid on Occupy Oakland; the use of internal affairs officers during the raid, some of whom would later investigate complaints against OPD; failures by the department to follow its own crowd-control policy; a seriously mishandled criminal investigation into the wounding of Scott Olsen; revelations that Olsen was gravely wounded by a beanbag round identical to the ones used by OPD that evening; and serious misgivings from OPD officers who told Frazier's team about the department's lax attitude toward misconduct and discipline.
Although OPD's crowd control policy was recently revised as part of the Spalding et al v. Oakland settlement for a November 2010 mass arrest of Oscar Grant protesters, the department still has CS tear gas, blast grenades, and less-than-lethal beanbags as part of its crowd control arsenal. Other Bay Area law enforcement agencies, such as the San Francisco Police Department, do not use tear gas.
A press conference is scheduled for today at 10 a.m. at Frank Ogawa Plaza.
Update 11 a.m.: The Oakland City Attorney's Office said in a statement this morning that the city will pay $1.8 million of the settlement with Scott Olsen, and that the city's insurance carrier will pay the rest of the $4.5 million.