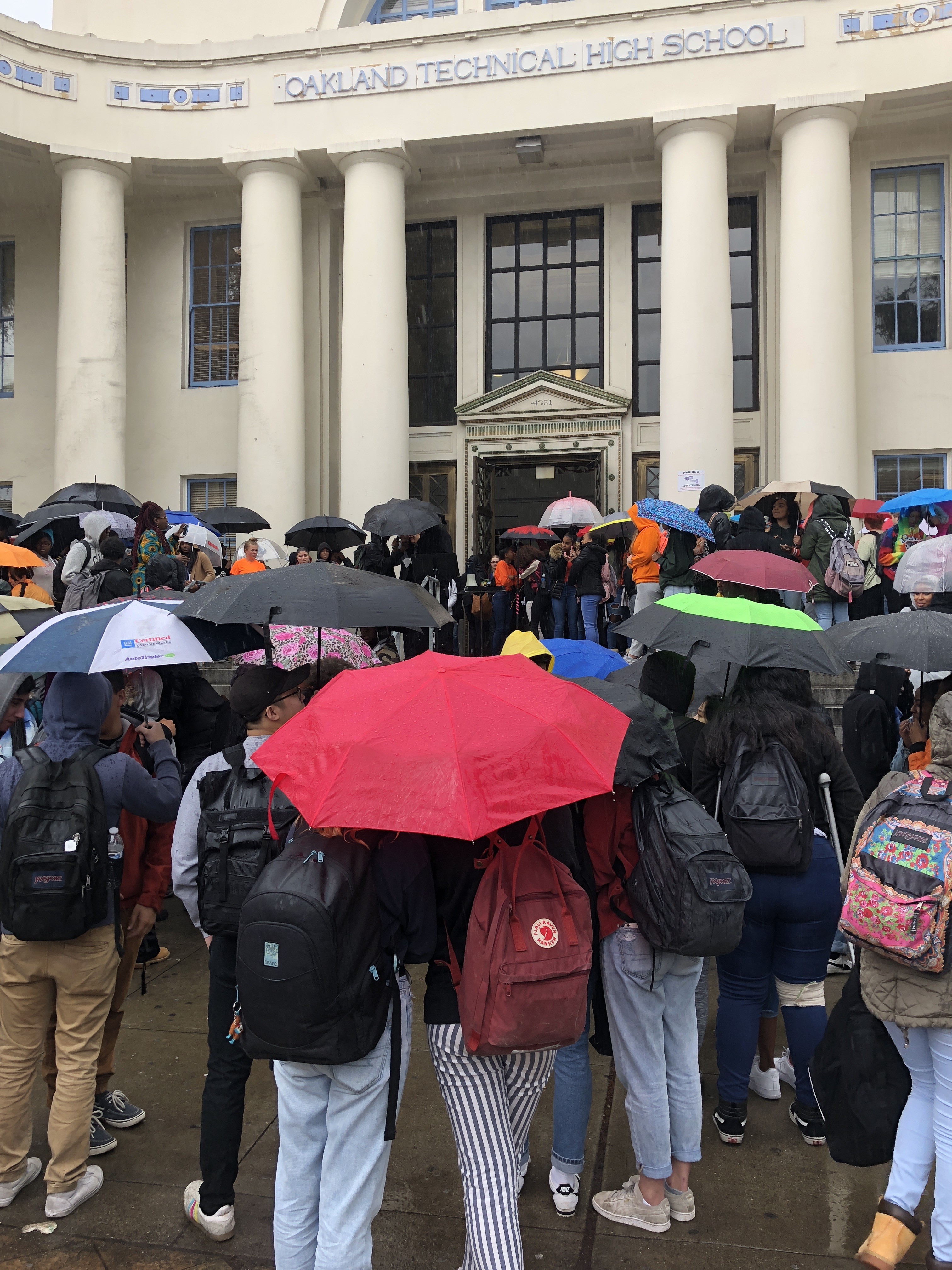 Students at Oakland Technical High School braved the rain on Wednesday as they walked out of their classrooms to show their support for gun control. The demonstration was part of the national walk-out at schools across the country. The demonstrations were in response to the mass shooting that occurred at Marjory Stoneman Douglas High School in Parkland, Florida exactly one month ago.
The Oakland Tech walk-out started at 10 a.m. as students lined the front steps of the school building chanting "Enough is enough." They devoted 17 minutes of their demonstration to remembering the victims of the Florida shooting – one minute for each victim. Though other schools were only walking out for that number of minutes, students at Oakland Tech decided to extend the protest to last all period.
"We really wanted to see this event be done to justice," said Caroline Pers, one of the student organizers of the event. "Extending the time made it so much more valuable."
As students started unfurling their umbrellas, speakers lined up to the microphone to participate in the event's open mic. Students were encouraged to go up and speak. Some read poems, others gave impassioned speeches, but all denounced President Trump's plan to arm teachers and called for stricter gun laws.
"We can choose what we want our futures to look like," said Mia Elliott, another student organizer. "Making sure everyone is aware of their power is really important to changing our country to how we want it to be."
Atiya Black, a ninth grader, said she was surprised and encouraged by how many of her classmates participated.
"We expect people in power to listen to us and do something," she said. "We didn't come out here for no reason. We care about happens."
Throughout the morning, students could also register to vote and write letters to Congress at stations set up outside the school.
The event ended early due to the rain after about an hour of speakers but student organizers already have plans moving forward. Pers said they want to start a social justice club at the school to get other students involved in this kind of activism.
"We have a lot of momentum. We know we're capable of doing this," she said.