Joe Rut has a finesse for finding humor in life's inane moments. It's a useful skill considering that the Oakland singer-songwriter has faced a maddening amount of roadblocks just trying to produce one album.
It started in 1995. Rut was set to record in a studio he had built in a garage. Then his landlord burned the place down while he was out of town. Next, a converted laundry room he was living in flooded. Rut spent months converting a garage in Berkeley into a studio, only to find out during the rainy season that the roof was "Swiss cheese." The landlord decided to fix the roof over his storage area by tearing it off while all his stuff was still in it, covering his belongings with tar dust.
Rut built a studio space in an industrial building, but had to move out because he ran out of money. He booked studio time with two other musicians, but the sessions had to be postponed because of back injuries. They were eventually committed to tape but sat on a shelf for a year as Rut went about building another recording studio in an Oakland warehouse. After it was finished, his new landlord replaced the roof without telling his tenants, leaving Rut's recording gear once again covered with about an inch of gravel, dirt, and tar dust. The songwriter salvaged some of his tapes and moved out while the warehouse was decontaminated. Meanwhile, he recorded new tracks at another studio with a backing band. But his recording engineer had his car stolen — and Rut's hard drive was in the backseat. Of course, there was no backup.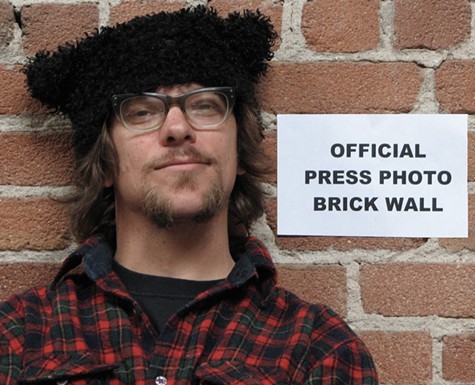 Joe Rut has a sense of humor.
Joe Rut performing "Barbie Feet" at the Freight & Salvage: