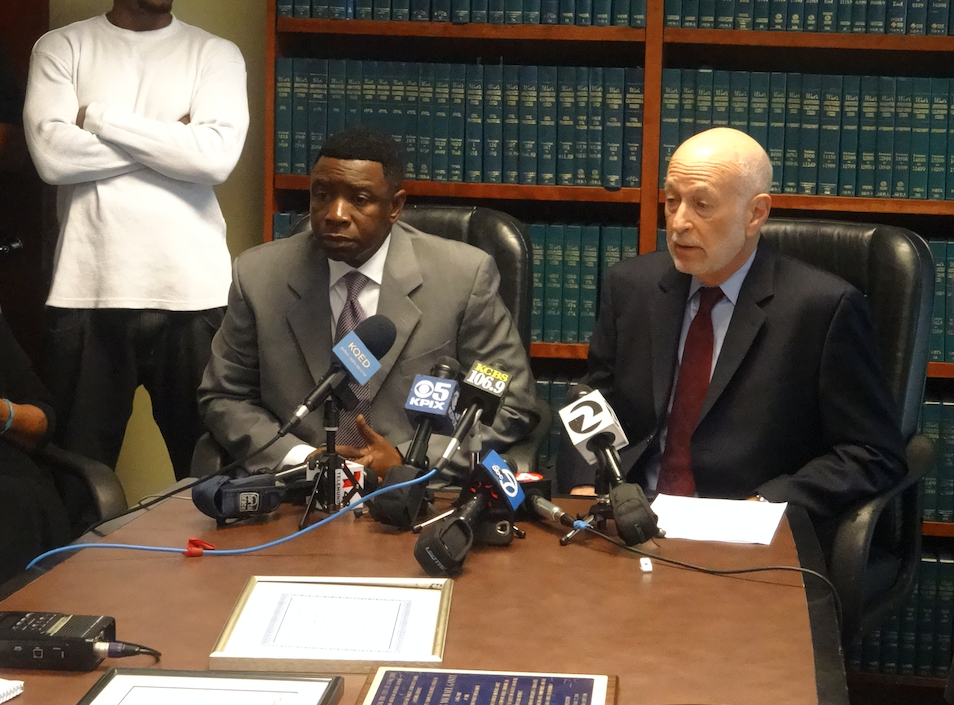 Sgt. James "Mike" Gantt, a veteran Oakland homicide investigator, filed a claim  against the City of Oakland today alleging that top officials retaliated against him because he broke ranks with the department during
the investigation of a rookie cop, Brendan O'Brien, who he suspected of killing his wife
.
"Sgt. Gantt believes that he was removed from the investigation to avoid a finding that Officer O'Brien had killed his wife," Gantt's attorney Dan Siegel wrote in the claim.
Gantt, who has been on administrative leave since April, also suggests that city leaders leaked information about him to the press this summer to distract the public from the Celeste Guap sexual-misconduct scandal.
"I'm kind of torn here this morning," Gantt told members of the press at a news conference today. "I love my job, I'm just tired of being made out to be the scapegoat."
According to Siegel, the retaliation dates back to June 16, 2014, when Gantt and fellow homicide inspector Sgt. Caesar Basa were assigned to investigate the death of Irma Huerta-Lopez, who died of a gunshot wound to the head at O'Brien's Oakland hills apartment.
Since the Express first raised questions about Huerta Lopez's death in May, Oakland officials and Alameda District Attorney Nancy O'Malley have gone to great lengths to ensure the public that her death was thoroughly investigated. If true, Gantt's allegations raise new questions about the integrity of the case.
O'Brien told police officers who responded to the scene that night that he and his wife had an argument, after which he drove to a Shell gas station and purchased cigarettes. When O'Brien returned, he claimed his wife was already dead.
But Gantt immediately suspected that O'Brien killed his wife.
"Based on the physical evidence and an interview I conducted with another Sergeant, the response I was getting from O'Brien wasn't jiving," Gantt told the media today.
According to police sources, Gantt pressed O'Brien during an interview on June 17 about inconsistencies in his version of the events. Basa interrupted, however, and later that day Deputy Chief John Lois, who was in charge of the department's investigations division at the time, pulled Gantt off the case.
O'Brien was eventually cleared and, eight months after his wife's death, he met a 17-year-old girl who went by the name Celeste Guap: the underage victim in the Oakland police sexual-misconduct scandal.
In September 2015, O'Brien shot himself in the head in the same apartment where Huerta-Lopez died a year earlier. He also left a suicide note reportedly discussing allegations that multiple officers sexually exploited Guap.
O'Brien's death and the suicide note opened an internal-affairs investigation into Guap's sexual exploitation at the hands of multiple cops, but that case was riddled with "irregularities," according to US District Judge Thelton Henderson, who oversees the department's 13-year-old court-ordered reform program.
The Guap and O'Brien stories
finally broke this past May
. As a result, Oakland Mayor Libby Schaaf requested that District Attorney Nancy O'Malley review the Huerta-Lopez case. O'Malley later concluded that OPD's classification of her death as a suicide was appropriate.
Around this same time, Gantt was suspended (on April 15), as a result of a domestic dispute with his spouse. He alleges that the city left him in limbo by refusing to complete an investigation of the incident. He is still on administrative leave.
Later, in June, when news of the Guap case was making international headlines, media outlets also reported that Gantt was being investigated for
allegedly mishandling evidence in homicide cases
. He was eventually cleared by the district attorney of any criminal wrongdoing on June 23.
But Gantt's attorney Siegel says details of his evidence mishandling case were deliberately leaked to the press as retaliation for investigating O'Brien, and also to distract the public from the sex crime scandal.
"[H]e was accused of violating City policy to deflect attention from allegations that multiple Oakland police officers had engaged in the sexual exploitation of a young woman, Celeste Guap," Siegel wrote.
Siegel also argued that OPD continues to pursue "administrative sanctions" against Gantt by "combing" through old homicide case files in an effort to uncover evidence of misconduct.
"Evaluated as a whole, all of the actions against Sgt. Gantt and their curious timing present a clear campaign to retaliate against, stigmatize and make an example of someone who tried to break the Blue Wall of Silence at OPD," Siegel wrote.
For instance, Seigel says that, on June 25, City Administrator Sabrina Landreth informed Gantt that she intended to suspend him, without pay, because he was one of multiple officers who were subjects of a different investigation involving "racist" text messages.
But documents obtained by the
Express
indicate that it was Gantt himself who filed an internal-affairs complaint in 2014, accusing a senior officer of sending offensive and racist texts, and of age discrimination. OPD dismissed his complaint as "unfounded" in October of that year.
In response to the claim filed by Gantt, Oakland Mayor Schaaf's office released the following statement:
"We are legally prohibited from disclosing personnel information about any police officer and we do not comment on pending litigation. Given the City of Oakland's firm commitment to holding officers to the highest ethical and professional standards, we expect that some officers will exercise their right to challenge discipline actions. There is a clearly defined legal process for handling these claims and we welcome the opportunity to present the full set of facts."
Oakland City Administrator Sabrina Landreth, who currently oversees the police department, did not respond to a request for comment.