On a recent Thursday afternoon, Stanley Cox stood on the corner of 45th and Market Streets, a low-key North Oakland block where neighbors frequently hang out in front of the laundromat and liquor store. This is near where Cox grew up — before he became known as Oakland rap star Mistah F.A.B — and the intersection has always been a home base. These days, though, it's also where he's realizing a lifelong dream: a store for his clothing brand, Dope Era.
Neighbors popped their heads into the shop to say hello, or to ask F.A.B. about his seven-year-old daughter, Libby. Youngsters filming a music video outside beckoned him to do a cameo. Elders waved at him from across the street. It was as if the entire neighborhood wanted to welcome the hyphy pioneer and storied battle-rapper back home.
F.A.B. is a Bay Area legend, a man whose name is often mentioned in the same breath as E-40 and Too $hort. "He's an OG in the rap game now," is how E-40 himself described F.A.B. in an interview with the Express. "When he first came in, he was a pup.
"Now he a full-fledged Great Dane."
But in the cultural zeitgeist of hip-hop, F.A.B. is still strongly associated with the hyphy movement, and he's the first to admit to his roots. Hyphy rappers touted a party-centric lifestyle, and F.A.B. made many of its cultural exports — like ghost-riding the whip — famous to the masses. Although his discography is diverse, and he has departed from his pill-popping Da Yellow Bus Rydah days, he said in an interview at the soon-to-be opened shop that he feels his most casual listeners associate him with the gimmicks of the mid- and late-Aughts and fail to appreciate the breadth of his body of work — much of which touches on sociopolitical themes and deep-seated personal issues.
The 34-year-old hopes to change public perception with his latest album, Son of a Pimp, Pt. 2: a 21-track magnum opus five years in the making, the long-awaited follow-up to Son of a Pimp, which put F.A.B. on the map in 2005. The record marks an artist entering his second act in life, a rapper embracing his role as community leader and grass-roots activist, and a lyricist bringing the sociopolitical themes of his work full circle.
F.A.B. said he's motivated to step up and be a face for the community. "The Bay Area has always had a stronghold on social awareness," he explained. "[But] I don't see anyone who's in the ranks, or on the frontlines [of hip-hop], addressing those things."
The F.A.B. of 2016 hears this calling. His next goal is to fully live up to his nickname: the mayor of North Oakland.
---
Tapping into the Black Panthers' legacy
Inside Dope Era, F.A.B. discussed the trappings of the hyphy label. "Even to this day, people don't comprehend my artistry in its entirety," he explained. "But every artist, good or great, is never understood. It takes years."
And, he conceded, "Yeah, I felt like I was pigeonholed."
In contrast to hyphy-movement stereotypes, Mistah F.A.B. comes across as a deep thinker. He's committed to Black liberation, and the philosophy of the Black Panthers is at the core of his music and philanthropic projects. During his interview with the Express, he wore a red, green, and black woven bracelet on his wrist and mentioned that he's a member of a Pan African-American study group that surveys the writings of Huey P. Newton and George Jackson. He's also a fan of Ernest Hemingway and German philosopher Hegel, and is an avid reader of Darwinist theory. He confessed that, over the years, he's spent thousands of dollars at Marcus Books, the nation's oldest Black-owned bookstore, located just a few blocks from his 45th and Market headquarters on Martin Luther King Jr. Way and 39th Street.
F.A.B. also said he now views success and social responsibility as inextricably linked. And that his goal now with his charitable projects and music is to shine light on Oakland's marginalized communities.
Fittingly, Dope Era stands for During Oppression People Evolve — Everyone Rises Above (F.A.B. loves acronyms; his stage name stands for Money Is Something To Always Have — Forever After Bread).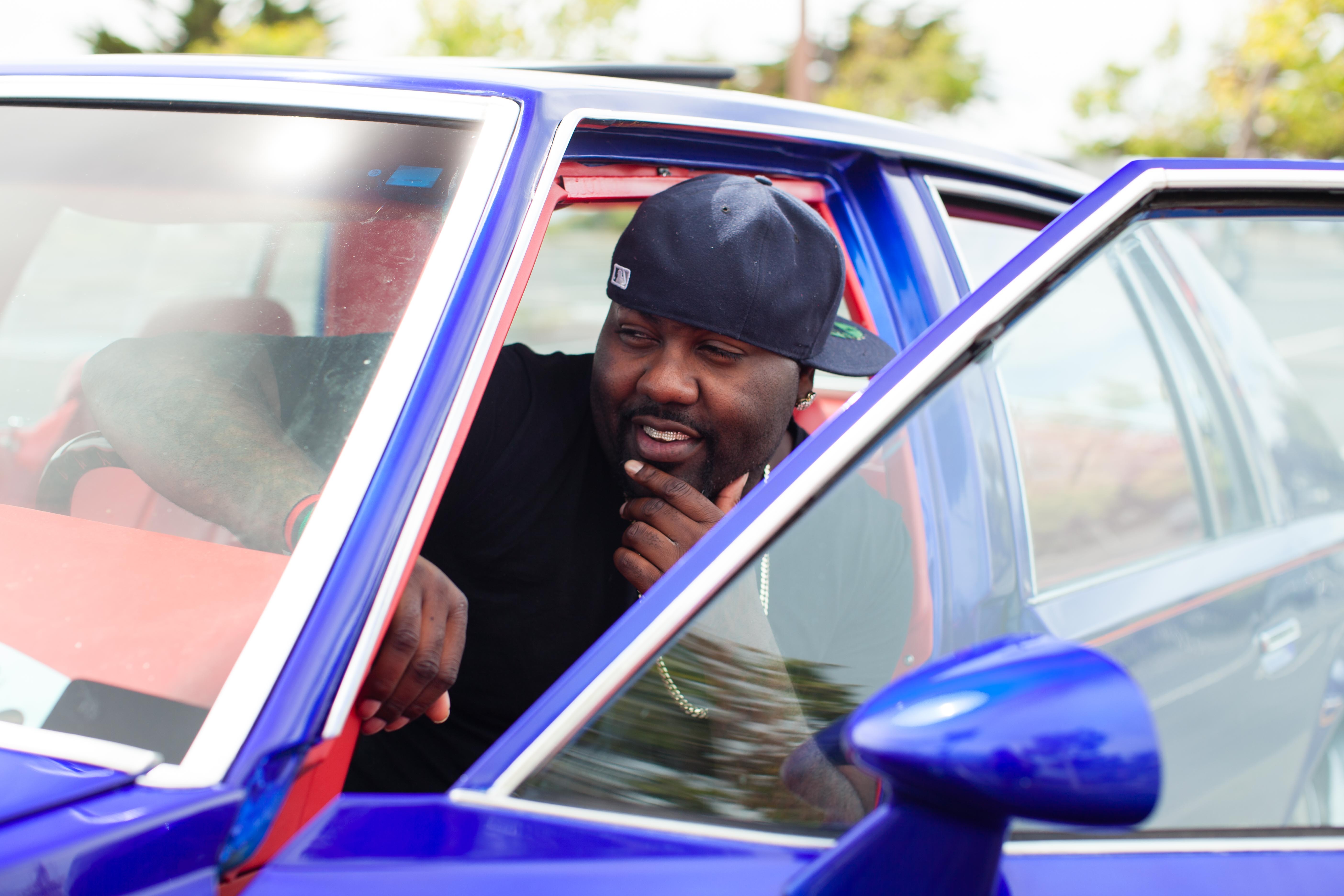 It seemed that the rapper would even rather talk about social movements and the East Bay's tradition of activism than his new album. "The mecca of social consciousness was here, Oakland, California," he began. "The Black Panthers started around the corner here, on 47th and West." He spoke of the arrival of crack cocaine in Oakland, and how it was brought to the Bay to "destroy Black identity, to destroy the minds of social consciousness."
He went on to detail how the inner-cities, from Oakland to Harlem, Los Angeles to Baltimore, were flooded with drugs. "It's no coincidence that these places were some of the biggest chapters of the Black Panthers," he said.
He paused, then laughed. The conversation was getting serious — and very political. "You're trying to get me assassinated in this interview!" F.A.B. joked, cracking himself up.
F.A.B. puts his time where his mouth is. He is a proponent of Black Lives Matter, and has spearheaded Silence the Violence and Shoot Hoops, Not Bodies, events and campaigns that he says are about the Black community "protecting ourselves and governing ourselves."
F.A.B.'s longtime friends and associates admire his values and initiative as a community organizer. "He's the hardest working motherfucker I've ever met in my life," said Laurence Walker, a.k.a. L-Deez, a rapper and North Oakland native. He's known F.A.B. since 2001. "He really does shit for his community."
Alameda native Jason Valerio, otherwise known as prolific producer Trackademicks, made beats for six of the tracks on the original Son of a Pimp album. He echoed L-Deez' sentiments. "He's always been a good dude, always been down to help everybody. Everybody [in the neighborhood] gets to see him all the time," he said, referring to F.A.B.'s frequent appearances at 45th and Market. "It's good for all the youngsters coming up."
Valerio insisted that money and fame haven't changed F.A.B., either. "What I've seen come more to the forefront is his philanthropy: Him being like the mayor of Oakland a little bit.
"I feel like that persona as a mentor, and a figure in Oakland, has become more important than F.A.B. as a rapper."
---
Rap and real-world families
Son of a Pimp, Pt. 2 comes at a time when F.A.B. is not only embracing his role as a leader in the community, but also as a sort of guru to younger rappers. Though he's much younger than other Bay Area OGs, such as E-40 and Too $hort (who are in their late forties and early fifties, respectively), F.A.B. is accomplished enough to be considered an industry vet.
IAMSU, who has several production credits and features throughout Son of a Pimp, Pt. 2, said he first met F.A.B. when he spoke to his class at the Oakland nonprofit Youth Radio in 2006, when Su was fifteen years old.
"I look at him like a big brother," IAMSU said. "He gave me a lot of support from the jump. He always put his neck on the line for me and said 'I believe in Su.' I appreciate all the stuff he does for the community and inspires me to do the same."
The ways that F.A.B. bridges new- and old-school hip-hop sensibilities throughout Son of a Pimp, Pt. 2 exemplifies the artist's role as a go-between for the youngsters and OGs. Just consider the record's savvy collaborators and features.
The P-Lo-produced "On All Mommaz" is a high-energy club banger with a contemporary feel, with features from E-40 and Keak Tha Sneak, who references hyphy-era slang throughout.
In contrast, the somber, gospel-tinged "All Around the World" has a more vintage feel, with church-worthy delivery from Keyshia Cole, another Oakland legend, on the hook.
The latter is also one of the album's most politically outspoken tracks: They say pray for Paris/While Nigeria burn, F.A.B. begins. And the subsequent verse continues to explore the global struggle of healing communities of color in a post-colonial era. Bigger than rap, let's focus on facts/Fifty percent of minorities in jail, and most of 'em Black.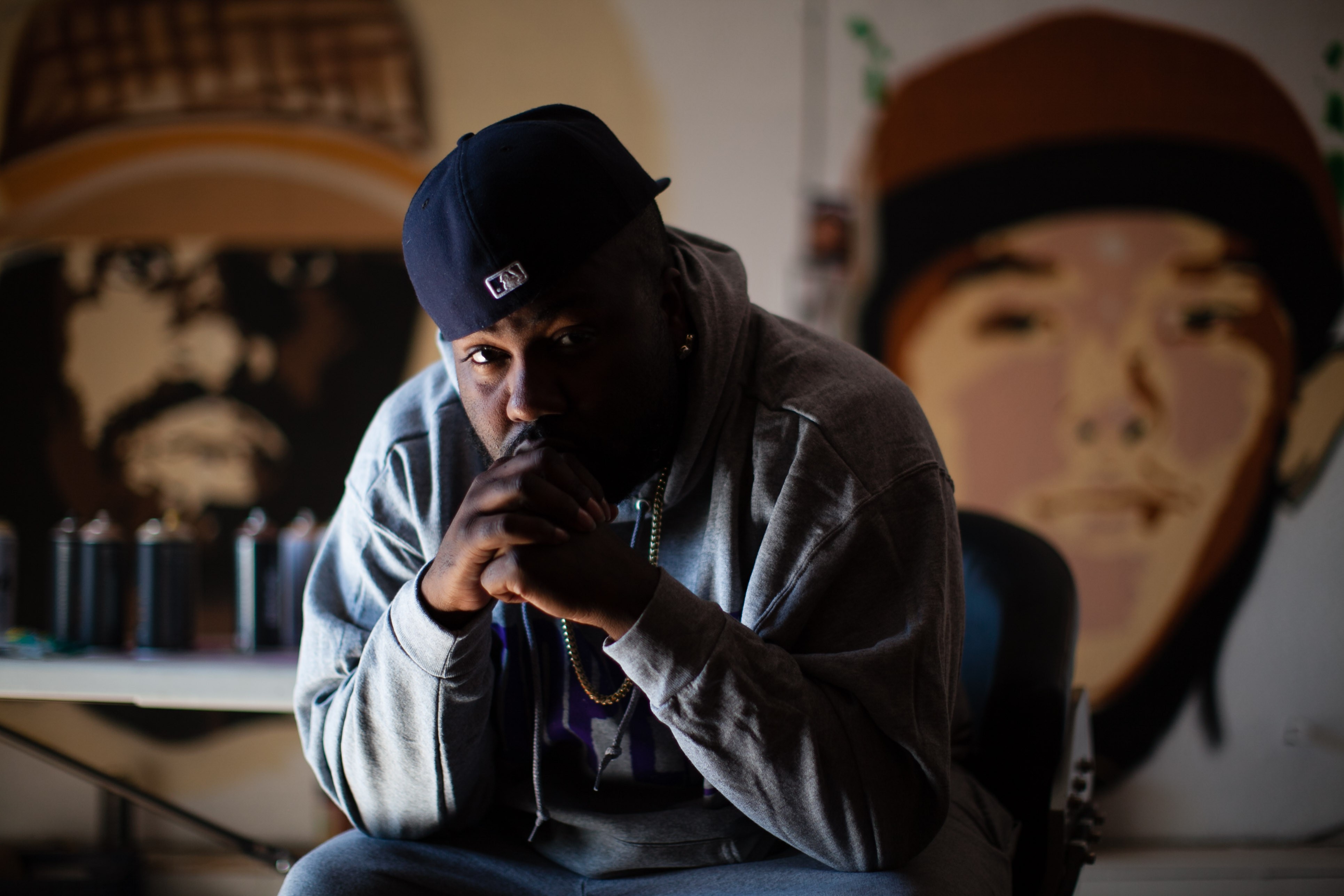 "Survive" features Crooked I, Kobe Honeycutt, and superstar Kendrick Lamar — who F.A.B. said is a longtime friend — and boasts a gorgeous beat with soaring synths punctuated by a somber piano loop. Lamar and F.A.B. offer candid reflections about the realities of growing up surrounded by poverty, crime, and drug addiction:
I'm from the city of broken homes/Often I was home alone/Mama started smoking/'Cause daddy was scared to smoke alone, F.A.B. rhymes.
Son of a Pimp, Pt. 2's album art features a photo of F.A.B.'s mother, Desrie Jeffery, in the Eighties, smiling, gripping a wad of money, and leaning against her pearlescent Rolls Royce. Rewind to 2005, and the cover of the original Son of a Pimp featured F.A.B.'s father, Stanley Cox Sr., posing confidently in a wide-brim hat and trench coat. They're two familial bookends that also explore Oakland history and salient social issues.
"My father was heavy in the streets," F.A.B. shared. And that life also led to his father's demise. "He contracted AIDS from sharing needles, so he died when I was young, twelve years old."
F.A.B.'s mother was making good money hustling alongside his father in the Eighties, but her life went on a downward spiral when she became addicted to crack cocaine. She sent F.A.B. to live with his grandmother for several years while she got clean. F.A.B. remembered that, after giving up drugs, his mother turned her life around in a major way, making many sacrifices to provide for him and to serve as a mentor to other youth from the neighborhood.
"She dedicated her life to me [so that], at whatever cost and whatever sacrifice that she had to make, I wouldn't know what struggle was," he said. "Growing up, I didn't know I was poor, because I watched my mom work three or four jobs just so I could have the life of a quote-unquote 'inner-city privileged kid.' I had all the shoes, the bikes, the clothes. It would be considered spoiled."
As he spoke, tears gently streamed down his cheeks. An airbrushed family portrait of F.A.B., his mother, and Libby hung on the wall behind, all three figures rendered with an angelic glow.
"My mom was just barely surviving, you know. She had spent so much of her life in the streets, and she put the streets before me at my early age, so she dedicated the rest of her life to me so I wouldn't have to realize I was poor.
"It's a testament to the kind of woman she was."
---
A F.A.B. future
F.A.B.'s friends and colleagues agree that he's one of the most diligent and hard-working people they know, and that his persistent hustle and genuine personality enabled him to become a successful artist and prolific philanthropist — and without a major-label deal or partnership with a big-time nonprofit.
"If I had to sum him up, he's a hustler. He hustles harder than anyone," producer Valerio said.
F.A.B. has gained considerable renown for his activism. Beyond the messages in his work, he has always been closely involved with his community, even after becoming famous and moving to the more affluent Montclair neighborhood. Over the course of the past ten years, he's hosted countless benefits, fundraisers, and philanthropic projects on the corner of 45th and Market. And these were not half-baked partnerships with nonprofits or black-tie galas. In contrast to typical celebrity charity work, his activism has always been hands-on and grassroots: He's organized school supply and backpack giveaways for local school kids, Thanksgiving turkey giveaways, holiday toy drives, anti-gun violence block parties, domestic-violence prevention initiatives, and many other projects.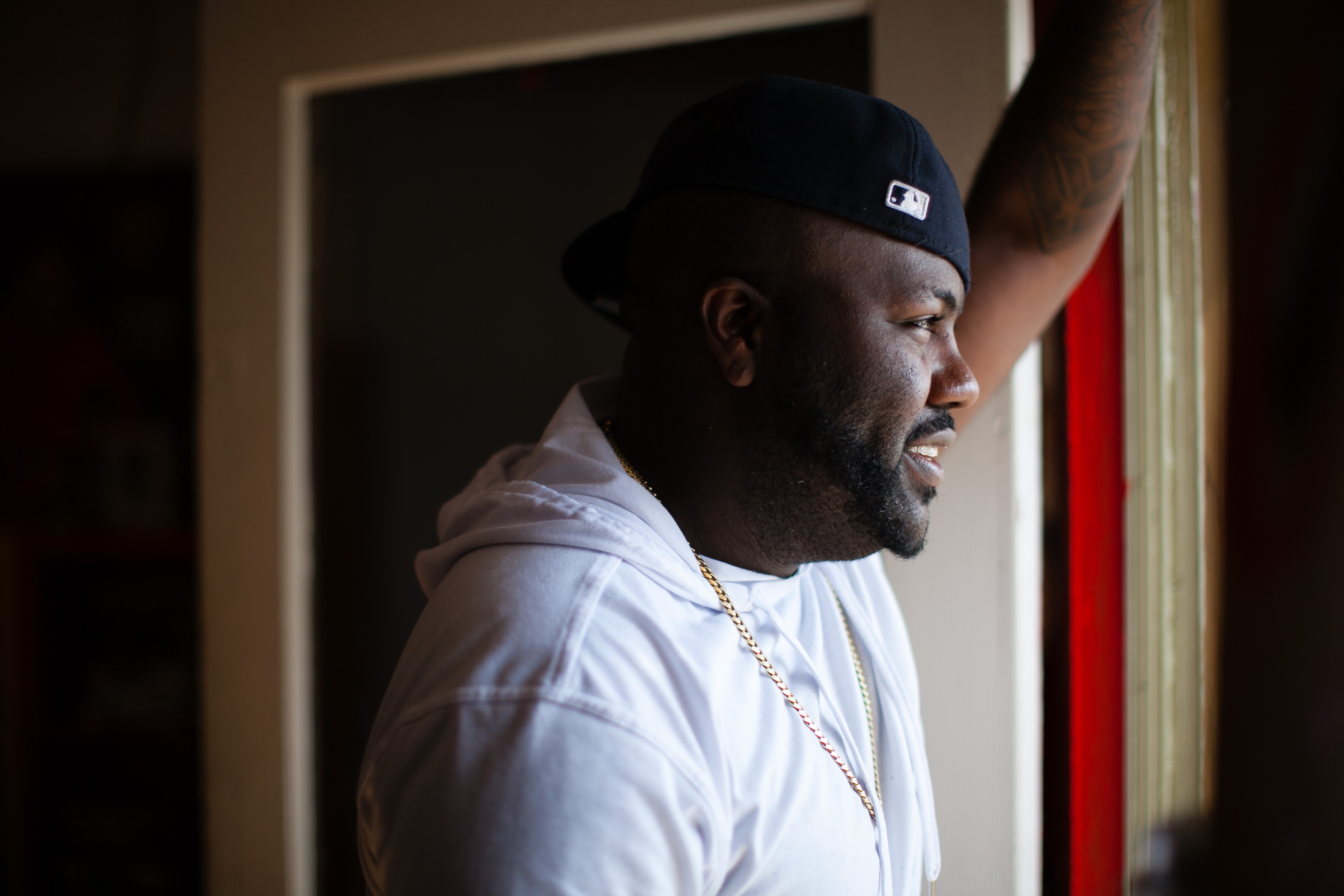 "Not many people can say that — that they sacrificed a lot of themselves and a lot of their shine for the benefit of others," he said with pride.
And he's already planning his next endeavors. On the eve of the release of Son of a Pimp, Pt. 2, he posted a video on Snapchat of himself in New York working on new music. "In the studio working and the album just dropped!!!!!" the caption read. He and his team are also hard at work to open the Dope Era store, and they just launched Dope Era Magazine, an online and print publication dedicated to Oakland music and culture written by and for Town natives.
F.A.B. has donated countless hours and dollars to the people of his neighborhood, and he said he has his sights set on incorporating an official nonprofit organization so that he can make an even greater impact.
"There's so much more to me than music. The maturation of me as a man and how that continues to evolve — it should be a sight to see."