An Express "Best Edibles Company" and long-time Legalization Nation subject, Bhang Chocolate is taking $39 million in venture capital funding to expand the brand, an investment firm reported this month.
The four-year-old, award-winning chocolate company started by Scott Van Rixel has partnered with Mentor Capital, which will take 60 percent of the company in exchange for $39 million, valuing Bhang at $65 million.
[jump]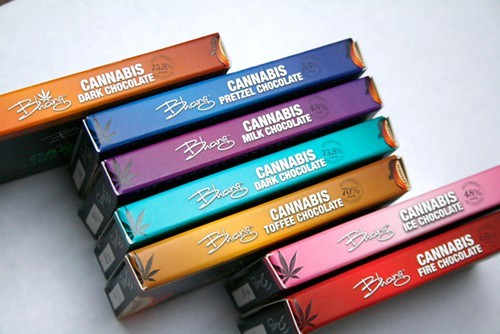 Bhang has to be one of the biggest success stories from Oakland's pioneering medical marijuana industry, which led the world before a federal crackdown slowed the local sector's momentum.
Mentor Capital CEO Chet Billingsley stated, "By a wide margin, five time cannabis cup winner, Bhang Chocolate is recognized as the world's singular leading cannabis brand. We feel privileged to be working with the Bhang management team lead by founder Scott Van Rixel. In the explosively growing and sometimes chaotic environment accompanying marijuana legalization, they provide a bulwark of business professionalism and integrity in the delivery of Bhang's gourmet medicinal chocolates and growing infused edible selections."
Van Rixel stated that private equity often tries to take advantage of startup marijuana businesses, but not this time.
"The marijuana community has had mixed results thus far with the public companies that have come to deal with us. What is needed is funding through the public market that is fair, to help our good, solid companies grow," he stated. "I believe we have found that exact mix for Bhang in working with Chet Billingsley and Mentor Capital. 
Van Rixel also will join Mentor Capital's board. " We insisted, and will be there as a gateway to ensure the best real cannabis sector companies get a fair and knowledgeable review that can lead to the major financing they deserve."