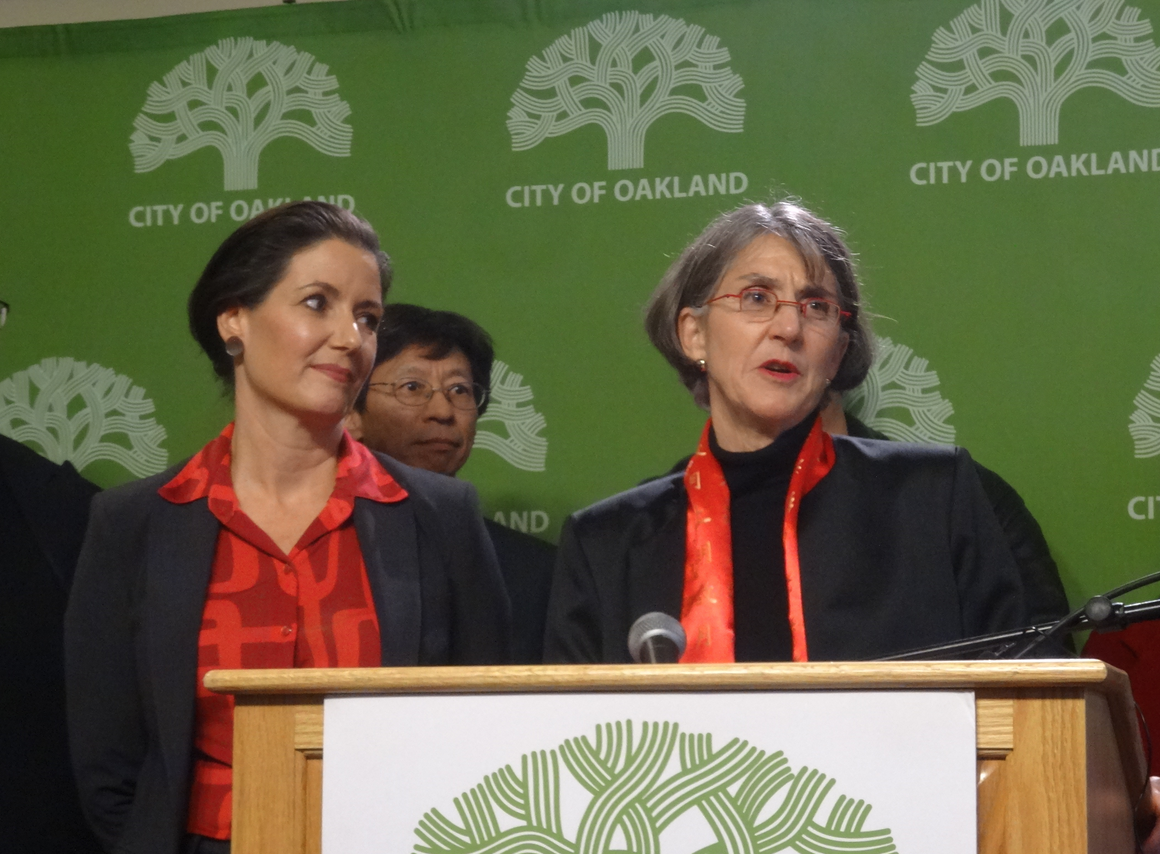 At last night's meeting of the Oakland Police Commission, OPD Chief Anne Kirkpatrick pushed back against the
San Francisco Chronicle's
recent front page story
 that concluded that police officer applicants were being asked to disclose whether they have ever been sexually assaulted.
Kirpatrick said the
Chronicle's
story engaged in "spin" that created a public misperception about the department's hiring practices. She said the story unfairly made it appear that OPD is doing something that other department's aren't doing.
In fact, other major police departments also obtain law enforcement records in which job applicants are named as suspects, witnesses, and victims of crimes, and these records sometimes include information about sexual assault.
"The Oakland Police Department does not, and has not, under my tenure, asked applicants the question, 'have you been a victim of sexual assault,'" Kirkpatrick told the commissioners.
The first sentence of
the Chronicle story
, published last Sunday, begins "The Oakland Police Department, which has long struggled to recruit women, asks all officer applicants to disclose whether they have been sexually assaulted[.]"
"The OPD, along with every other law enforcement agency I know in this country, including the top 10 cities referenced in the Sunday [
Chronicle
] article, use waivers releasing confidential records," Kirkpatrick said.
The waiver at the center of the
Chronicle's
story is similar to the form other departments use to obtain applicants' confidential records. But in OPD's case, the one major difference is that Oakland appears to have included more information than other departments about the kinds of records that a person is authorizing the police department to obtain and review.
In other words, the section of the OPD waiver authorizing OPD to obtain all kinds of records, "including if I have been a victim of sexual assault," serves as a transparent notice to applicants that very sensitive and confidential information, including history of sexual assault, could be obtained by OPD as part of the hiring process.
Other departments don't provide this same kind of blunt warning on their hiring forms, but they do obtain the same types of law enforcement records about applicants, which can disclose if a person has been a victim or perpetrator of sexual assault, or whether they have been a victim, witness, or suspect in any other type of crime.
Kirkpatrick told the commissioners last night that even though OPD isn't doing anything materially different from other departments, OPD still immediately scrapped the language on the waiver mentioning sexual assault.
The decision to delete the mention of sexual assault from the waiver was made after Oakland Mayor Libby Schaaf ordered it be scrapped, in response to public uproar created by the
Chronicle's
story.
But the decision to delete the language from the waiver doesn't mean that OPD will now no longer be able to obtain police records indicating that a person was a victim of sexual assault. Like all other police departments, OPD will still obtain this information.
In other words, the
Chronicle
's story and Schaaf's reaction to it means that if an Oakland police recruit were a victim of sexual assault, OPD would still have access to that information (like other police departments do), but the applicant would not know that police would be accessing those records.
Kirkpatrick declined to discuss her comments further after she left the police commission meeting last night.
But after Kirkpatrick spoke, members of the police commission expressed frustration about Schaaf's reaction to the
Chronicle
story about the waiver.
Commissioner Mike Nisperos said the mayor "had no right" to order the police chief to immediately scrap the language in the waiver without consulting with the commission. He called the mayor's order a "flawed and political" decision due to the fact that we are weeks away from an election.
Without saying they supported the waiver's specific request that applicants allow OPD to examine confidential records which could include sexual assault reports, other commissioners also criticized Schaaf's order.
Commissioner Ginale Harris said Kirkpatrick was put in a bad situation due to the controversy and the mayor's response to it. "It's not fair to the chief," said Harris.
"It's not fair for any person to serve two masters," said Nisperos.