Oakland City Council is rapidly moving to enact new medical-marijuana rules that some say may cripple the huge, multi-million dollar local pot economy and make it among the least competitive in the state.
Tonight, leaders are set to vote on the second reading of updates to local pot ordinances. The new rules passed unanimously just a week ago, in the literal dead of night, with some major, last-minute and controversial amendments.
Chief among them: a plan to give out every other new local pot industry permit to Oaklanders who have a recent weed conviction, or who have lived for the last two years in one of six Oakland Police Department Beats. They are are OPD Beats 26Y, 30X, 30Y, 31Z, 32Y, and 34X.
Here's a Map of who would get an advantage: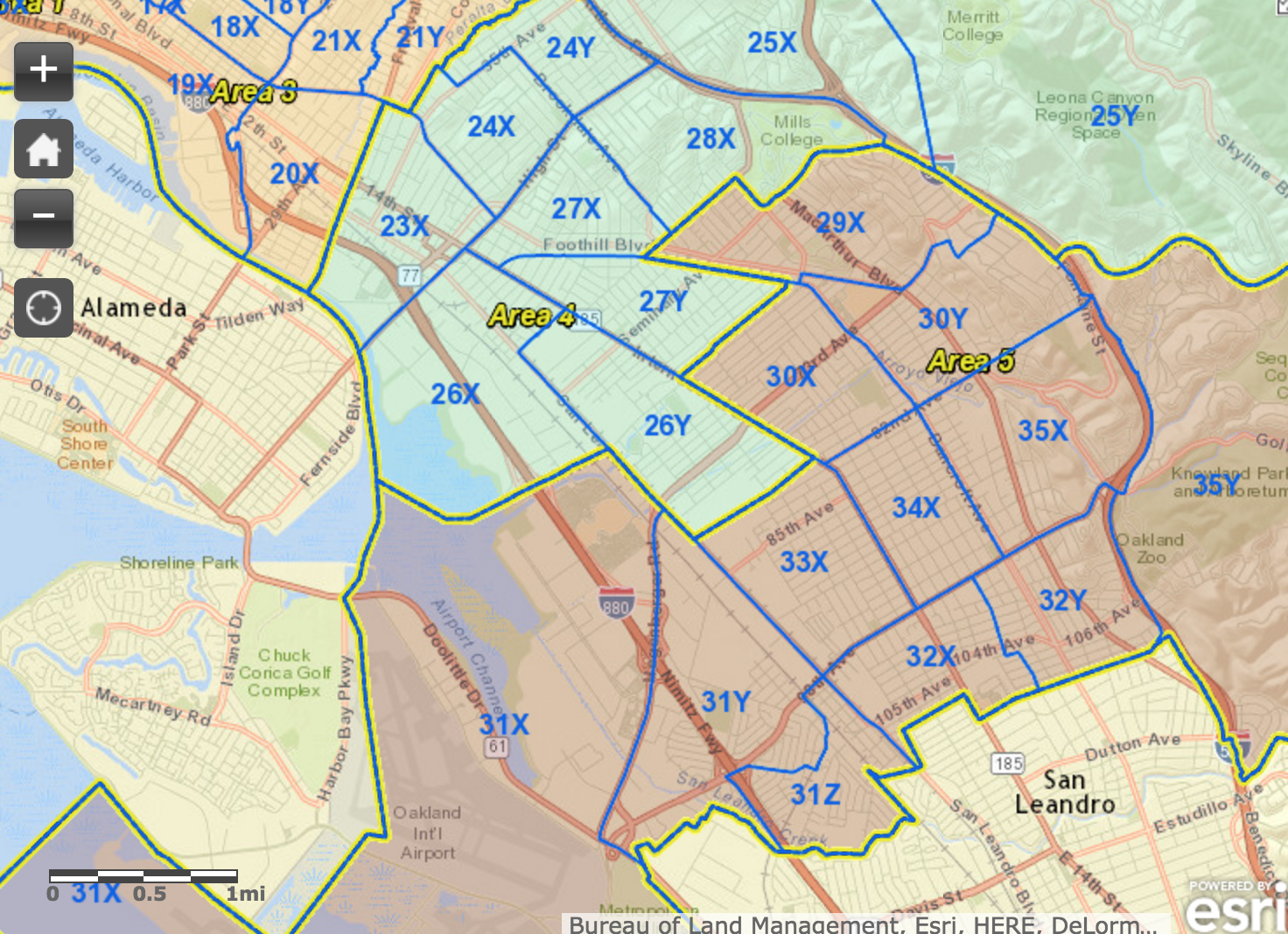 The "Equity Permit Program" amendments came from Councilmember Desley Brooks, who has stated publicly that she wants a form of economic reparations for people and neighborhoods affected by the war on marijuana. But Oakland has made pot enforcement its lowest priority under Measure Z since 2004. Many of the "Equity" police beats reside in her council district, and none of them include other neighborhoods affected by the War on Drugs, such as West Oakland.
A large coalition of Oakland pot interests has been lobbying to revise the amendment, on the grounds that it's fundamentally unfair to others affected by the drug war and it will cripple the industry, as well as foment corruption. To gain an unfair advantage, enterprising pot moguls could simply buy residents in the "equity" police beats, or convicted pot dealers, and install them as puppet heads of companies.
Brooks has not responded to request for comment from the
East Bay Express
, or the
San Francisco Chronicle
, which followed our
reporting
on the story
Monday
.
Oakland city staffer Joe DeVries defended Oakland in the
Chronicle
Monday, saying it's too early to predict that the equity system will fail.
Critics of the Brooks Amendment include the majority of the city's own Oakland Cannabis Regulatory Commission, many industry members including the leading Dark Heart Nursery, and female minority pot business group like Supernova women.
Earmarking every other permit for a select group of city residents won't solve the equity problem, argued Alex Zavell, a regulatory analyst in the law firm of Robert Raich. The Equity Permit Program will create second-class citizens in the pot trade — owners who cannot raise capital in exchange for majority equity, and who can't sell their business.
It also disadvantages Oakland residents who've succeeded in moving out of some of the city's roughest neighborhoods, said OCRC member Matt Hummel.
Lots of black women and other disadvantaged minorities would be further excluded by the Brooks Amendment, notes Supernova Women, a support group for female minority pot entrepreneurs.
The Equity Permit Program is speeding through City Hall, however. It was voted on before significant public review just one week ago. Tonight, it comes up at the end of the council's agenda, where it could be voted on again well after midnight.
The cannabis industry is set to hit $40 billion by 2020, and as legalization spreads, progressives have gone from supporting pot law reforms to criticizing who benefits. Wealthy white males are the best positioned to capitalize on legal cannabis — which can require large amounts of money for real estate and other startup costs. New entrants cannot simply walk into a bank and get a loan for a pot business.
In related news, the Berkeley City Council
awarded the city's fourth permit last week to a Black female senior citizen
— Sue Taylor. Taylor and her team including the award-winning growers at C.R.A.F.T. and a leading permit firm 4Front Advisors beat out a dozen challengers to win the permit in an open bidding process that ranked applicants based on points earned for various criteria, followed by a final Council vote.
California cities and counties have entered uncharted waters when it comes to doling out essentially golden tickets for pot clubs — a process that has resulted in corruption indictments at the local and state level. Some cities like Long Beach have awarded permits via lottery, others like San Francisco have used the planning permit review and approval process.
Last year, leading union organizer and Oakland resident
Dan Rush
pled
not guilty
in federal court on corruption-related charges involving the  pot permit awards process in Oakland and Nevada.
Here's the Text of the Brooks Amendment, from tonight's City Council Agenda:
"Priority shall be given to dispensary applications owned and operated by Oakland residents, in particular applicants owned and operated by Oakland residents in census tracts identified by the City Administrator as having high unemployment rates.

"Fifty percent (50%) of all permits issued under OMC 5.80 shall be issued to an Oakland resident who meets the Dispensary Equity Permit Program requirements set forth in Section 5.80.050. At no time shall the number of new General Application permits exceed the number of Dispensary Equity Permits issued by the City Administrator.

CRITERIA. Applicant must have at least one member who meets all of the following criteria:

1. Be an Oakland resident who,

2. Resides for at least two years prior to the date of application in Oakland Police Department Beats 26Y, 30X, 30Y, 31Z, 32Y, and 34X (Oakland Police Department Beat Map is attached and incorporated herein by reference); or those individuals who, within the last ten years, have been previously incarcerated for marijuana-related offense as a result of a conviction arising out of Oakland, California;

3. Maintains not less than a 50% ownership in the Dispensary applicant entity, partnership, limited liability corporation, collective, corporation, worker cooperative or other recognized ownership entity; and
4. Prior marijuana or cannabis conviction shall not be a bar to equity ownership.