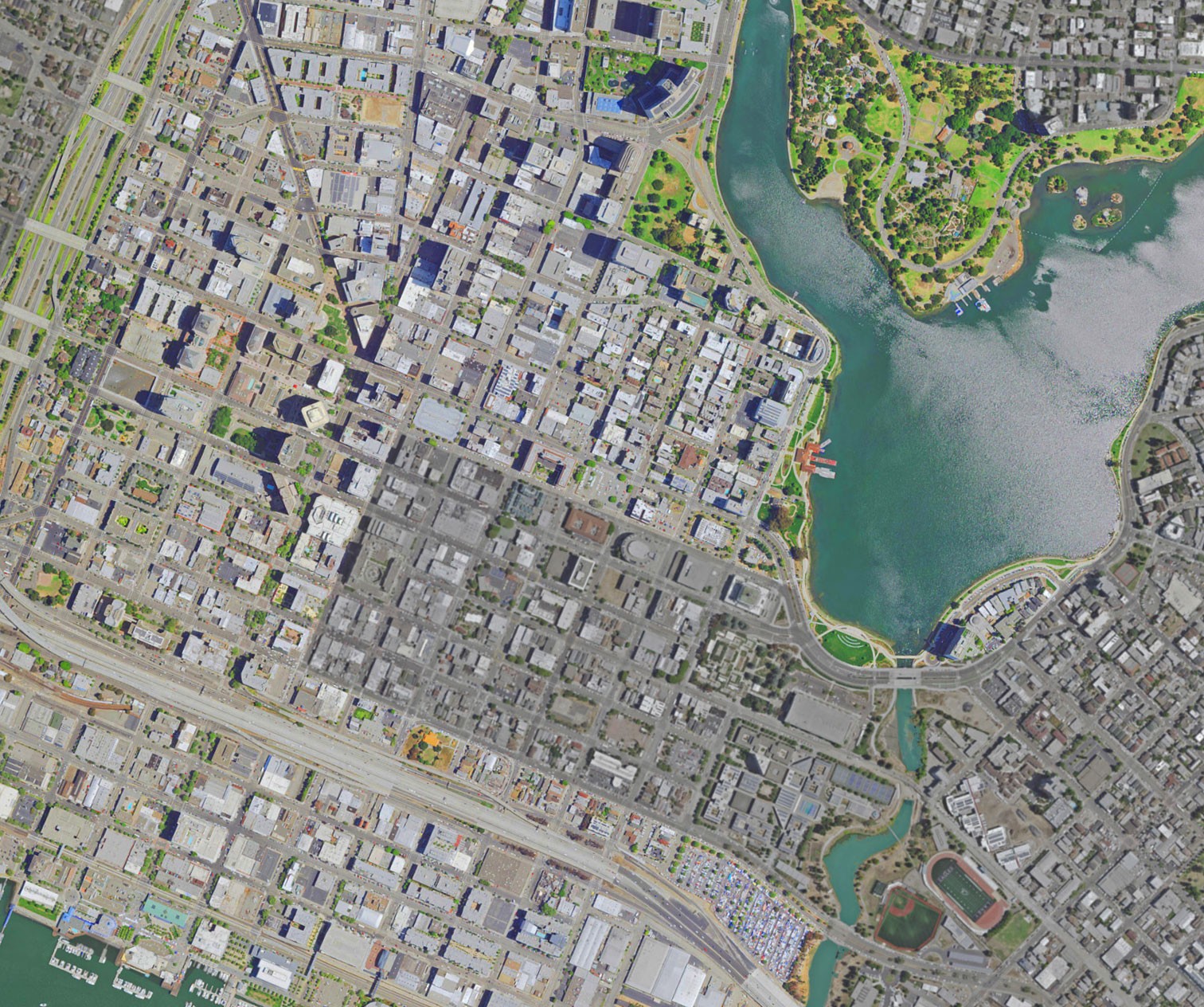 The City of Oakland announced today that it is launching a new planning process for downtown, following the passage last year of similar neighborhood redevelopment plans that are aimed at revitalizing districts — but have also led to increased concerns about gentrification and displacement.
The city will host a public event on September 3 to mark the start of the so-called "
Plan Downtown
" process. The plan, set to take form over the next two years, is intended to create a detailed framework for growth in the downtown area with a focus on transportation, economic development, affordable housing, and other development issues, according to the city.
[jump] The Oakland City Council has approved similar neighborhood plans for five parts of the city, including 
West Oakland
, the
Lake Merritt Station Area
, and the
Broadway-Valdez district
. The plans include targets for rezoning and the creation of new housing, with the goal of relieving the immense pressure that the city's current housing supply is facing. Rents in Oakland have skyrocketed at alarming rates in recent years, and supporters of the neighborhood specific plans argue that the city needs to make it easier for developers to rapidly build more housing — especially in downtown and near BART stations — to meet the growing demand. 
Housing activists, however, have 
criticized
 these planning processes for not sufficiently guarding against the potential displacement of low-income residents. That's in part because the plans have not included any specific affordable housing requirements for new developments. Just this week, 
UC Berkeley researchers released maps
 of urban displacement in the Bay Area that identifies several Oakland neighborhoods that have experienced rapid gentrification.
City officials have contended that affordable housing policies should be implemented at the city level and not in area-specific proposals; the city is also now in the process of exploring a potential "
impact fee
" in which market-rate developers would put money into a fund that could support affordable housing or other infrastructure needs. 
In addition to development objectives, the downtown planning process would also produce an environmental impact report (EIR), which would give developers specific guidelines to follow — instead of requiring them to undergo the more expensive, time-consuming process of having to complete a project-specific EIR for every proposal. 
"Input from a broad cross section of the community will help ensure equitable economic expansion and investment," Mayor Libby Schaaf said in a statement today.
The Metropolitan Transportation Commission and the Association of Bay Area Governments are funding the Plan Downtown effort, and the city has selected the Florida-based firm, Dover, Kohl & Partners to lead the process. There will be a number of community meetings in the coming months (more details
here
). The Sept. 3 kickoff event is at 6 p.m. at the Rotunda Building (300 Frank H. Ogawa Plaza, Oakland).  
Here's a map of how the city is defining downtown in this process: