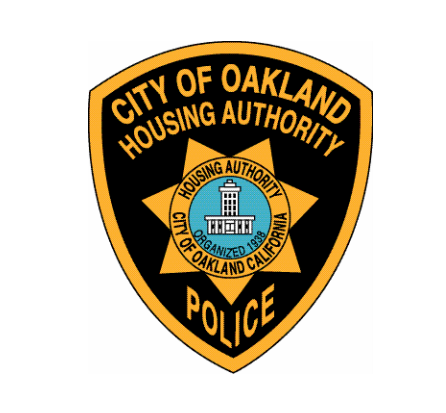 Current and former residents of Oakland Housing Authority properties
filed a lawsuit in federal court yesterday
seeking to overturn the housing authority's use of an anti-loitering ordinance that they say results in their criminalization and routine harassment by the police.
Darren Mathieu, a resident of the Lockwood Gardens apartments near the Oakland Coliseum, alleged in the lawsuit that he's been stopped by housing authority police over 70 times,
and some of those times he's been asked to show identification, despite the fact that he lives there. On several occasions, Mathieu was handcuffed. He has never been cited by the police for loitering, according to the lawsuit, but his attorneys say the law effectively criminalizes him in and around his own home.
Edward Jackson, another plaintiff bringing the lawsuit against OHA, used to live in Lockwood Gardens. He still visits family and friends in the apartment complex, but has an outstanding citation against him for loitering and has been fined $785 under the ordinance.
"It's unconstitutional to punish people for innocent behavior and under a statute that's incomprehensible," said Elisa Della Piana, one of the attorneys representing Mathieu and Jackson.
"It's not OK to assume that because people are present in their own public spaces that they're going to engage in crimes," continued Della Piana. "Mr. Mathieu is a good example of this. He was stopped because of how he looks and who he is."
Enforcement of the loitering ordinance can potentially result in residents losing their leases. For example, in 2016 housing authority police attempted to order Mathieu and a group of his friends to disperse while outside Mathieu's home. A police officer wrote in an incident report, quoted in the lawsuit, that "[b]ased on my investigation, I believe that Darren Mathieu is in violation of his lease for not cooperating with the police in regards to dispersing his group when asked to do so."
The Oakland Housing Authority responded in a press release yesterday by "categorically and emphatically" denying that its police force is engaged in unconstitutional policing. According to the housing authority:
"Property owned by the Oakland Housing Authority is private property not open to the general public. Enforcement of this code is utilized as a means to minimize the risk of impairing the peaceful enjoyment as well as the health and safety of OHA residents and their guests from others whom have no lawful business to be present on the property. Put simply, OHA residents and their guests deserve the same protection from trespassers as any other families in Oakland living in privately owned property."

The Oakland Housing Authority currently has about 34 police officers on its force, according to the agency's website. The housing authority originally formed its security department in 1974, and it obtained police status for the department in 1981.
The housing authority police conduct regular patrols but the department also has a SWAT team that executives search and arrest warrants.
The housing authority stated in its press release that the anti-loitering law is necessary to respond to "narcotic dealing, burglary, theft, auto theft, and other property crime types, violation of restraining orders, domestic violence, and unfortunately, homelessness issues."
The ordinance itself is part of the City of Oakland's municipal code.
Attorneys for Mathieu and Jackson wrote in the lawsuit that the loitering ordinance is "similar to loitering ordinances that were used to control black residents of the South in the Jim Crow era," and that these kinds of laws "have been widely criticized and struck down as enabling unjustified infringement on people's—usually people of color's—constitutional rights."