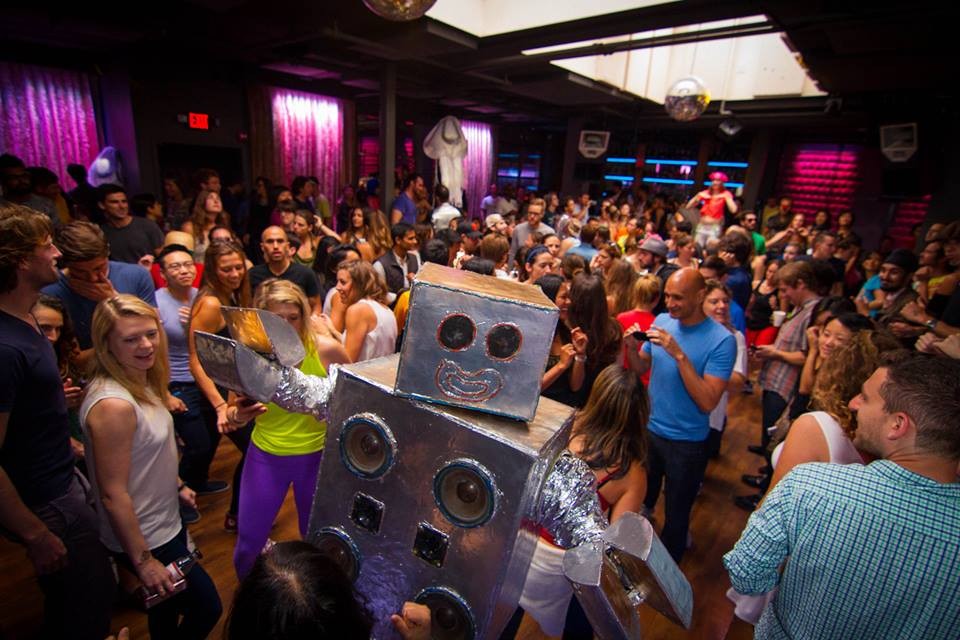 One of the biggest parties this week won't have any booze and will take place on Tuesday before your morning coffee.
It's called
Daybreaker
, and judging from the event
photos
from the most recent expansion to LA and its previous editions in SF, it will get weirder than any drug and/or alcohol-fueled rave you've been to. Instead, kombucha, coffee, and fruit-and-nut bars are the substances provided (with $20 entry).
[jump] Daybreaker's goal is to break up the morning routine by adding a bit of wackiness. DJs, poets, performers, bed-bouncing, yoga classes, and
robot dance parties
are just a few of the activities on the ever-changing lineups. 
If you aren't too sweaty from dancing, maybe your cubicle-mates will get close enough for you to tell them about it. For some reason, Daybreaker parties in San Francisco have been especially popular among the tech crowd, although that is not a super descriptive demographic term when used in SF these days. As one attendee told
Venture Beat
, the majority of the crowd is "a bunch of tech-burners." 
That Daybreaker began in New York seems a bit shocking, but not when you learn that it was thought up in Williamsburg, "over a late-night falafel." San Francisco seems to be an excellent fit for the parties' intentions. It will be interesting to see the East Bay reception to this type of event. The Facebook event for SF's party on September 9th had 413 "attendees" and on the East Bay event page, 152 were attending as of Monday. The absurdity and ultra-participatory element may meet with some fans here, but the prices may not. 
The New Parish
will host the first East Bay party, with doors opening at
7:30 a.m
 tomorrow. Buy tickets
here
, and RSVP on Facebook
here
.