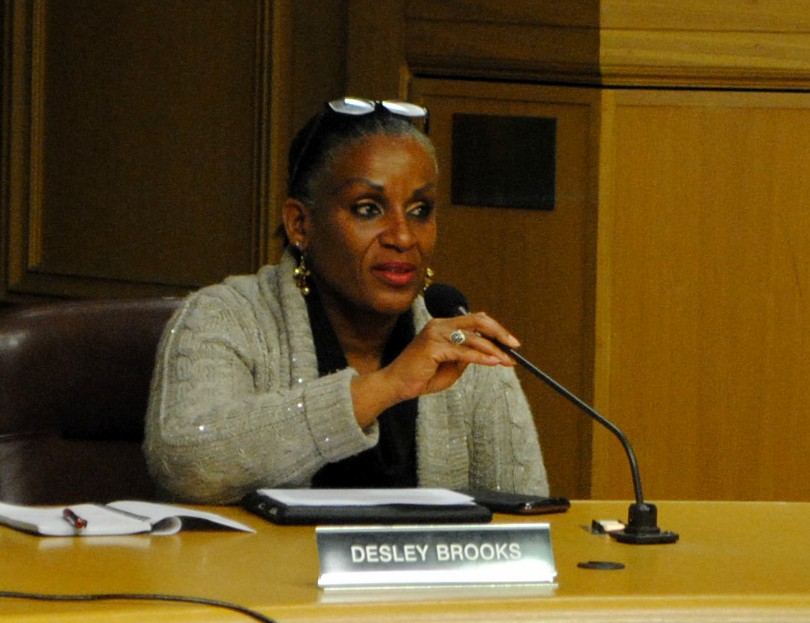 Oakland City Councilmember Desley Brooks filed a claim against the city of Oakland on Tuesday alleging that City Attorney Barbara Parker failed to competently represent her in court when Elaine Brown sued Brooks and the city. Brooks believes that Parker's actions resulted in unnecessary damage to her reputation, emotional distress, and monetary penalties.
Brown, a former Black Panther turned nonprofit real estate developer, filed her civil lawsuit against Brooks over an incident that took place in the Everett and Jones restaurant in 2015. The case went to trial and in March of this year, and a jury found that Brooks had assaulted Brown by pushing her to the floor.
Because Brooks was sued in her capacity as a city official, the city was ordered to pay a fine of $3.75 million and Brooks was ordered to personally pay damages of $550,000. Later, a judge reduced the city's obligation to $1.2 million. The damages Brooks was ordered to pay were also reduced to $75,000. A judge also ordered the city to pay $1 million in legal fees.
Because Brooks was sued as a city official, City Attorney Barbara Parker was tasked with defending Brooks in court.
But in her claim against the city, Brooks alleges that Parker and several members of her staff "breached their duty of care by failing to present available evidence to refute Ms. Brown's claims."
Among the evidence that Brooks believes would have secured a more favorable outcome for her and the city are statements that were allegedly made by Brown before and after the fight, alcohol that Brown allegedly consumed before the fight, and a threat from Brown that allegedly included her going outside to her car to retrieve a pipe to beat Brooks with. Brooks claims that a witness heard Brown say "I'm going to get that bitch" as she went to retrieve the weapon.
Attorney Dan Siegel, who is representing Brooks, wrote in the claim that Parker failed to put up an adequate defense for Brooks and the city and that Parker and her team chose not to make objections at various points in the trial that could have helped the city's case.
"Overall, the quality of the representation provided by [City Attorney Parker and her staff] was far inferior to what should be expected in a high profile, high stakes case," Siegel wrote on behalf of Brooks.
In a press statement issued earlier today, Siegel accused Parker's office of causing the city and Brooks to lose the lawsuit "through a pattern of negligence, poor preparation, and/or lack of competence."
The Brown lawsuit also has become a campaign issue. Brooks faces four opponents in the election who have brought up the altercation and judgment against Brooks, and
two political action committees were recently established to campaign against her
.
Brooks' claim doesn't specify an amount of money being sought.
"Frankly, we are very surprised to receive this claim from Desley Brooks given this office's professional and diligent defense in this case," Alex Katz, a spokesperson for City Attorney Parker wrote in an emailed statement. "It is not surprising that she is unhappy with the judge's ruling that she committed perjury, with the judge's and the jury's findings of fact, and with their $75,000 punitive damages award against her personally. It is unfortunate that her claims are full of inaccuracies and falsehoods."
Katz wrote that Brooks' claim will be treated like any other.