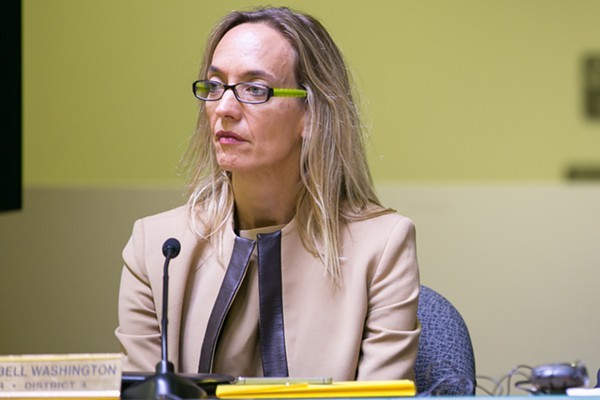 Oakland city Councilmember Annie Campbell Washington
was fined
by the state Fair Political Practices Commission $3,500 today for illegal robocalls that her campaign made to Chinese and Spanish-speaking voters last year.
California law requires that political candidates and committees disclose to call recipients the fact that they paid for a telephone ad. According to the FPPC, Campbell Washington's robocalls did not inform voters that the messages were paid for by her committee.
Campbell Washington also failed to disclose payments made for the phone calls in her campaign filings with the Oakland City Clerk.
Political action committees of the Oakland Police Officers' Association and the International Association of Firefighters Local 55 were also both slapped with substantial fines by the FPPC today for illegal robocalls that both unions paid for to benefit Campbell Washington.
[jump]
According to the FPPC, the Oakland police union
paid for 10,191 robocalls
 with the following script:
"This is Oakland Police Officer Wendy Rae calling on behalf of the Oakland Police Officer's Association and California Attorney General Kamala Harris asking you to join us in supporting Annie Campbell Washington for City Council. Annie Campbell Washington understands that the key to reducing crime is keeping youth in school and out of the courtroom. She is the only candidate endorsed by our police officers, firefighters and Attorney General Kamala Harris. Please join us on November 4th. Thank you."
The IAFF Local 55
paid for another 10,879 robocalls
to Oakland voters. Campell Washington won her seat on the council thanks in part to support from the city's powerful police and fire unions.
Both union PACs failed to disclose to callers that they paid for the political messages, and both were fined $2,000 for the violations.
Campbell Washington did not immediately return a phone call seeking comment.