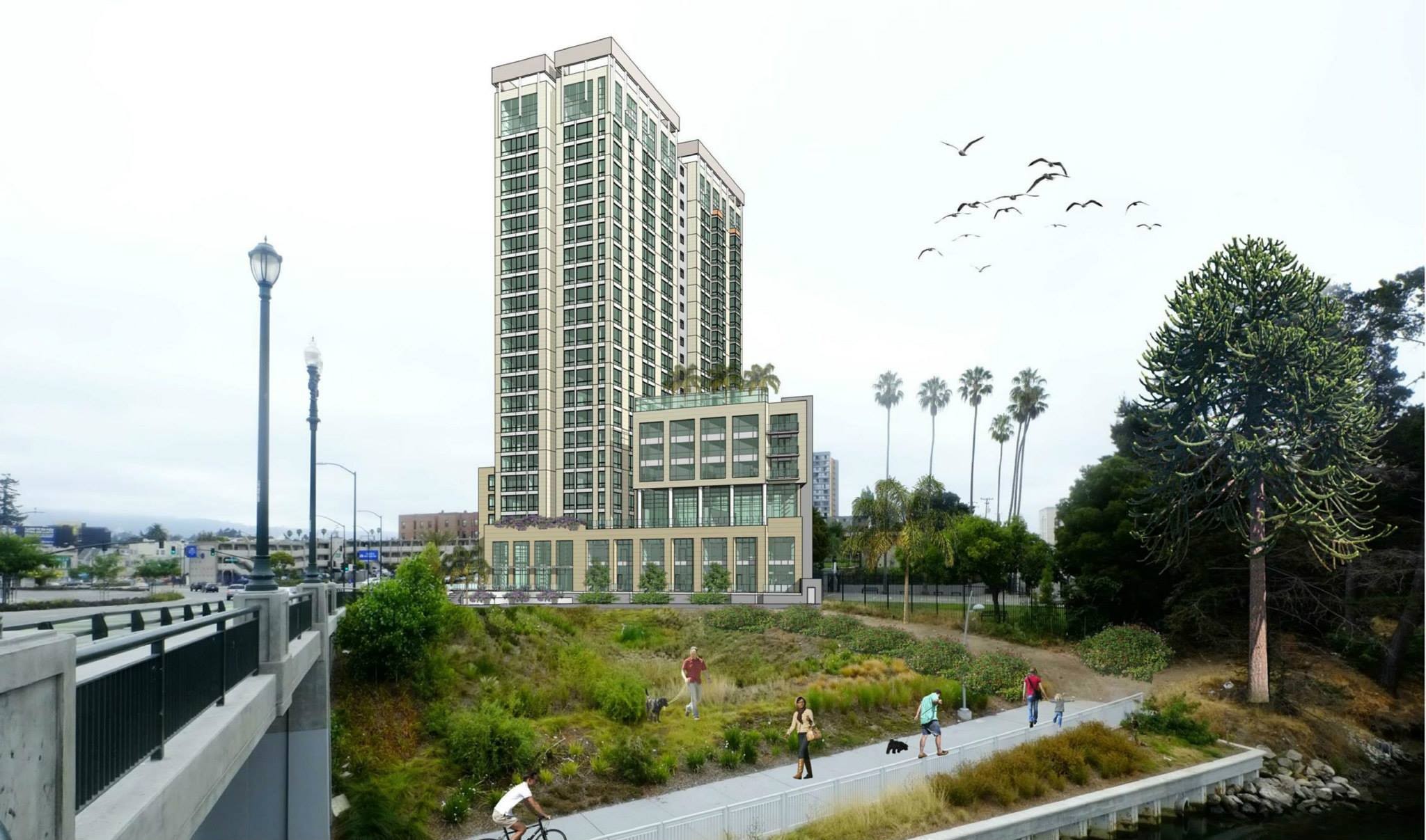 Oakland City Councilmember Abel Guillen announced today that he has secured the inclusion of thirty affordable housing units in a controversial luxury condo tower that the developer UrbanCore wants to build on city-owned land near Lake Merritt. Guillen also announced that $1.1 million of the land's sale price will be put into Oakland's affordable housing fund. And Guillen's proposal includes $700,000 in other community benefits, including a skate park, tree plantings, and $200,000 to fund a tenant's legal rights education program.
See also:
A Parcel for the People
See also:
Oakland Apartment Tower Deal May Be Illegal
[jump] The thirty affordable units to be built in the project, along with the $700,000 in community benefits, will be paid by the developer. But the $1.1 million that will be set aside into Oakland's affordable housing fund will come out of the land's $5.1 million sale price. All of this money was originally meant to fill a hole in Oakland's 2013-15 budget, but the city's improved financial position is giving officials some breathing room and the ability to use some of the proceeds for affordable housing elsewhere in Oakland.
"The housing crisis affects almost everybody in Oakland," said Guillen. "We must move with a Marshall Plan-style urgency that recognizes the need to build more housing for a wide spectrum of income levels and family sizes – and we have to act now."
Despite the announcement, members of the Eastlake community said they still want the land dedicated mainly to affordable housing. "It's not that things on this list aren't wanted," said Eastlake resident Monica Garcia, referring to the community benefits package. "But benefits aren't supposed to be dictated from the developer and the council, they're supposed to be gotten from the community in a genuinely open process."
"While we appreciate Councilmember Guillen's earnest effort in negotiate more from the developer, this still falls short of what we really need to do to address the housing crisis," said Mari Rose Taruc, also an Eastlake resident.
Garcia said she reviewed the proposal to include affordable housing in the tower and found it lacking. Of the thirty affordable units, the breakdown is as follows: Ten will be priced affordable for a household earning approximately 80 percent of the area median income; another 10 will be affordable for households making 100 percent of the area median income; and the final 10 will be priced so that households earning 120 percent of the area median income can afford rent. The units will be a mixture of studios, and one and two bedroom apartments priced for each income range.
Oakland
defines
the area median income as $65,450 for a one person household, and $84,150 for a three person household. By contrast, the median household income in the Eastlake neighborhood is $38,363.
"What they're calling affordable units are what's renting on my block right now for market prices at $1700 a month for a studio," said Garcia. "So this is not doing our neighborhood any favors. It's just packaging."
"Our interest is to build for the community that exists here," said Taruc.
The full city council is set to vote on the land sale tomorrow night. The council will also have to approve Guillen's proposed community benefits and affordable housing package.
In a press release issued today, Eastlake United for Justice and nineteen other housing and economic rights organizations wrote they are "concerned" that the sale of the city-owned land will violate state and local laws that prioritize affordable housing on public land. Hinting that litigation could be on the horizon for the city, last month the groups, including the nonprofit law firm Public Advocates, sent the Oakland City Council
a letter
asking how the city was in compliance with these laws. The city has not yet responded.