For the past seven years, the Alameda County Sheriff's Office has hosted the "Urban Shield" SWAT team competition at various locations across the Bay Area, attracting dozens of tactical units from law enforcement agencies throughout the nation and the world. The whole show — it's as much theater as it is practical exercise — is sponsored by major weapons manufacturing companies like ATK, which makes everything from small caliber bullets to depleted uranium ammunition. Over the years, the Oakland City Council has routinely approved expenditures and reimbursements for the participation of the Oakland Police and Fire Departments in Urban Shield.
This year, however, a group of activists from across Alameda County are raising cane about Oakland playing host to what they characterize as "war games." At the council's Tuesday's Public Safety Committee meeting in City Hall, community members surprised councilmembers during an otherwise routine approval of $200,000 in reimbursement to the fire department for its participation in the exercise. Opponents called Urban Shield a "militarized" training for police.
[jump]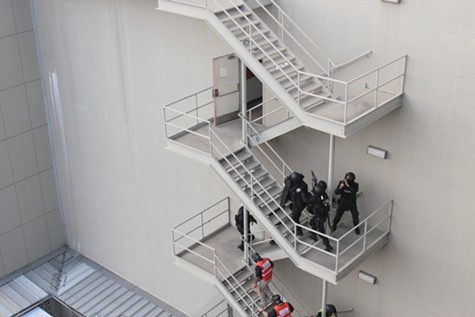 Urban Shield training exercises in Berkeley in 2008.
Oakland resident Michael Eisensher told the council he was disturbed at the city's seeming acquiescence to the "militarization of our police department and our fire department." Urban Shield includes a trade show for vendors that will take place at the Oakland Marriott on October 25. This trade show, Einsensher argued, makes the council "party to allowing the military-industrial complex to market its goods in our city." Gun makers like Colt will be on site showing off firearms. Another vendor, Motorola Solutions, will be selling its wares to police forces in attendance. William Bratton, who was recently part of the advisory team that provided the Oakland police with a crime fighting plan, is also a board member and shareholder of Motorola Solutions. The Oakland Police Department already buys communications equipment from Motorola, according to multiple contracts on file with the city.
Andrea Pritchett, a founding member of Berkeley Copwatch, commented on Urban Shield's melding of anti-terrorism and active shooter training with fire and rescue operations. "There's a conflation between disaster preparedness and military war game scenarios," Pritchett said.
Olivia DeVry, a Berkeley nurse who works in East Oakland, said she saw the effects of militarization on communities along the US-Mexico border during a recent trip to Arizona. The impetus for such exercises like Urban Shield, DeVry said, comes largely from the defense industry's search for new markets. "With US troops out of Iraq and now pulling out of Afghanistan, defense contractors are looking to make money elsewhere," DeVry said. "They don't care about us and they don't care about Oakland."
Urban Shield is the main training event for the Bay Area Urban Area Security Initiative (UASI), a law enforcement coalition representing Oakland, San Francisco, San Jose, and ten Bay Area Counties. The UASI is funded by the Department of Homeland Security (DHS), and the Bay Area's police forces have received millions of dollars since 2009 to fund Urban Shield and other coordinated events and projects. The UASI is a national program. In 2012, DHS made half a billion dollars available to police forces in 31 metro regions across the country to "address the unique planning, organization, equipment, training, and exercise needs of high-threat, high-density urban areas," according to the department's website.
Councilwoman Lynette Gibson-McElhaney was disturbed by the lack of notification provided to the council about the nature of Urban Shield and the participation of OPD and OFD personnel. "Is it pro forma for staff to bring us agreements for the council to rubberstamp?" Gibson-McElhaney remarked, noting that OFD and OPD agreed to participate in Urban Shield this April, yet did not approach the council for funding approval until four weeks before the event. After learning that firearms and ammunition suppliers would be present at the Marriott trade show, Gibson-McElhaney pulled her support for the item. "I did not see at $200,000 price tag, such controversy," she said, thanking the public speakers for bringing the details of Urban Shield to her attention.
Councilmembers Dan Kalb and Libby Schaaf were also visibly uncomfortable with the militarized nature of Urban Shield's training and vendor fair. "This is not a good fit with Oakland," said Schaaf.
Reverend Daniel Buford of Allen Temple Baptist Church in East Oakland was blunt about his take on Urban Shield, telling the council that police "militarization is applied racism" and described the training exercise's location in Oakland as "salt in our wounds" following the killing of Oscar Grant and clashes between police and demonstrators in recent years.
The presence of firearms vendors at the Urban Shield trade show also touched a nerve. "They don't allow gun shows in Oakland, so why would we allow a cop-oriented gun show at the Marriot?" said Buford.
OPD's SWAT Entry team has competed in Urban Shield for the past six years. The officers who participate in Urban Shield have a checkered backgrounds as being involved in multiple officer-involved shootings, beatings, and crowd control fiascos. The 2009 OPD SWAT team that won the competition consisted of Sergeants Patrick Gonzales and Roland Holmgren and Officers Frank Uu, Chris Saunders, Casey Johnson, Anwan Jones, Shane Tarum, and Marty Ziebarth.
The entire SWAT team has been involved in at least one officer involved shooting and were deployed during Occupy Oakland as part of the Tango Teams that wantonly used less lethal weaponry against demonstrators. Uu retired in early 2012 shortly before the Express reported that he was the officer who severely beat Kayvan Sabeghi on November 2, 2011. Gonzales has been involved in several crowd-control fiascos, illegal strip searches, and controversial officer-involved shootings.
Reverend Buford expressed alarm when informed of the records of OPD officers who participated in past Urban Shield exercises. "This confirms my worst suspicion, that there's an element in policing that loves to see civil unrest and chaos because it gives them a chance to practice their hunting techniques," Buford said, pointing to the murder of unarmed civilians by New Orleans Police Officers during the aftermath of Hurricane Katrina.
The full council will discuss the approval of OFD's proposed expenditure and its participation in Urban Shield at its October 1 meeting.