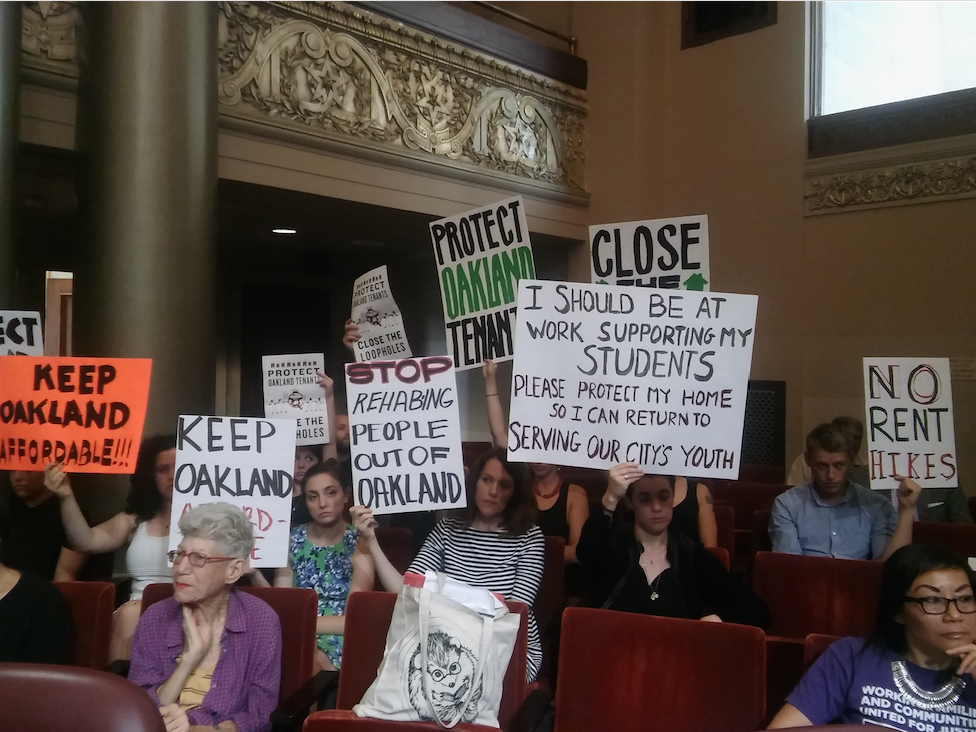 The Oakland City Council's Rules and Legislation Committee decided today not to advance hearings on legislation proposed by Councilmember Rebecca Kaplan that would eliminate a rule tenants say is being used by landlords to remove housing from the city's rent control law.
The rule states that if a landlord "substantially rehabilitates" a building — by improving each apartment unit — the landlord can permanently exempt the entire property from rent control. Substantial rehabilitation is defined as spending more than 50 percent of what it would cost to build an equivalent number of new housing units.
Tenants say
the exemption is a loophole
 that doesn't fulfill any reasonable public policy goals, and they say it's resulting in renters losing their homes or being hit with large rent increases.
Marlon Jones, who has lived in the same four-unit apartment building for 42 years, told members of the committee that she's facing a large rent increase and will be displaced if her landlord, JDW Enterprises, succeeds in exempting the property from rent control.
"JDW bought the building five years ago, but it wasn't unoccupied," said Jones. "Please don't let them make us homeless."
The only other city in California that allows for exempting buildings from rent control through substantial rehabilitation is San Francisco, but its requirements are much stricter. Buildings have to be condemned, and landlords have to show that they've spent 75 percent of the cost of newly constructed residential buildings of the same number of units and type of construction. The result is that it's rarely used, and it's mostly only employed to fix up abandoned properties and bring them back onto the rental market.
By contrast, many Oakland buildings currently being considered for certificates of exemption from rent control through substantial rehabilitation have been continually inhabited for years by tenants.
Eliana Greenberg, another tenant whose landlord is petitioning to exempt her building from rent control, said the law doesn't make sense because it allows landlords to add up all the costs of "minimal repairs" over many years and count it toward rehab, even if the property still has significant problems.
"We still have rats in our walls and leaks in the roof," she said about her building, "but because he can say he spent $160,000 over the past ten years it should be exempt in perpetuity."
No property owners or landlord advocacy groups spoke at the committee hearing today about the proposed legislation. But Councilmember Larry Reid's chief of staff, Ray Leon, told the committee that Reid and city staffers had conversations with "several principals" who had concerns about the proposed elimination of the exemption. Leon declined to provide more details about who has expressed concerns with Kaplan's proposal.
But city staffers also opposed Kaplan's request. Michelle Byrd, Oakland's director of housing and community development, said it would be premature to schedule hearings on the elimination of the rule until the rent board discusses it. Byrd said she would rather "sit down and look at the ordinance with stakeholders" to consider "holistic" changes, rather than make quick changes in a piecemeal approach.
Members of the committee agreed and voted to delay.
They'll bring back the scheduling request to the Oct. 12 rules and legislation committee meeting where it can be considered for placement on a future community and economic development committee agenda. If it makes it that far, it's still uncertain if it would get enough votes to advance to the full council, and it's unclear who else on the council might support eliminating the loophole.
Tenants appeared to be unhappy with the councilmembers' decision.
"We need this taken care of now," said Greenberg. "These landlords are taking advantage."