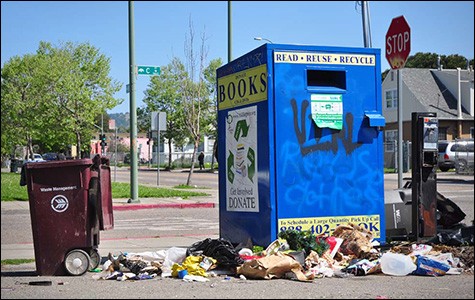 Last year, neighborhood groups in Oakland raised concerns about the
proliferation of street-corner donation bins
— the large, unattended boxes in which residents can donate clothes, shoes, and books. Critics cited many problems with these bins, including that they attract illegal dumping and graffiti, that shady for-profit companies own them, and that the operators sometimes ship the textiles overseas, which is environmentally less efficient than local recycling. In response to the rising number of bins and associated citizen complaints, city officials drafted an ordinance aimed at regulating the donation boxes and curbing their negative impacts. Tonight, the
Oakland City Council
is considering a final version of that proposal — but opponents of the bins say that the ordinance falls short in a number of critical ways.
[jump] The legislation on tonight's agenda would prohibit the placement of new bins within 1,000 feet of an existing one and would create a $535 application fee for a new bin (along with a $91 renewal fee). The ordinance would also establish administrative fines for bin owners who fail to respond to a complaint of blight after ten days. 
But critics have repeatedly called for an outright ban on the bins, noting that they not only attract garbage, but also take away much-needed revenue from local charities that collect textiles and run their own donation operations — including Goodwill Industries of the Greater East Bay, Salvation Army, and St. Vincent de Paul of Alameda County. Those nonprofits, which use the proceeds from the sales of donated textiles to fund community programs and local jobs, have reported a decrease in donations as the number of unattended bins has increased in the city. In advance of tonight's vote, residents are now circulating a
petition once again advocating for a full-fledged ban
 and criticizing the city for drafting regulations that they say will make little difference. 
While opponents of the bins have said they would welcome application fees, penalties related to blight, and limits on the locations of new bins, they said they fear that the specific regulations currently on the table would essentially allow the industry to continue operating in the same manner as it has for years. That's because the final proposal is overall less punitive toward the bin operators than the regulations the city council had originally discussed last spring when it first debated the idea of an ordinance. Oakland's policy proposal is also more favorable to the bin companies than regulations in other local municipalities.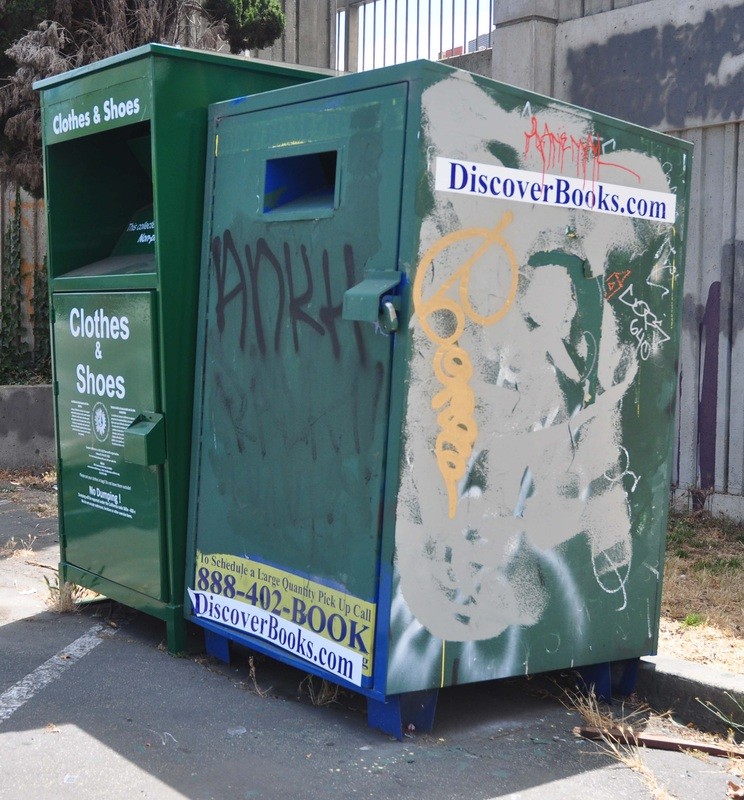 Ken Katz — a Grand Lake district resident who has advocated for an outright ban — has
posted
 a comparison of the proposal on the agenda tonight and the regulations that the city council
originally discussed last April
. Katz runs a website called
DonateOakland.org
, which encourages residents to support local charities and criticizes specific donation bin operators that have been particularly problematic in Oakland. Last year, councilmembers originally requested an ordinance that would prohibit boxes within 2,500 feet of each other, according to minutes from the council's
April 1 meeting
. But the proposal under consideration today has reduced that limit to 1,000 feet. The council also initially suggested implementing a $1,251 permit fee for new bins, but the final version calls for a $535 fee. And while the council originally requested a policy that would require operators to remove trash and debris around their boxes "on a daily basis," the proposal tonight states that after a citizen files a complaint, the city has three days to notify the operator — who subsequently has ten days to clean up the mess. 
Under the current proposal, if the bin operator doesn't address a violation after ten days, then the city can issue fines — $150 for the first day, $250 for the second day, and then $500 for every subsequent day (and no more than $5,000 in a year).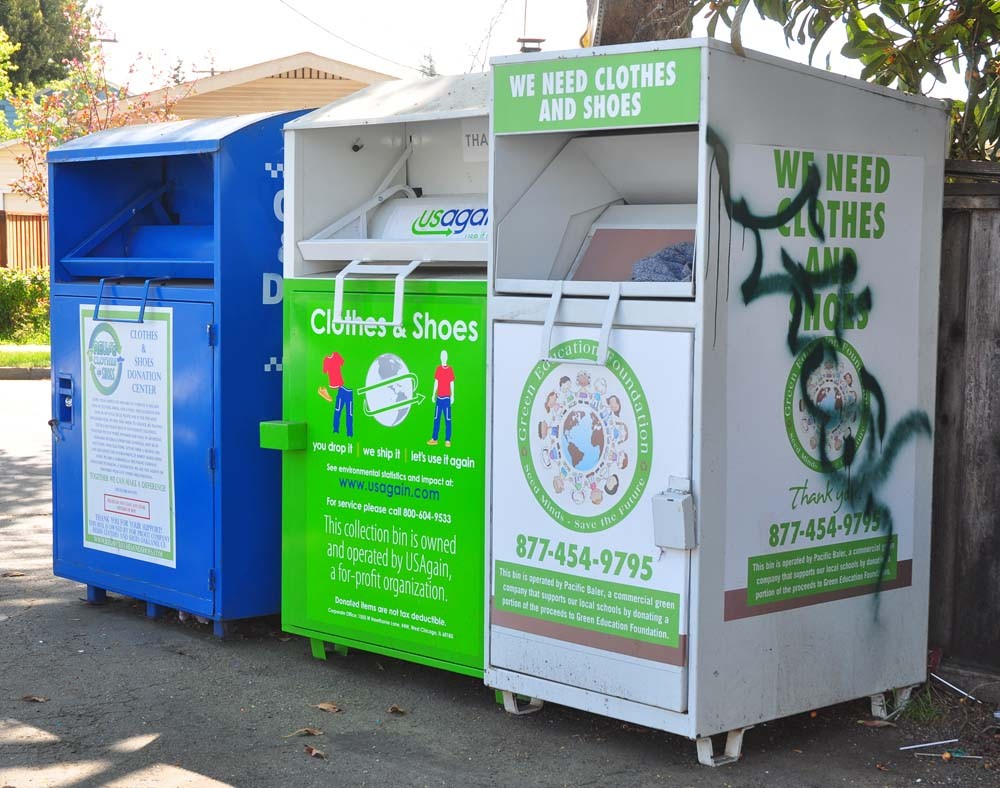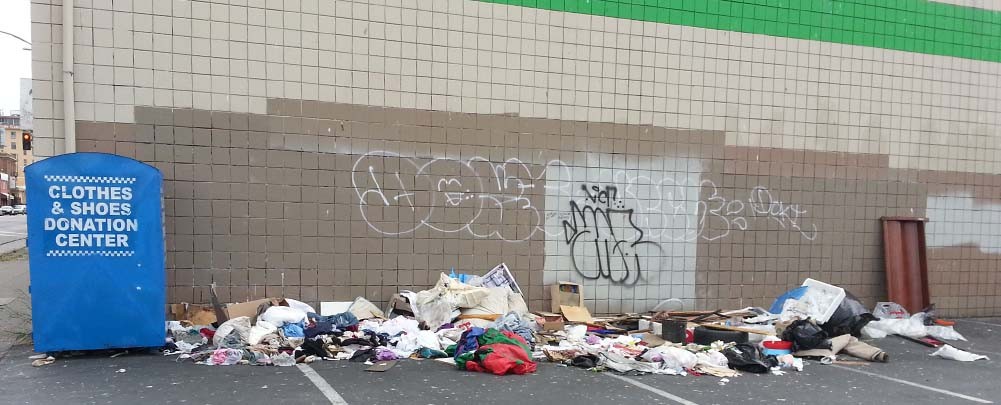 City officials have expressed concerns about lacking the necessary code enforcement staffing and resources to effectively regulate these bins — another reason why opponents have advocated for higher permit fees to help generate revenues to enforce restrictions. Katz noted that Alameda County's 
permit fee
 is $1,500 and San Pablo's fee is
$1,768
. 
When I reported on the
early discussions of regulations in Oakland
last year, I noted that USAgain — a large for-profit bin company operating in Oakland, but based in Chicago — was actively lobbying council staff to reject overly burdensome regulations. At the time, the company and its consultants, according to public records, had even considered forming a "grassroots" advocacy group to push its agenda. USAgain and other operators have argued that their donation bins play an important role in diverting textiles from the waste stream and that they follow up on blight complaints as quickly as possible. 
According to the city's latest report on donation boxes, USAgain currently has 51 bins in Oakland. The other main operators of unattended boxes are Campus California (72 bins), Reuse Clothes and Shoes (14 bins), Discover Books (8 bins), and Pacific Baler (7 bins). Additionally, some nonprofits such as the Salvation Army operate a handful of donation boxes — but those are connected to their local thrift shops. 
You can read details of the proposal on council's agenda tonight
here
and
here
.  
For more on Oakland's donation bins, check out our April 15 story, "Blight for Profit."