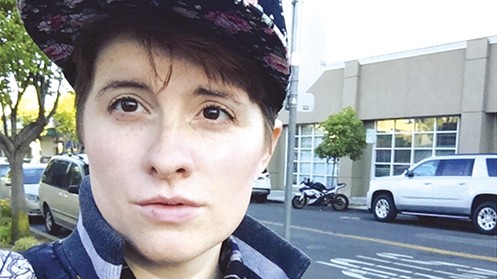 Fairy tales are messed up, and Mallory Ortberg knows it.
Co-creator of The Toast, the defunct "general interest website geared toward women," and author of Texts from Jane Eyre, Ortberg explores the sadistic absurdity of fairy tales, folklore, Bible stories, and mythology in their new collection, The Merry Spinster: Tales of Everyday Horror.

"Horror" is the key word here. Ortberg revamps children's literature both popular and obscure — from The Velveteen Rabbit to Johnny Croy and His Mermaid Bride — by emphasizing their most unsettling elements: mutilation, exploitation, abandonment, and calculated cruelty. Ortberg brings plenty of humor to the enterprise, but it is more often dark and cautionary than sunny and life-affirming.
Ortberg, who grew up near Chicago and now lives in Oakland, feels equal parts a Midwesterner — "I still like to eat dinner at 5:15 every night, and I have trouble calling my friends' parents anything other than sir and ma'am" — and a Californian — "I never want to be told what to do, and I always want to take a road trip."

After graduating from Southern California's Azusa Pacific University with a degree in English, Ortberg (whose preferred pronoun is "they") began applying for jobs on Craigslist but was repeatedly turned down, even getting rejected for a position driving a hearse — "which was a real disappointment."
"Desperately unemployed," Ortberg relocated to the Bay Area, where they found a job in academic publishing. In 2013, Ortberg cofounded The Toast with Nicole Cliffe. The site published a series of Ortberg's fractured fairy tales under the title "Children's Stories Made Horrific."
Some of those stories form the spine of The Merry Spinster. "It's a collection of re-told fairy tales that are as upsetting as possible," Ortberg said. "But also with some jokes in it."
Ortberg had been voraciously reading such material since they were 5, after receiving Bulfinch's Mythology as a gift. The enthusiasm for fantastic literature eventually extended to Hans Christian Andersen, Oscar Wilde, and Angela Carter, not to mention the Old and New Testaments.
"I did a ton of reading the Bible throughout my childhood," said Ortberg. "I still will be like, 'This [situation] is obviously just like the tale of Nebuchadnezzar.' The Bible is a huge part of my mental real estate."
Whether exposing the murderous streak in The Little Mermaid in the volume-opener or using Beauty and the Beast to inform the title story of familial dysfunction, Ortberg finds commonality in these ancient tales. "Anytime there are stories that have stuck around in our public consciousness for a really long time, it's probably because there is something going on that everyone can relate to," they said.
Narratives like these tap into universal anxieties, fears, and questions, Ortberg said. "What's your place in your family? What's your place in the world? What happens when you're rejected by your family and have to go find a life elsewhere?"
The Toast's horrific series evoked strong reactions from readers. "A lot of people would be very distressed in a way that I found kind of enjoyable," Ortberg said.
Likewise, the stories in The Merry Spinster emphasize the perils of friendship, romance, and parenting. "A lot of the horror comes at the hands of people who are close to the characters in question," they said, pointing to a familiar early-reader book by Arnold Lobel as an example. "I always loved reading Frog and Toad Are Friends and I always found them so upsetting. They speak to one other in a way that is so courteous and so formal that whenever I would read it, I would think, 'They absolutely despise each other.'"
The 2014 New York Times best-seller Texts from Jane Eyre also features characters with both hidden and blatant animosities, from Hamlet and his mother to Daisy Buchanan and Nick Carraway. Ortberg employs an admittedly "goofy kind of conceit" to satirize both digital culture and classic literature.
In the process, they also often upend expectations about gender. Some of the stories in The Merry Spinster use stereotypically male names for female characters. "One of the things I wanted to do is explore the idea of gender as a function, the idea that it can shift and change, is more of a job than an identity, and that people could pick it up or put it down," Ortberg explained.
Ortberg has at least one alter ego: dispensing advice on Slate.com as Dear Prudence. They receive thousands of missives addressing contemporary conundrums about sex, marriage, parenthood, and manners.
"I think the letters that have stuck with me the most are from people who are in the middle of attempting to transition and are not being supported by the people in their lives and are genuinely concerned for their safety, well-being, and future," Ortberg said. "Those just sit with me."
Ortberg and Cliffe shut down The Toast in July 2016. Ortberg later started a paid email newsletter, "The Shatner Chatner," which, they explained, is "somehow ineffably tied to my hazy and nebulous feelings about William Shatner the Public Figure, rather than William Shatner the Human Being."
Ortberg's next book project is Something That May Shock and Discredit You. "It's not quite a memoir. It's not quite a collection of criticism," they said. "I think it's going to be strange and funny and odd."
Based on the author's track record, that's a pretty good bet.
Mallory Ortberg will read at Moe's Books, 2476 Telegraph Ave., Berkeley, on Mar. 14, 7 p.m., free, MoesBooks.com; and at Pegasus Books Downtown, 2349 Shattuck Ave., Berkeley, on Friday, Mar. 16, 7:30 p.m., free, PegasusBookstore.com