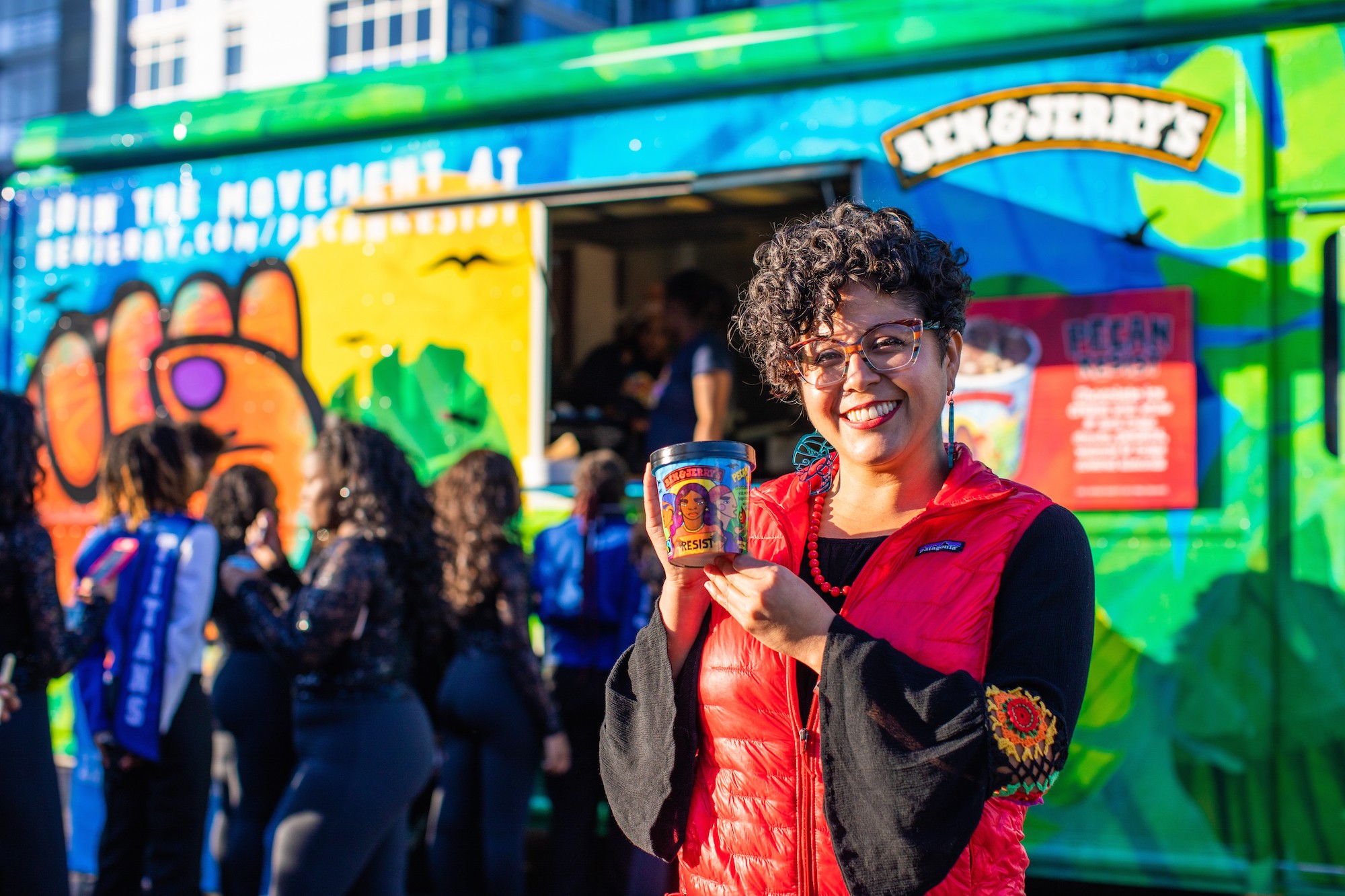 Ben & Jerry's released this week a limited-batch flavor called Pecan Resist — and the carton is graced with the vibrant art of Oakland mixed-media artist and activist Favianna Rodriguez.
According to Ben & Jerry's spokesperson Lindsay Bumps, Pecan Resist was created out of the "need to speak out about what was happening with the current administration… a lot of the values that we believe so strongly in are being attacked."
In connection with Pecan Resist, Ben & Jerry's is donating a total of $100,000 to four organizations that align with the company's values in the face of the Trump administration: Color of Change, Honor the Earth, Women's March, and Neta.
Pecan Resist is a rebranded version of the popular flavor New York Super Fudge Chunk, which consists of chocolate ice cream with white and dark fudge chunks, pecans, walnuts, and fudge-covered almonds. This isn't the first time Ben & Jerry's has rebranded a popular flavor in connection with a social cause. But according to Bumps, it is the first time Ben & Jerry's has featured art on its carton.
"It was a really cool opportunity for us to work with somebody [who] had like-minded values, and somebody as talented as her," Bumps said.
Rodriguez was born and raised in Oakland. Her art focuses on social justice issues, including feminism, environmental justice, and immigrants' rights. "I'm an artist [who] tackles a lot of issues that have affected me personally," Rodriguez told the
Express
. "I'm the daughter of immigrants. I grew up in the Fruitvale, which has very poor air quality because of fossil fuels burning along the 880. … As a woman artist, I very much deal with a lot of sexual harassment in the workplace."
Rodriguez also runs the nonprofit CultureStrike, a collection of artists working toward social justice.
Rodriguez said that since Trump was elected, "I've had to be not just making art, but participating in building social movements." She recently went to the Mexico border to protest the separation of families. With CultureStrike, she also created an art project, #ClimateWoke, about the disproportionate impacts of climate change on communities of color.
Recognizing all the art and activism Rodriguez has done over the years, Ben & Jerry's representatives asked her to work with them. Rodriguez said she "really meshed" with the ice cream company. "I'm very much interested in the way food can help be an expression of values."
Rodriguez's design on the Pecan Resist carton features three characters. Two of them are women and one is genderqueer; all are people of color. "I wanted to showcase women of color in leadership. … I wanted to show dignity and also some fun in the images," she said.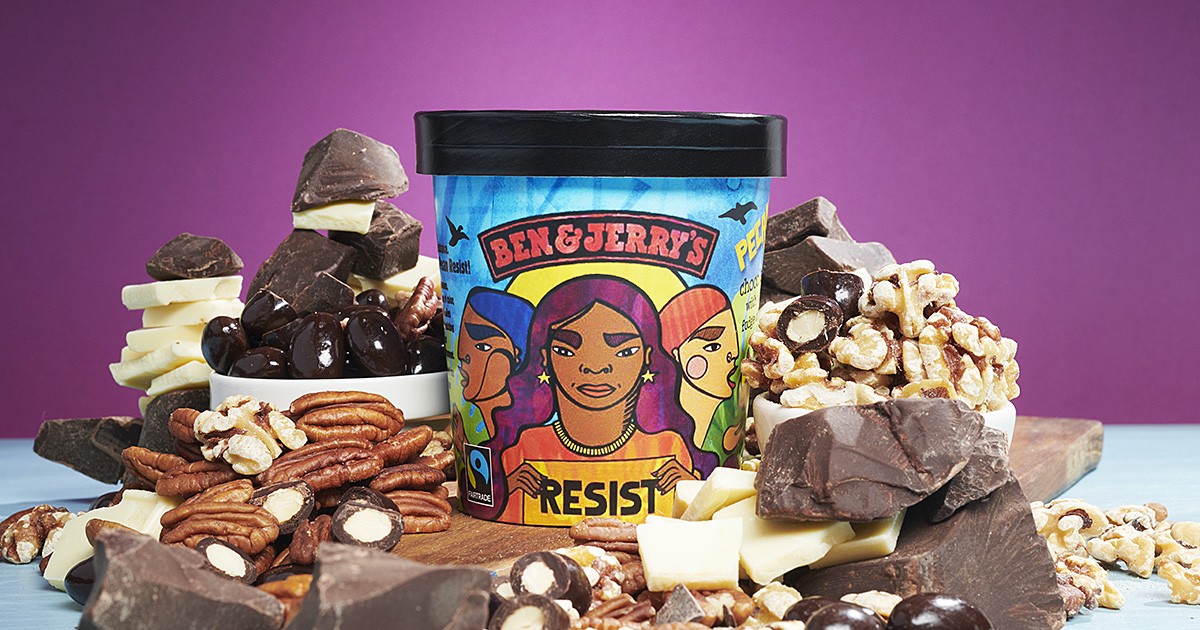 The character in front is a woman with purple hair. Rodriguez said the character was partly inspired by Nia Wilson, who was killed at MacArthur BART in North Oakland around the time Ben & Jerry's approached her about the project. "I really wanted to create a character who's a young Black woman who… communicates this message of confidence, but also of what our youth are like today," she said. "I was very moved by her story. I was very saddened to know that this is the kind of world we live in — that this kind of violence is inflicted on women of color."
The character on the right is a woman wearing a red hijab, inspired by her friend Linda Sarsour, a civil rights activist involved in the Women's March. The character on the left is genderqueer. "I wanted to show a more masculine-looking person who's fighting back," Rodriguez said.
To celebrate the launch of the new flavor, Rodriguez headed to Washington, D.C. for a community celebration. Ben & Jerry's created an ice cream truck with her art on it and parked it in front of the White House. Rodriguez said the experience was "amazing."
"What was surprising to me was just how much people really resonated with the design — especially people of color."
Pecan Resist is available in Ben & Jerry's scoop shops, including the Jack London Square location, and on Ben & Jerry's website.