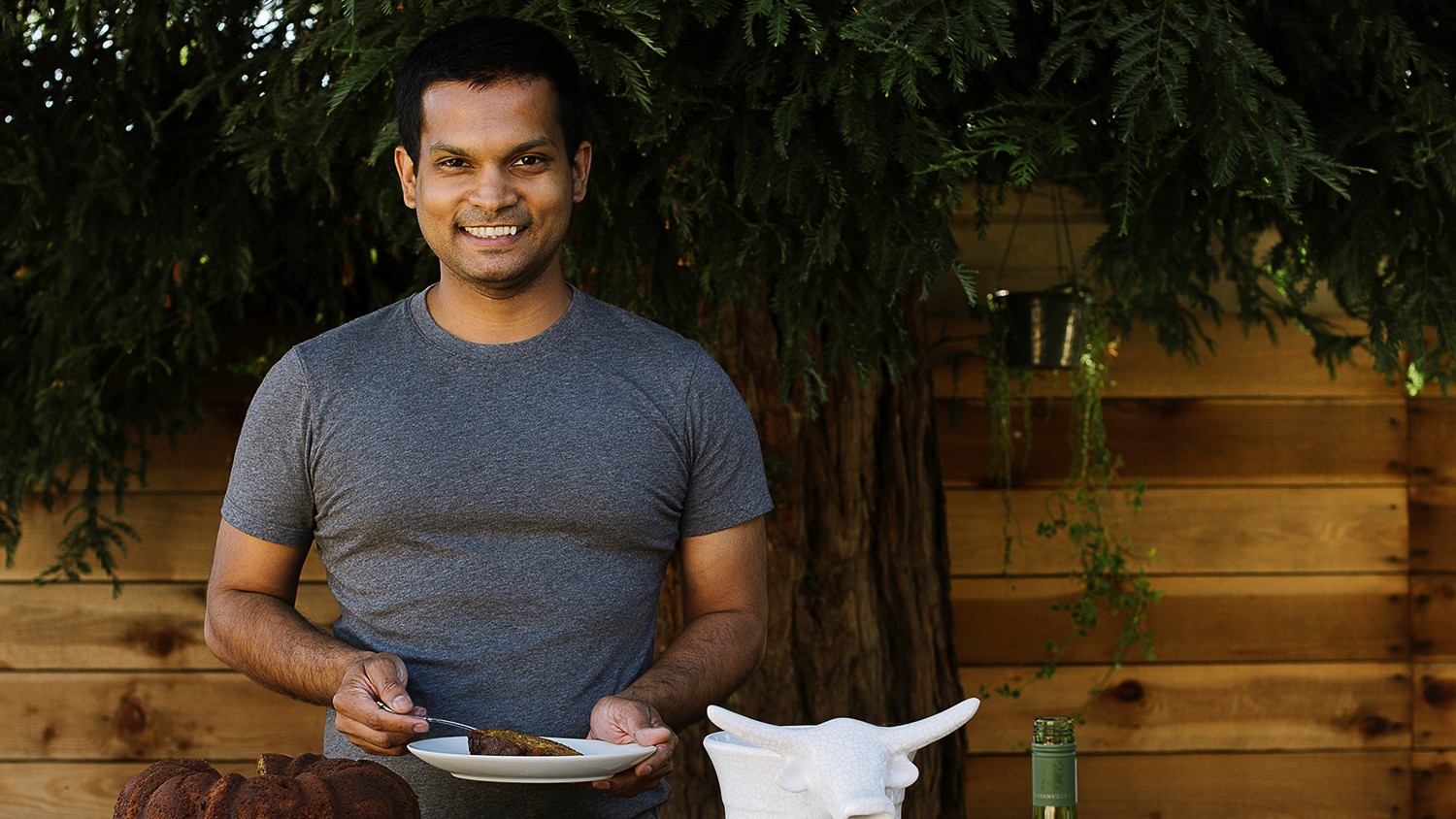 With his blog, column, and new book, food writer Nik Sharma eschews "tradition" in favor of an expression of his own experience.
Nik Sharma has little use for authenticity or tradition. "I hate those words," he said. An immigrant from Mumbai, Sharma is the Oakland-based food writer behind the blog A Brown Table as well as the writer for the San Francisco Chronicle's Sunday column A Brown Kitchen. His first cookbook Season, published by Chronicle Books, will be released October 2.
According to Sharma, authenticity is an unrealistic goal for any cook. "Authentic means you're staying true to the original recipe, which is not possible," he said. "Every time — even within a family — when someone makes something, they make tweaks," he said.
As for tradition, it's a trap best avoided. "If you feel like it's starting to hold you back from doing more, then that's a problem," he said. "People hold on to things so dearly, but you also have to learn to expand."
And don't even get him started on "Indian food."
"India is one of the largest and most diverse populations in the world," he said. "Even within a culture you have other cultures. People will say, 'This is something that all Indians do,' and to me, that's bullshit," he said. "I didn't grow up eating naan."
Sharma's biography reads like a set of cultural nesting dolls — India, Mumbai, family, self — with one identity tucked inside the other. Sharma describes his family as bicultural. His father is a Hindu from Northern India who grew up speaking Hindi. His mother was raised Roman Catholic on the southwest coast of India in the former Portuguese colony of Goa. At an early age, Sharma realized he was gay. He moved to the U.S. in 2002. Sharma was living with his partner when marriage equality passed in 2015. They married. Then in December of last year, he became a naturalized American citizen.
"That's my heritage," he said, to sum up an extensive and not easily hyphenated life. The breadth of experience certainly informs Sharma's attitudes around food, especially in comparison to Mumbai, which he still refers to by its older name, Bombay.
"Everything is constantly dynamic and it's changing," said Sharma, describing the city, "and food should be that way, too."
"Expansive" might be a better word for Sharma's own culinary pursuits. In his blog and his column, he shares recipes for dishes like brown miso devilled eggs, sweet potato pie babka, and pulled pork sliders. Occasionally, he will feature dishes that are more readily identifiable as Indian or at least Indian-influenced, such as cauliflower parmesan pakoras or channa masala frittata. But Sharma is much more keen to describe the recipes as food made by an Indian, rather than Indian food.
Sharma's interest in food was a redirection from a previous career: He described his beginnings with A Brown Table as not so much a leap of passion but as a cautious dabble. ("You can't switch careers just like that on a work visa," he noted.) Sharma had come to the U.S. as a grad student of molecular genetics at the University of Cincinnati, then later moved to D.C., where he took a research position studying osteoporosis and hyponatremia. At home he began cooking as a way to fill a creative need, while during the hours of down time that an experiment was running, he would read food blogs to get inspiration for starting his own.
The name was a dual reference — a nod to his skin color and a shrug toward a very literal table. From Sharma's research on food blogging, woodgrain seemed to be the backdrop of choice. So in a bit of performative theater, he set two wood planks on a trash can, then spread the food on top.
These days the background on A Brown Table is more varied, but the photographs remain theatrical. Sugar scatters as if in a dance above a quartet of madeleines. A dark stain spreads along a sheet of newsprint from beneath the deltoid shape of a samosa.
In 2015, Sharma and his husband moved to the Bay Area, and in 2016 the pair bought a house in Oakland. While still doing some research work on the side, Sharma kept A Brown Table going and began working as a pastry chef, despite having limited real-world restaurant experience and no professional training. He took another side job as the food photographer for now-defunct salad delivery company Sprig, until landing the position of Sunday food columnist for the San Francisco Chronicle. Sharma now works as a food writer full-time, with his work also appearing in Food52, Taste, Eater, Extra Crispy, and, soon, his first book, Season.
Sharma does not describe his work as an expression of a single identity, but rather "how I use food to connect my dots," he said. He tries to do the same for readers, treating foods and flavors as bridges, and as a way to connect their own dots to his.
His writing, though not overtly political, is incisive. In a recent column about tomatoes, for example, Sharma describes the fruit as "once the subject of fear" and "abject apprehension," gradually transforming to "a status of prestige." "The tomato became our beloved," he concludes. The parallels — pick your struggle — are easy to see.
"Everyone says food is not political, but it is," said Sharma.
To that end, Sharma has a special fondness for reading early American cookbooks, "as a way for me to understand America's relationship with race and history," he said. "A lot of the past is not spoken about, so for me it's a great way to go back and spend time to learn something through their words."
Sharma lists African American author Edna Lewis as a favorite, as well as notable food writers James Beard and Craig Claiborne who, though not quite closeted about their orientation, were not exactly outspoken, either.
Sharma sees his own writing as an ongoing culinary memoir, and Season promises to follow the same line of thinking. The book is a compilation of recipes featured on both A Brown Table and A Brown Kitchen, as well as a few new ones.
Sharma describes it as not just a cookbook, but "a gay immigrant story."
"I really wanted to try and change perceptions with this book," he said. "I wanted to do things that were much more explorative." For example, there are no curry recipes in Season. "I purposely did it that way," he said.
"The recipes reflect all those personal experiences that shaped me," he continued. "So, yes there are strong Indian influences obviously in the book, but they're not totally Indian."
Authentically Indian? Perhaps not. But certainly authentically Sharma.