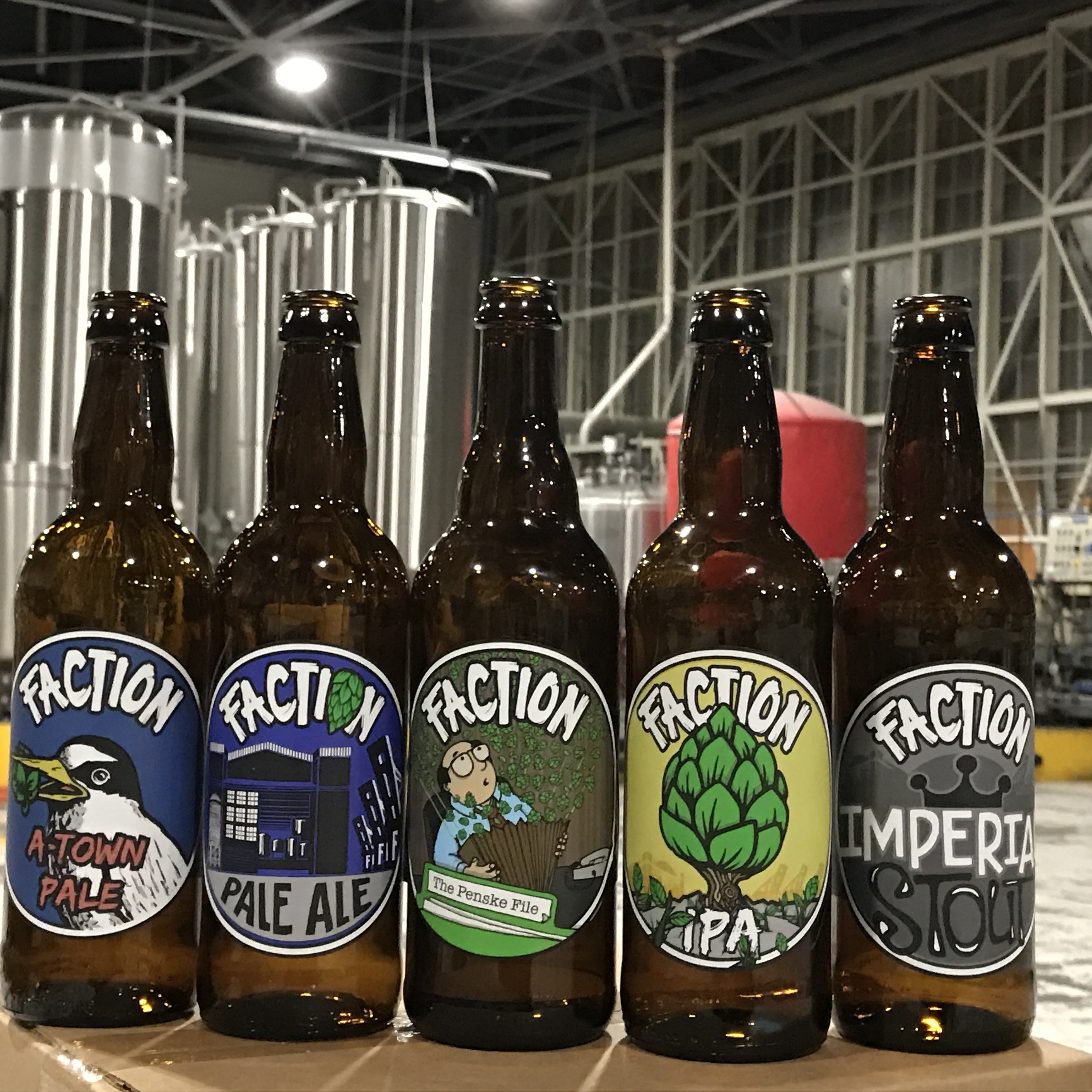 During the past two years, an increasing number of breweries hopped on the trend of releasing beer in canned four-packs, often IPAs, typically "hazy" or "juicy." Breweries at the vanguard of this so-called "can craze" — such as Alvarado Street, Monkish, Track 7, and New Glory here in California — often drop unique styles each week, which literally has fans chasing delivery trucks. I was at my neighborhood beer bar recently on a Thursday around lunchtime, and more than a handful of customers were posted up, waiting for the latest delivery of Alvarado cans, which sell out in less than a couple hours.
Mercifully,
Faction Brewing
owners Claudia Pamparana and Rodger Davis abstained from this circus and, this spring, put out their beer in good-old-fashioned bottles. "Faction, first of all, is all about doing things different than everybody else," Pamparana explained this past Sunday afternoon, her brewery buzzing, though the line not yet out the door. "We're not going to be the people that hop on trends."
She says Faction always wanted to sell to-go bottles, but waited "because we're all about quality, and making sure it's done right." The challenges was using a mobile bottling company, but still keeping the beer tasting fresh, and staving off oxidation, even if a customer keeps the bottles in their fridge for several weeks (forbid!).
And, of course, the new Faction bottles, which debuted in late March, are distinct: 16-ounces, glass instead of aluminum, and with a shape different than any beer bottle I've come across (see photo).
The first batch of Spring IPA went "like that," Pamparana said, and they've already bottled a second. Faction pilsner is coming this week. And they're even bottling the evasive A-Town, the brewery-only pale ale that is never allowed to escape from Alameda. (Faction bottles are distributed statewide, but A-Town "still doesn't leave the island," she said, though you can find it at Alameda bottle shops, such as Craft.)
My pro tip is to arrive early when visiting Faction, advice that probably applies to most breweries these days, admittedly. The no-longer-secret spot is tucked away at the edge of Alameda's old naval base, and it boasts not only matchless brew, but also one of the most scenic tasting-room views in the world. So, it can get busy. In fact, this past Saturday was Faction's biggest day of sales since it opened in December 2013, according to Pamparana.
But don't worry: They have a new, second bar, on the patio, which they'll open when that line zigzags too far out the door. Phew.
Visit Faction at 2501 Monarch St, Alameda, FactionBrewing.com.

Brew The Right Thing is the Express' new weekly beer column.