Just southeast of Lake Merritt, pedestrians and cyclists who cross over the Union Pacific Railroad tracks and under the Interstate 880 freeway reach a mostly vacant plot of land along the Oakland Estuary. The waterfront site — which people can only access via Embarcadero Street in the Jack London district or 5th Avenue by Laney College — is the future home of Brooklyn Basin, a massive mixed-use development project now under construction. The 64-acre project by Signature Development Group is slated to include 3,100 units of housing and 200,000 square feet of retail and commercial space. For civic groups that have followed the project for years, one of the most anticipated features of the plan is the proposed revitalization of the waterfront through a series of public parks along the shore.
The first park slated for construction is Shoreline Park at Embarcadero Street near 9th Avenue on a site that currently houses the historic Ninth Avenue Terminal. The public currently has little access to this area, and the project presents a rare opportunity to build and expand waterfront parkland not far from downtown Oakland. But if Shoreline Park moves forward with its current design plans, activists fear few people will visit. That's because, according to the latest drawings from Signature Development, the park's main feature is a giant wooden platform the size of roughly two football fields — and little else. In advance of an October 21 vote on the park proposal by the Oakland Planning Commission, activists have been pressuring city officials and Signature to revise and improve the design, and to create a park that will have enough greenery and attractions to make it a destination for Oaklanders and visitors.
"The platform is boring, uninteresting, uninviting, and unimaginative," said John Sutter, an East Bay Regional Park District board member whose district includes Brooklyn Basin. "We can do a lot better."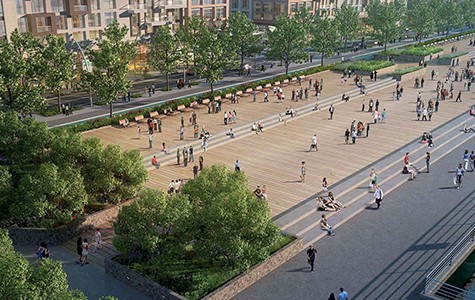 Waterfront activists have long advocated for the massive mixed-use development to include features that will benefit the broader public, including high-quality parks and a local marsh restoration (see "An Environmental Setback at Brooklyn Basin," 11/5/14). The Brooklyn Basin project — which was previously called "Oak to Ninth" and gained initial city approvals in 2006 — has faced numerous legal challenges from citizens over the years. That includes a lawsuit by preservationists who attempted to block the demolition of the Ninth Avenue Terminal, a cargo shipping facility constructed in 1930. After that challenge failed, the developer moved forward with plans to demolish most of the terminal building and construct in its place a roughly ten-acre park.
Shoreline Park is the first of five adjacent parks that Brooklyn Basin will bring to the waterfront, and Signature Development aims to break ground in spring 2016, according to company vice president, Patrick Van Ness. But because the park will be the first that is fully designed and constructed, activists said it was critical that the developer includes features that are proven to draw the public — especially considering its relatively remote location. "As a new park, it really needs to be special — one that establishes a standard and immediately attracts people," said James Vann, a representative of the Coalition of Advocates for Lake Merritt, which has requested that the developer add a number of features to the proposal.
According to a 39-page design proposal that Van Ness shared with me last week, the park's main attraction will be a "central plaza" that will function as a "civic gathering place that recalls [the site's] maritime heritage and creates opportunities for a variety of activities." The proposal states that the park's main wooden "deck" — which will be roughly 600 feet long and will include recycled materials from the terminal building — is one way that the park will honor the maritime history of the location. Although Signature's renderings show this platform crowded with people, activists said it is unlikely that Oaklanders will regularly visit if the deck is the main draw — especially if it lacks any creative structures that provide protection from the sun and wind.
"Are we making another invisible, unusable park?" said Naomi Schiff, a member of the board of directors of the Oakland Heritage Alliance. Schiff — one of the advocates who had fought unsuccessfully for the preservation of the terminal — argued that the freeway and the large new housing development could make it difficult for many Oaklanders to even realize that the new park is there. What's more, Schiff noted, earlier design plans from Signature had implied that this park would include significant greenery such as grass or turf, which makes the lack of a traditional park landscape all the more frustrating.
"Two football fields of rough wood flooring? That's not a park like anything I know," said Vann. Vann, Schiff, and Sutter wrote a lengthy letter to numerous city departments and commissions last week requesting that officials push Signature to enhance the project before granting final approvals. The advocates have also suggested that Signature conduct more extensive outreach about its plans given that the public has had little opportunity to review and comment on the latest designs.
In their letter, the activists requested that the city require Signature to add "shade protection" and benches and picnic tables to the plaza, so that people will want to spend time there. They also requested the addition of "wind-protected areas," which they argued would be a basic amenity for this kind of waterfront park. The letter further cited a range of additional features that could make the park a more vibrant public space, including turf or grass areas, more trees, a fishing pier, historical monuments, and a visible canopy-type entryway.
In an interview, Van Ness said Signature has made some modifications in response to the activists' requests, including adding portable umbrella structures that the park could use on sunny days. But because Signature is building the park on top of a concrete deck above water, the site would require too much soil to sustainably build and maintain a grass lawn, he said. He further argued that, given the windy shoreline location, he doesn't believe it's possible for structures to provide wind protection without interfering with views of the water.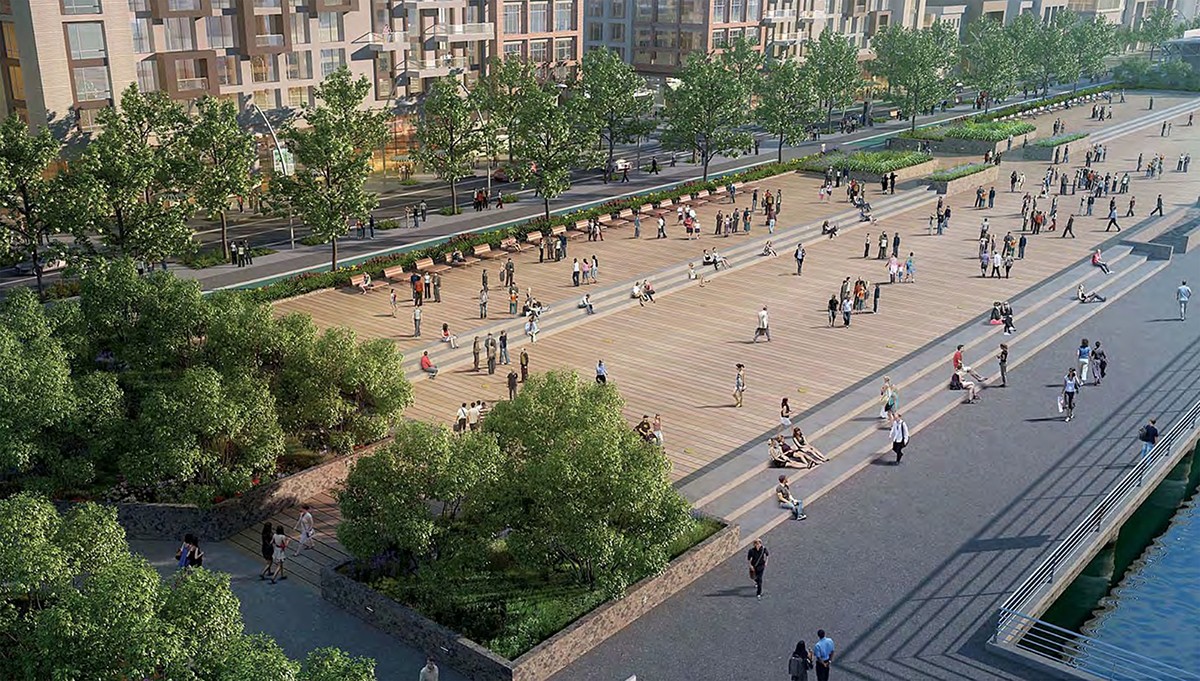 Van Ness also noted that the project is on land that is in the "public trust," which means the State Lands Commission has jurisdiction over the park and prohibits the construction of certain kinds of features, such as basketball courts or children's playgrounds. The future parks of Brooklyn Basin — which Signature will build to the northwest of Shoreline Park, closer to Jack London Square — will also have more opportunities for greenery, he said. "The vision is as you go along the estuary … you'll have a variety of experiences," he said, noting that Shoreline Park will feel more industrial, while the other parks will have more natural landscapes.
Brooklyn Basin's private maintenance company — which residents' property taxes will fund to cover some park services — could also provide support for future events that would draw crowds to the area, according to Van Ness. He cited a kite festival, farmers' market, and food-truck events as examples of potential future programming for Shoreline Park. "This would be a large gathering place where people can come on the waterfront," he said.
Representatives from the city's planning department did not respond to requests for comment.
Chris Pattillo, planning commission member and principal with local architecture firm PGAdesign, said that even if the park works well for large events that happen a few times a year, it should be built in a way that encourages consistent use. "It's going to be a huge, vast somewhat undifferentiated space. How do they program that space to make it feel comfortable when there are twenty people there?" she said, adding, "My overall reaction to the design is that it feels dated — kind of old-fashioned. It doesn't excite me. But it's such an exciting piece of property, and it's going to set the stage for everything that follows."