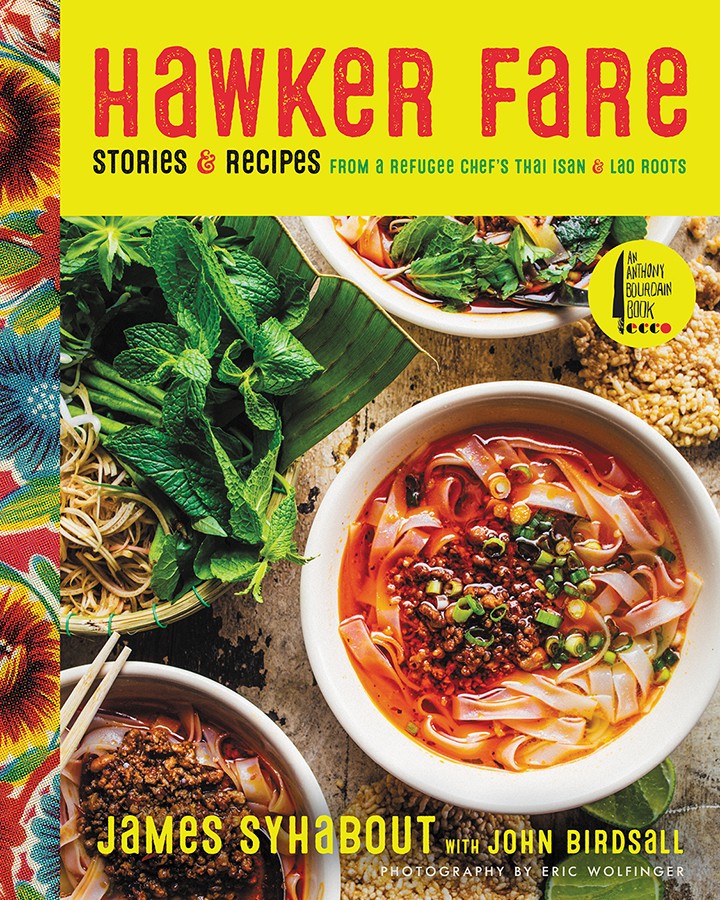 Some people might be surprised to learn that James
Syhabout's debut cookbook isn't about Commis, his fine dining restaurant on
Piedmont Avenue that continues to hold Oakland's only Michelin stars.
The food world is already full of cookbooks showcasing tweezer arranged dishes of 10-part, eight-hour recipes by Michelin-starred chefs that primarily function as food porn for coffee tables.
What Syhabout has delivered is far more important. We need more honest stories from immigrant chefs. We need to hear more Asian-American voices in the food world. And we definitely need a primer on how to prepare insanely delicious, funky Lao and Thai Isan dishes.
In Hawker Fare: Stories & Recipes from a Refugee Chef's Thai Isan & Lao Roots, Syhabout tells the full story of Oakland's Hawker Fare, from his arrival to Oakland as a Lao refugee to the restaurant's closure a year ago. The book, co-written by James Beard Award-winning writer and former Express food critic John Birdsall, drops Tuesday, Jan. 23, on Anthony Bourdain's new line of books.
Half memoir, half cookbook, Hawker Fare readers are treated to a journey rife with complex identity issues. Like a lot of celebrated Asian-American chefs in the United States, Syhabout went to culinary school, trained to become a fine dining chef, and turned his back on his culture for years. Like many, he simultaneously loved and felt ashamed of the food he grew up with. "This book is sort of an apology letter, an attempt at reconciling my past in many ways," he writes in the book's preface.
What followed was Syhabout taking over his mom's Thai restaurant on 23rd and Webster streets, a dilapidated location no one else wanted. When his mom left for Thailand, he realized he needed to finally learn how to prepare her dishes, and that meant lots of experimenting during Commis staff meals and taking research trips overseas. Many of the photographs in <i style="mso-bidi-font-style:
normal">Hawker Fare depict a sweaty Syhabout blending into the gorgeous Southeast Asian countryside.
Syhabout emphasizes that his recipes aren't authentically Lao and Thai. He's American, and these dishes reflect what his mom managed to put together in an unfamiliar environment. He also warns that the flavors aren't as sweet as what you'll find in most Americanized Thai restaurants. Like the later years of Oakland's Hawker Fare and the current Hawker Fare in San Francisco, bitter, spicy, salty, and savory reign supreme — as does eating with your hands.
Syhabout is not shy with the dishes he chooses to spotlight: beef soup with offal, betel leaves, and bile; hot and sour dried-and-grilled fish bone soup; gelatinous chicken wings stewed with pepper wood, morning glory, and lemon basil. Still, many will be familiar to fans of local Lao restaurants, too: crispy rice ball salad, a variety of laaps, and of course, khao mun ghai. This khao mun ghai is the way he likes it, which isn't exactly the version he serves at Hawker Fare and Hawking Bird. Instead of just thighs, this recipe uses a whole chicken, poached to the color pink and hacked up with the bones.
As local readers, one of the joys of <i style="mso-bidi-font-style:
normal">Hawker Fare is seeing how Oakland has changed over the years through Syhabout's eyes. There are snapshots of a downtown Oakland known for prostitutes, drug dealers, and used syringes littering the floor, but also of the strength of the Lao refugee community that's been forced to move elsewhere. There's the Loma Prieta earthquake, his mom's first gig at Berkeley's Cha-Am Thai Restaurant, and Syhabout's rejection from Chez Panisse.
You can celebrate the book release with Syhabout, his family, and Birdsall at Old Kan Beer & Co. (95 Linden St., Ste 11, Oakland) on Sunday, Jan. 28. Tickets cost $85 and come with a signed copy of <i style="mso-bidi-font-style:
normal">Hawker Fare. At the party, enjoy a buffet spread using recipes from the book — prepared fiery and not vegetarian-friendly — and live music from a local Lao band. For more information, visit HawkerBookRelease.BrownPaperTickets.com.