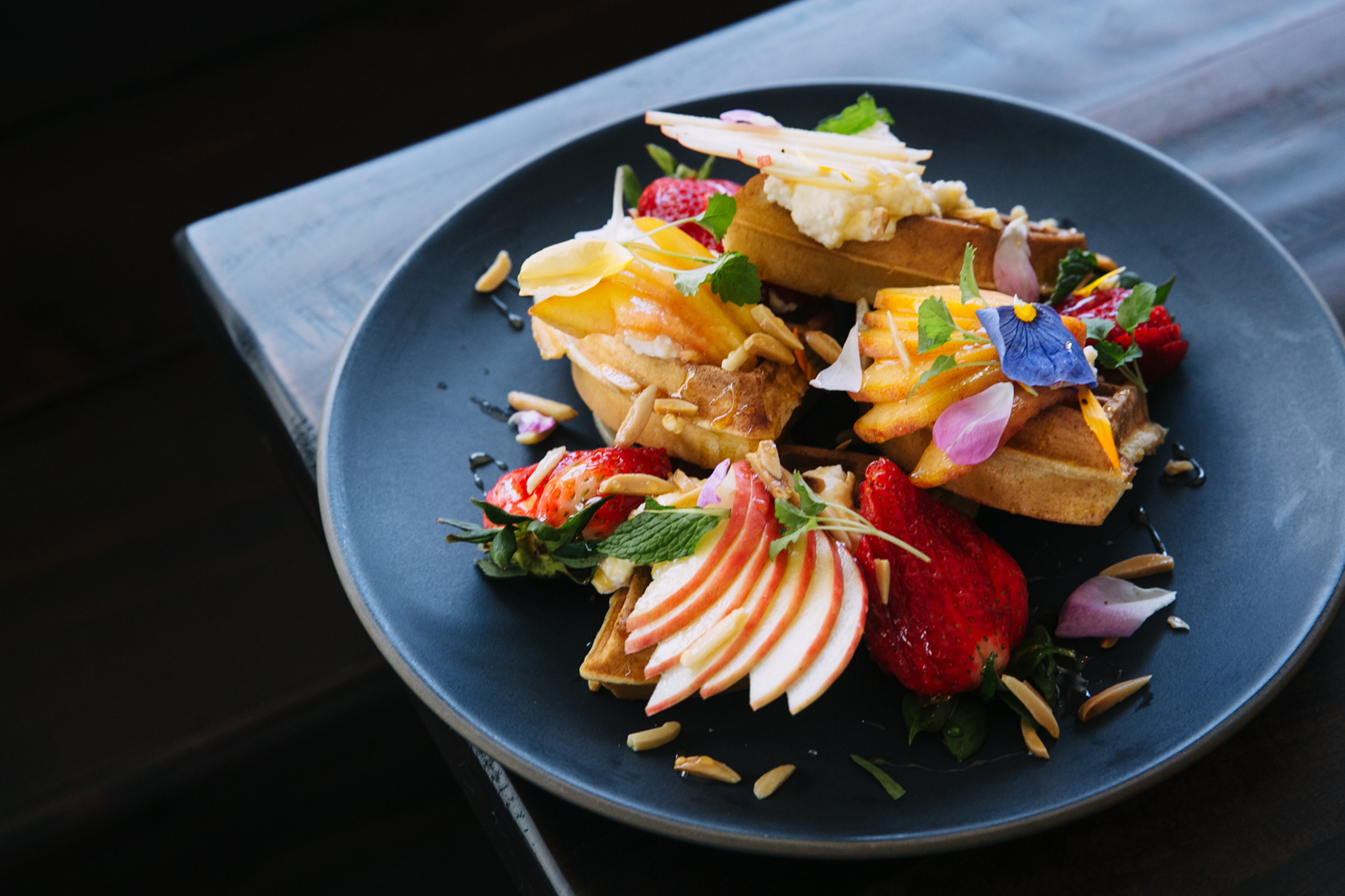 A new restaurant on Alameda's west end aims to bring island flavors to the former Fosters Freeze location, farm-to-table style. On the menu, you'll find silog-style fried chicken and a "not Zippy's" chili and rice bowl. You'll also find edible flowers and freshly picked microgreens on your plates.
Neptune's, still in its soft-opening phase, is an American-style diner currently only open for breakfast and lunch, and helmed by executive chef Naomi Elze-Harris. Born in Hawaii, Elze-Harris mostly grew up in Kansas, and the flavors reflect her favorite foods encountered during her childhood and while living in different parts of the country.
"It's a throwback to all the things I grew up eating, and all the things I still want to keep eating," Elze-Harris told the
Express
. "Every dish has a story, everything is attached to a memory."
Many of the restaurant's co-owners have East Bay roots: Dave Feng of Snowbird Coffee, Rob Feng of Cookiebar Creamery, and John Ngu of Peter's Kettle Corn are all local to Alameda. Eugene Kim of Snowbird Coffee was born and raised in San Francisco. The menu is also a reflection of their favorite foods while growing up in the Bay Area, from Popeye's fried chicken to classic Filipino dishes.
[pullquote-1] The restaurant is part of a larger wave of younger entrepreneurs who want to make their mark in the Bay Area culinary scene. The chef and owners say their goal is to bring good food that's "clean" and that reflects the diversity of the Bay Area.
Their slow-food ethos means that almost all the produce and meat are sourced from within 120 miles, including free-range chicken from Petaluma, meat and thick slices of bacon from Biagio Artisan Meats in San Leandro, and bread from Crispian Bakery in Alameda.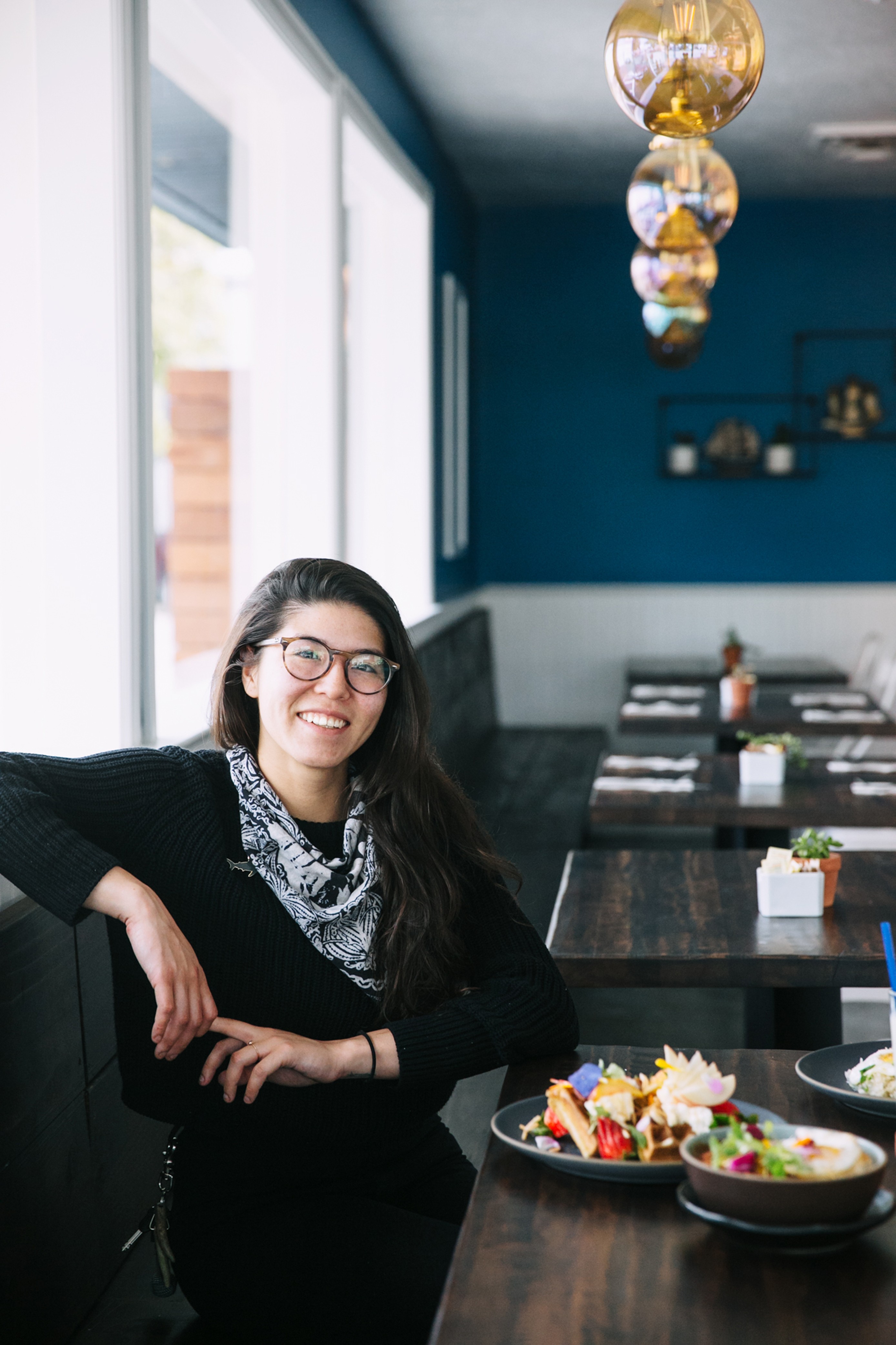 Folks who remember Fosters Freeze may be upset, or surprised, that it's no longer there. Fosters Freeze existed in the location for decades, offering cold treats to many generations. Just steps away from what is now Crab Cove Beach in Alameda, the franchise owner lost their lease in August 2015, according to the store's Facebook page.
In homage to those who grew up at Fosters Freeze, Neptune's has a burger on its menu, served with a housemade brioche, and is working on adding soft serve from Straus Creamery. Elze-Harris wanted to create new food memories for those Freeze fans, too.
The name of the restaurant may imply that it serves seafood, but it's actually a nod to Neptune Beach, the bygone popular boardwalk-amusement park with a roller coaster, carousel, and a Ferris wheel. Neptune's Beach would have turned 100 years old this year, and staff at Neptune's wear commemorative t-shirts (The amusement park closed in 1939, during the Great Depression.) Neptune's interior is completely remodeled with blue walls, tiles, and plates from Sausalito-based Heath Ceramics. There is nice patio seating and a decent amount of parking in the lot.
A noteworthy dish is the silog fried chicken plate. Two pieces of sweet, sticky, peppercorn-flavored fried chicken disappeared quickly, shared among three adults. My favorite was one of the side dishes on the plate, the spicy pickled whole carrots. Elze-Harris says she wants to eventually add more pickled items to the menu, possibly kimchi (Elze-Harris is mixed race/"hapa" and part Korean American). The sticky rice, flavored with bits of toasted garlic, served as the starch base for a beautifully presented dish full of different flavors that all balance nicely on one plate. Plus, the dish also comes with a sunnyside egg ("silog" is a popular Filipino breakfast, which in Tagalog means "fried rice and egg").
Next up were the shrimp and grits. I'll try any place that serves this dish, and Neptune's version is a bit sweet, though the al dente grits are a nice touch. The smaller bay shrimp may come as a surprise to diners; don't expect jumbo pieces with heads, tails, and the shell still on.
The Not Zippy's Chili And Rice bowl is a must try (you can add a fried egg to this one, too). It's a nod to the Hawaiian chain restaurant that serves a famous chili dish, and the one at Neptune's is milder, despite the presence of Spam, but still a perfect bowl of comfort food. For those wanting more traditional brunch food, "The Standard" should be a hit. It comes with two eggs any style, thick toast, two hearty pieces of bacon, a salad and hash browns.
While the restaurant is focused on sustainability, the staff doesn't over-explain things on the menu, but were helpful when asked. The fried chicken and waffles plate comes with a big, green, simply dressed salad that perfectly balanced the stronger flavors of the fried chicken. The salad reminded me of the best types of salads — fresh greens that were just picked and washed, with a no-frills dressing. I remember the first salad I ate at Chez Panisse: I was blown away by its simplicity. A lot of restaurants just go with the easier and cheaper pre-made mixed greens; Neptune's goes the extra mile by serving local produce. The restaurant also has a full espresso bar, with coffee from San Francisco's Snowbird Coffee.
Not everyone may be pleased with the closure of their childhood favorite soft serve place, but Elze-Harris aims to please. During one busy weekend brunch service, the chef took time to walk around, chat with diners, and even explain how she prepares some of the dishes.
Feng, co-owner of Cookiebar Creamery who passed by Fosters Freeze on his daily trek to school, says that Alameda used to be a place that wasn't seen as "cool." Now, he views the city as a place that is changing for the better. "It's cool to be a part of that growth," Feng said. "We want to give it our own flair."
Neptune's, open for its fourth week now, plans to expand to dinner hours later this summer or in the fall, including inviting local chefs to host pop-ups.
Neptune's
630 Central Ave, Alameda
510-263-9438
NeptunesAlameda.com

Sample Menu
Not Zippy's Chili And Rice $14
Fried Chicken With Waffles $16
Cheesy Shrimp & Grits $14
The Standard $12