Nef the Pharaoh (Tonee Hayes) seemed antsy when I met him last week at a recording studio in Pacheco, an East Bay suburb near Concord. Since his hit, "Big Tymin," earned him a deal with E-40's Sick Wid It Records earlier this year, the twenty-year-old Vallejo rapper has been in non-stop creative mode.
A few days after our interview, Nef would play a packed release show at the New Parish in downtown Oakland to celebrate his new, self-titled EP. But that afternoon, he appeared anxious to get back to work on his debut album, My Great Impression. As we chatted in the secluded entryway of his studio, a beat emanated from inside whenever someone opened the door. Nef occasionally trailed off in between answers to check his phone or exchange words with his gaggle of collaborators, who seemed eager for him to return to the booth.
In contrast to his cocky lyrics, Nef is soft-spoken in person, with the body language of someone who hasn't quite gotten over his childhood shyness. A small tattoo of an ankh, the ancient Egyptian symbol of eternal life, sits between his eyebrows. "When I was in high school, we started studying ancient Egypt and I got hooked into that and how my people were once kings and queens," he explained. The tattoo is a nod to his moniker's origin — and his voracious ambition.
Though "Big Tymin" is ubiquitously popular, Nef sees it as only the beginning of his career. Instead of coasting on his current success, he's bent on writing an impactful first album that will top his impressive foray into the music industry. "Big Tymin" is still on heavy rotation on 106.1 KMEL and at local clubs, and has millions of plays on YouTube and SoundCloud. It's also featured on Spotify's taste-making Rap Caviar playlist, which includes mostly mainstream artists such as Young Thug and Future. A remix by Ty Dolla $ign and YG appears on Nef's new EP and helped boost "Big Tymin's" national reach.
"Big Tymin" has the makings to become a Bay Area hip-hop classic, but the popularity of the track has its pitfalls. Nef said that he sees how an artist in his position could easily get trapped under the one-hit-wonder label. My Great Impression, he explained, will be his opportunity to demonstrate his versatile songwriting abilities and show the world that his first hit was not a fluke.
"If you allow yourself … you will be the 'Big Tymin' guy," he said. "[You can't] slack off and be like, "Big Tymin' is poppin', it's on the radio, I'm cool,' when it's not like that. You should think of it as, 'Your song's on the radio everywhere, it's poppin' right now, so that's more drive to get another one on the radio while the door is open and everybody's looking at you.'"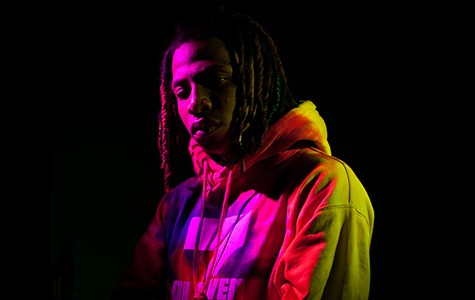 Fortunately, Nef couldn't have a better mentor to help him navigate the music industry than E-40, Vallejo's most well-known rapper since the late Mac Dre. E-40 has been a definitive voice of Bay Area hip-hop since the early Nineties, and his 2006 album, My Ghetto Report Card, soundtracked the hyphy movement with hits such as "Tell Me When to Go." Considered one of the most successful independent artists in the industry, he's remained a trendsetter throughout different eras of hip-hop and his output has been consistently prolific and well-received. ("Choices," which Rick Ross and Migos recently remixed, is his latest hit.)
Getting a feature on an E-40 song is a benchmark for up-and-coming Bay Area rappers, and E-40 is picky about whom he chooses to put on. His decision to take on Nef as a protégé is even more of an anomaly. "That's a blessing, to be around 40 and getting his game every day and getting his knowledge," said Nef. "It's like the rapper's guide to longevity. … He's always up-to-date. You can go into a coma for five years, come back, and have nothing but a CD player with E-40 CDs and catch up with time."
Outside of music, E-40 is involved in a number of entrepreneurial projects — most notably, his line of alcoholic beverages, Earl Stevens Selections. Already, Nef seems to be following his lead. His collection of pre-rolled joints with Egyptian-themed packaging will soon be available at various Bay Area cannabis clubs, and he's preparing to launch an apparel line and his own record label, KILFMB. KILFMB, Nef explained, stands for Keep It Lit for My Brothers — an acronym that invokes living life to the fullest in honor of those who can't. "It's basically what I stand for, what I rap for," he added.
Nef said his initial meeting with E-40 went down the way he described it in his verse on the first song they did together, "707," an homage to their shared North Bay area code. One day, Nef unexpectedly got a call from Cousin Fik, another rapper from Vallejo. Fik said that E-40 listened to Nef's earlier mixtapes and wanted him to do a verse on "707." That same day, Nef finalized the details with E-40 over the phone and recorded his feature.
"Shout out to Cousin Fik," Nef enthused. "Cousin Fik always keeps his ears to the youngsters of Vallejo."
Not long after that, E-40 recruited Nef to Sick Wid It, which put out his long-awaited, self-titled EP last week. The project features "Big Tymin" and "Boss Me," another big, upbeat party anthem, but also delves into vulnerable themes that fans might not expect from the young lyricist. While "Boss Me" and "Meantime" are graphic and raunchy, the EP's other tracks eschew shock factor in favor of subtle, poetic verses.
"Come Pick Me Up" is the project's unexpected stand-out song and a testament to Nef's capacity for insightful storytelling. On it, he reflects on his tumultuous upbringing, becoming a father at a young age, and the cycle of poverty and crime in his South Vallejo neighborhood. Amid personal confessions, he delivers poignant societal observations: Probably would have been dead or in jail, on some mainy shit/You glamorize the hood and poverty, I came from it. The high-pitched vocal sample on the track's beat comes in like the sun peaking through the clouds on a rainy day, and "Come Pick Me Up" ends on an optimistic note despite the somber subject matter it addresses.
Though Nef the Pharaoh has generated a lot of buzz on social media, the rapper seems unfazed. He said that while he's proud of the songs on his EP, he's confident My Great Impression will be his definitive artistic statement.
"There's a bunch of good music on there, but there's only six songs," he shrugged. "It's for people whose stomachs weren't all the way full. It's gonna give them something to hold them off until the album comes out. … And I want people to talk about that album for years — talk about those songs; talk about how they felt when they heard that music."