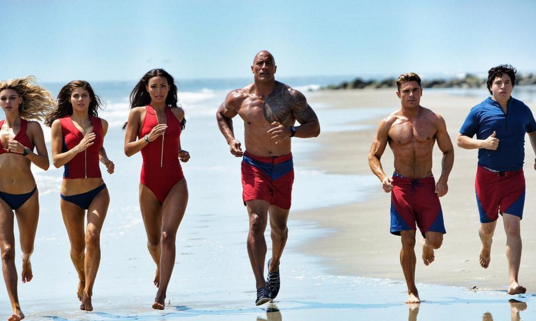 Speaking of precipitous plummets: Hey, what happened there, Seth Gordon? After kicking off his filmmaking career with the ridiculously entertaining 2007 documentary
The King of Kong: A Fistful of Quarters
, as well as directing several episodes from the "peak" eras of
Community
,
Parks and Recreation
and
The Office
, there were reasonable expectations of comedic competence from Gordon. Instead, his first four features form a guffaw-free study in sour cynicism:
Four Christmases, Horrible Bosses, Identity Thief
, and just when you think the common denominator can't sink any lower, here comes
Baywatch
.
Technically,
Baywatch
is a comedy spin on the 1990s syndicated staple starring David Hasselhoff and Pamela Anderson as lifeguards with a liberal idea of jurisdiction, but the only influence that really matters here is the
Jump Street
franchise. The mission statement is the same — turn an outdated cheeseball TV drama into a soft-R, nostalgia-tickling bro-buddy action comedy — and so is the formula. Zac Efron and Dwayne Johnson were hired as mismatched stars, key cameos were secured, a plot about a mysterious designer drug was devised, nudge-nudge self-references were sprinkled throughout.
Add in the requisite roster of bathing suit-stuffing beauties, led by Alexandra Daddario, and you have an airtight package that seems to write itself. Instead, the screenplay is credited to Damian Shannon and Mark Swift, a team whose only other produced scripts are
Freddy vs. Jason
and the 2009 remake of
Friday the 13th
. Both of those films are funnier and less disturbing than
Baywatch
. There are low-budget, softcore, straight-to-late-night-cable, bikini carwash company movies with sharper comedic chops than this major motion picture. Even the always reliable Hannibal Burress fails to get a laugh.
This is a movie in the very loosest sense of the word — more accurately, it's a joyless succession of pop culture buzzwords and lazy putdowns. Almost every scene feels like it was created for the trailer; almost every shot is framed to appease corporate sponsors. The only exception is a seemingly endless sequence toward the beginning of the film that involves a plucky slob who gets his genitals stuck in a beach chair — according to recent Pentagon leaks, that scene was created to torture prisoners of war.