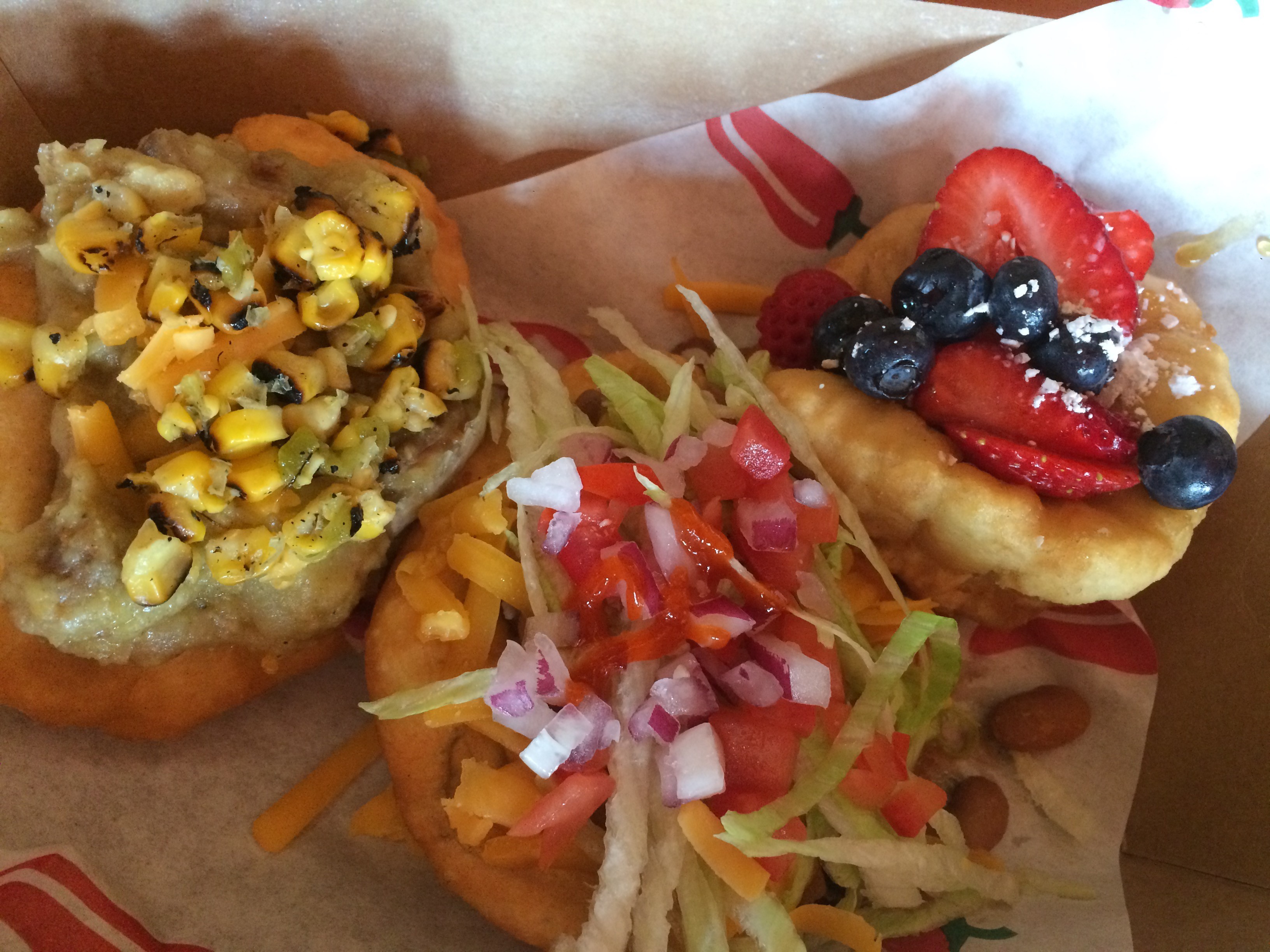 Fry bread is a food that was created in the 1800s during a dark period of American history: from the enslavement of first nations peoples by the U.S. Army who were given government rations like flour, yeast, salt, sugar, and powdered milk. "We call it slave bread," said Rocky Yazzie, who grew up on a Navajo reservation in New Mexico. "We always used masa."
Now, fry bread has taken on a life of its own. In Arizona, Navajo tacos were voted the state dish in 1995. South Dakota designated fry bread as the official state bread in 2005. Sweet fry bread, often seen at state fairs, is also known as elephant ears.
Yazzie runs Rocko's Tacos at The Lodge (3758 Piedmont Ave., Oakland) on Sunday, Monday, and Tuesday evenings, serving his version of Navajo tacos. The typical way of eating it is simple: "Fry bread and beans is what you're usually eating. It's what you would get on a reservation. It's super OG," Yazzie said.
When you have extra toppings, "it means something good happened," like a wedding, a celebration, or payday, he added. "We didn't have refrigeration on the rez. Whatever we buy, it would go that day. If you see cheese and lettuce, it would be special."
Yazzie's fry bread is made from flour, baking powder, salt, and warm water. Slightly crunchy on the outside, and pillow-y on the outside, it's the perfect palm-sized comfort food.
Typical toppings can include a combination of beans, beef, lettuce, tomatoes, and shredded cheese. Yazzie, a Scottsdale Le Cordon Bleu grad, adds his own flair. Think fry bread with hatch green chili sauce, pork potatoes, and roasted corn salsa. Or a vegetarian Navajo taco with New Mexican red chili beans, cheese, and tomatoes (vegan without the cheese). A sweet one could be dusted with powdered sugar, drizzled with honey, and filled with fresh strawberries and blueberries.
Tacos are $6 a pop, with half off Tuesdays, but Yazzie insists he just wants to feed the people. "It's a suggested donation. I don't care if people don't have cash. Just eat. I'm not turning away anyone for not having cash."
When Yazzie first started, he was cooking on a camp stove on an ironing board outside of a San Francisco bar, Pops. He gained a following over time and ended up cooking at El Rio for five years.
Yazzie is also a part of Turqouiz Noiz as a guitarist and vocalist. It's an indie rock band that he describes as "ratchet rock" and "powwow punk." His other job is working at Helios in West Oakland as a stained glass builder. Yazzie hopes to one day start his own restaurant, serving Southwestern food and traditional Navajo dishes.
While the Navajo tacos are a unique offering to the East Bay, Yazzie shares a kitchen at The Lodge with "Mikey" Yoon, who operates Lovely's on the other days of the week: Wednesdays through Saturday evenings. Yoon serves his interpretation of Southern food: burgers, fried chicken, and hush puppies. Yoon grew up in Baltimore with parents who owned a deli that sold hamburgers, fried chicken, and Philly cheese steak: "No frills, mom and pop Americana food."
While seemingly simple, these comforting dishes belie Yoon's cooking pedigree: He also makes seasonal farmers market salads that are fit for a Sunset Magazine photo shoot — think fig and tomato salad from Fully Belly Farm with blue cheese from Point Reyes.
Yazzie, who is from a Navajo reservation in Four Corners, N.M., says he learned how to cook from his grandmother. His recalls first time making fry bread was when he was 5. "Everything I'm doing is what my grandma taught me. It's all instincts. It tends to take care of me well."