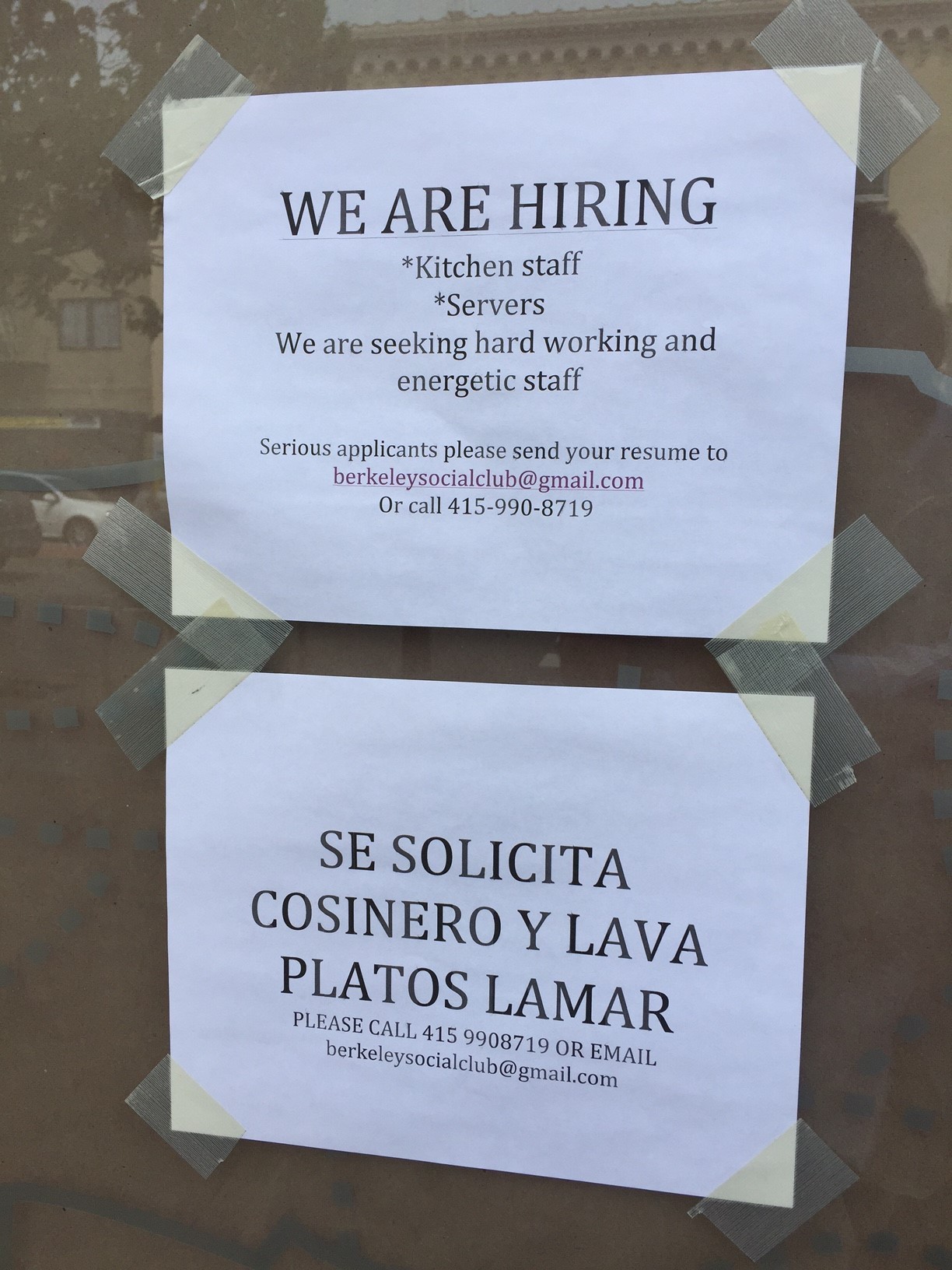 Another set of hiring signs has Berkeley workers upset. According to photos sent to the
Express
, two signs were posted in the front window of the soon-to-be opened restaurant the Berkeley Social Club (2050 University Avenue), one of which was written in English and asked for kitchen staff and servers, while the sign, written in Spanish, mentioned only cooks and dishwashers.
[jump] North Oakland resident Pablo Traverso works around the corner from the soon-to-open restaurant. After seeing the signs, he e-mailed the listed address on Tuesday, April 26 asking that the signs be changed so that all available positions are advertised in both languages, but Traverso said he has yet to receive a response.
"It's a shame that an identical situation happened at Pappy's and was repeated by a unopened business," said Traverso, referring to a story the
Express
wrote in January about a similar set of signs posted inside 
Pappy's Grill & Sports Bar
in Berkeley. "You see these discriminatory hiring business practices in the East Bay restaurant industry."
"I bet the owner doesn't realize they are inherently being discriminatory," Traverso continued, "and if they do realize, that's even a larger problem."
As it turned out, the restaurant owners at the unopened Berkeley Social Club said they did not know what the signs were saying. Bee Saipinthong, the owner who answered the phone number listed on the signs, told the
Express
there had been no prior complaints, and that the business would remove and change the signs immediately. She said she asked someone else to produce the signs for her, but did not identify that person.
"We will take the sign off. We didn't have any intention to do that," said Saipinthong. "I know Berkeley is conscious about this, from my heart I don't have any intention to offend anybody."