Stories you shouldn't miss:
1. The massive Rim Fire is continuing to rage in the Sierra and has now burned nearly 150,000 acres — an area that is more than four times the size of Oakland. Yesterday, the blaze burned down Berkeley Family Tuolumne Camp, a popular destination for East Bay families for the past 91 years. The huge fire also has been moving closer to Hetch Hetchy Reservoir, which is the primary water source for the City of San Francisco and supplies freshwater to communities throughout the Bay Area.
[jump]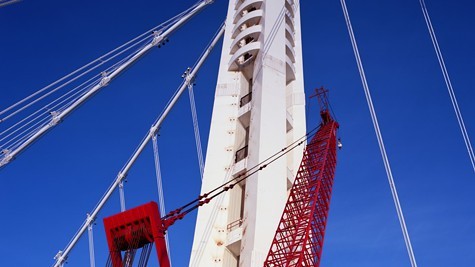 2. Early tests of steel rods on the new Bay Bridge have gone well, and show that hundreds of bolts will not have to be replaced, even though they are similar to the 32 rods that snapped earlier this year, the CoCo Times reports.
3. Governor Jerry Brown's administration has agreed to give the state's prison guards a 4 percent raise over the next two years and make it easier for them to earn overtime, the SacBee$ reports. The raise takes effect January 1, 2015.
4. California prion officials must pay an atheist parolee compensation for locking him up after he refused to partake in a religious twelve-step program, the LA Times$ reports. An appellate court said the state violated the parolee's constitutional rights.
5. And San Jose is poised to become the largest city in California to ban plastic foam food containers, the Mercury News reports. Plastic foam, also known as polystyrene, is not recyclable.