Stories you shouldn't miss: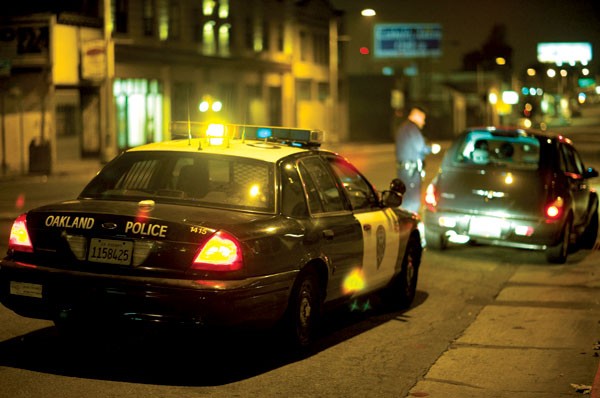 1. The Oakland Police Department
is still disproportionately stopping and searching Black residents who have done nothing wrong
, the
Chron$
reports, citing OPD stop data. Police often cite "reasonable suspicion,'' which is an extremely vague legal standard, for stopping and searching Black people in Oakland. Of those stopped by OPD for reasonable suspicion from September 2014 to September 2015, 70 percent were Black, even though African Americans make up 26.5 percent of the city's population. In addition, the vast majority of those stops did not result in an arrest or the discovery of contraband.
2. A San Francisco judge is urging the California Public Utilities Commission (CPUC)
to turn over emails between Governor Jerry Brown and CPUC chair Michael Picker regarding a controversial deal to shut down the troubled San Onofre nuclear power plant
in Southern California, the
Chron
reports. The deal has come under intense criticism because it allowed San Diego Gas & Electric Company to pass off to its customers 70 percent of the $4.7 billion costs associated with closing San Onofre. The CPUC, however, maintains that the email exchanges between the governor and Picker concerning the shutdown deal are not public.
[jump] 3. California homeowners
who have installed rooftop solar panels are increasingly angry
about a provision in a new law signed by Governor Brown that excludes home solar owners from receiving subsidies for going green, the
LA Times
$ reports. The law states that only large utilities, like PG&E, can receive the subsidies when they build giant solar or wind farms.
4. US Senator Dianne Feinstein
is urging President Obama to use his executive powers to protect sections of the Southern California desert from development
— including blocking the construction of massive solar farms in certain areas, the
Chron
reports. Congressional Republicans strongly oppose Feinstein's proposal because it would also block mining in the desert areas.
5. And the gun that was used to kill Oakland muralist Antonio Ramos
was stolen from the car of an Immigration and Customs Enforcement agent
, the
Mercury News
$ reports. It was the latest in a series of high-profile murder cases in the Bay Area in which the weapon used had been stolen from a law enforcement officer.