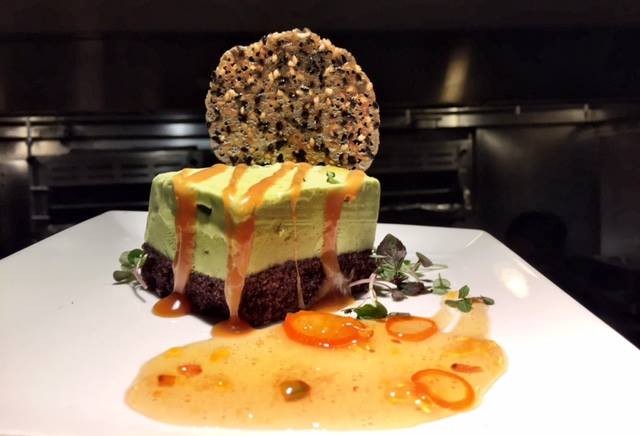 Welcome to the Mid-Week Menu, our roundup of East Bay food news.
1) Oakland is now home to what is probably the Bay Area's most well-known vegan fine-dining destination:
Inside Scoop
reports that Millennium Restaurant will softly open for dinner service this Thursday, June 4 in its new Rockridge location at 5912 College Avenue — the former Box & Bells spot. The restaurant was a fixture in San Francisco since 1994, but its founders recently lost their lease at the Hotel California. As the
Chronicle's
Jonathan Kauffman
notes
, high-end vegan (aka "plant-based") cooking has changed a lot since the Nineties, and it will be interesting to see how chef Eric Tucker's food evolves in the restaurant's new East Bay digs.
[jump] 2) Journalist and filmmaker
James Boo
has a new documentary out about Jodie's Restaurant, the beloved and much-lamented greasy spoon, which
shut down last year
after prolonged difficulties with the health department. The film,
"Nothing With Something: Death of a Diner,"
takes its title after one of the tiny Albany institution's many
punnily-named breakfast specials
. No word yet on Bay Area screenings of the film, but you can watch the trailer below — I got a little choked up by the end. Long live Jodie's. May Jodie's rise again.
[embed-1]
3) In other, happier breakfast news:
Tablehopper
reports that Sequoia Diner (3719 MacArthur Blvd., Oakland) is officially open as of this past weekend. The restaurant aims to apply the Bay Area food scene's time-worn 
local/sustainable/seasonal cooking principles
to breakfast foods.
4)
Inside Scoop
reports that Chowhaus (6118 Medau Pl., Oakland), the
most high-profile restaurant to open in the Montclair neighborhood
in recent memory, is open for business and serving breakfast, lunch, and — as of tomorrow — dinner.
5) Kobani (1901 University Ave.), a
kebab
restaurant with Kurdish roots, is now open in Berkeley,
Berkeleyside Nosh
reports.
6) If free ice cream is your thing, and you aren't averse to long lines, here's a relevant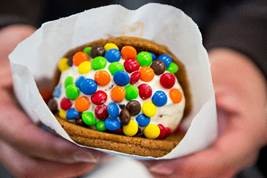 news alert: The new Rockridge location of
CREAM
(6300 College Ave.), the Berkeley-based ice cream sandwich chain, is giving away free ice cream sandwiches all day for its
grand opening
on Saturday, June 6, from noon to midnight.
7) Newberry Market,
Uptown Oakland's forthcoming grocery store
,
announced
that it has hired Shawn Walker-Smith — of the Oakland-based popup/wholesale business
Tart Bakery
— to head up its bakery and cafe. If you're a fan of the scones sold at Oakland's Arbor Cafe, among other places, this is good news!
8) 18 Reasons, the Mission district food-education nonprofit, is hosting a
brunch in Oakland
on Sunday, June 7, to raise money for its Cooking Matters program, which offers free cooking classes to low-income Bay Area families — including East Bay participants, who attend sessions in
Oakland, Berkeley, Richmond, and Hayward
. The
$20 brunch
will take place 11 a.m.–1 p.m. at Oakland's Humanist Hall (390 27th St.).
9) A16 Rockridge (5356 College Ave.) is running a special
$35 prix-fixe menu
this week to celebrate its second anniversary. The menu features dishes from the restaurant's early days.
10) Finally, ICYMI, West Oakland's City Slicker Farms is now a
landowner
.
Got tips or suggestions? Email me at Luke (dot) Tsai (at) EastBayExpress (dot) com. Otherwise, keep in touch by following me on Twitter @theluketsai, or simply by posting a comment. I'll read 'em all.