Welcome to the Mid-Week Menu, our roundup of East Bay food news.


Oakland Tribune
reports that owner Gary Rizzo packed up all of the equipment on a Wednesday night two weeks ago, and by Thursday morning he'd left behind an empty shell of a restaurant along with a note, since removed, that was a masterwork in passive aggression. You can read the whole thing
here
(h/t
Inside Scoop
), but choice quotes include him saying that the building's owner drove him out so that he could build condos in that lot, and that the owner had "insanely and almost criminally claimed" that the restaurant's food was low-quality.
No word yet on whether condos are, in fact, in the works, or whether owner Alex Hahn will find another restaurant tenant. Here's to hoping the space doesn't stay empty for long: Prior to the Kwik Way's reopening, the abandoned building had been a blight on the neighborhood for years.
[jump]
2) Inside Scoop reports that, after ten years of business, Oakland's Montclair Bistro (6118 Medau Place) will close this fall. It will be replaced by Chowhaus, a New American restaurant owned by Joe Schnell and Tracey Belock, the latter of whom was the chef at the since-departed Disco Volante and, most recently, at downtown Oakland's Tribune Tavern. (We aren't sure if this news means that Belock has left her position at Tribune Tavern — we've reached out to the restaurant for confirmation.)

3) Excellent news for lovers of Japanese curry: Muracci's Japanese Curry & Grill, which serves about as good a katsu curry rice as I've had in the US, is opening a new location — its third — in Berkeley, hopefully by mid-August, SFoodie reports. The restaurant will take over an as of yet undisclosed location near the UC campus — though at least one online footprint suggests it might be the former So Oishi spot at 2428 Telegraph Avenue.

4) In other Berkeley-centric Japanese restaurant news, Berkeleyside Nosh reports that a new sushi spot called Sushi Secrets (2110 Shattuck Ave.) has opened in a space formerly occupied by a bubble tea shop. The specialty of the house appears to be different variations on the sushi burrito, presumably a giant, hand-held thing in a similar vein as what's served at places like San Francisco's Sushirrito.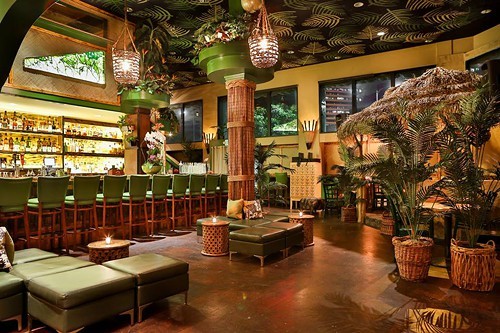 5)
Longitude
(347 14th St.), the new tiki-style bar in downtown Oakland from Suzanne Long — a noted expert in the genre — is very close to opening,
Tablehopper
reports. Features include a bar made with slabs from a Hawaiian monkeypod tree and a bona fide East African-style hut that groups will be able to reserve. The bar program will feature classic tiki cocktails and a large, internationally-sourced selection of whiskeys and rums. The food, courtesy of chef Laine Steelman, will range from hearty British pub fare (bangers and mash, anyone?) to takes on things like a pu pu platter and Crab Rangoon. Tablehopper has a sneak peek at the
full menu
.
Update:
Long tells me that Longitude's official grand opening will be this Friday, August 15, starting at 4 p.m.
6) On Wednesdays and Thursdays, the Beer Shed (the beer garden section at James Syhabout's
Dock at Linden Street
) has started offering a free beer — a pint of Linden Street Brewery's New Oakland Glow — to folks who work in the restaurant and bar industry,
Eater
reports. Bring a pay stub to verify your industry creds.
7)
Corso
(1788 Shattuck Ave.), an Italian trattoria in North Berkeley, has a new chef,
Eater
reports. With Scott Eastman at the helm, the restaurant has swapped out its wood-burning pizza oven for a salumi cooler and a renewed emphasis on Northern Californian ingredients. I'm told the house-made pasta is notable too, featuring rarely seen varieties such as thick strands of
tonnarelli
. Check out the new menu
here
.
8) Malong Pendar, the proprietor of Taste of Africa (an amazing Cameroonian pop-up that was the subject of one of my very first
What the Fork stories
), is apparently facing financial difficulties that threaten the survival of his business. Some friends have taken up his cause via the crowdfunding platform
Indiegogo
; feel free to chip in if you want to help. (Hat tip:
East Bay Dish
.)
9)
Youth UpRising
, an Oakland nonprofit with health services programs designed by and for young people, is hosting its annual fundraiser, "
Blues, Brews, & Bites,
" this Sunday at West Oakland's
Linden Street Brewery
(95 Linden St.). Linden Street, Lagunitas, Drakes, Trumer, Pacific Coast Brewing, and Pyramid Alehouse will be pouring brews; Pinx Catering,
Corners Cafe
(a restaurant run by the Youth UpRising kids), and two or three prominent Oakland restaurants still to be determined will provide the bites — think pulled pork sliders, jalapeño hushpuppies, chicken-and-waffle skewers, and red velvet cookies.
A
$35 ticket
comes with a souvenir mug, unlimited beer, and food; $25 pays for two beer tickets and food. There will also be dancing and live music courtesy of local blues musician Rick Baskin.
10) Finally, ICYMI, a new, more personal, wine shop called
Bay Grape
is close to opening;
The Grease Box
is now a gluten-free bakery (that serves fried chicken); and Ume has launched
lunch service
.
Got tips or suggestions? Email me at Luke (dot) Tsai (at) EastBayExpress (dot) com. Otherwise, keep in touch by following me on Twitter @theluketsai, or simply by posting a comment. I'll read 'em all.