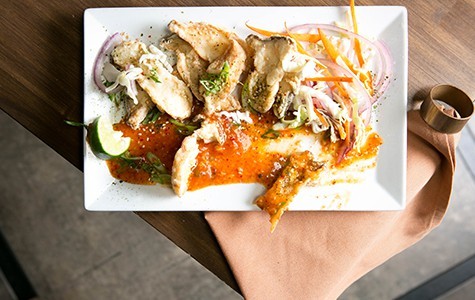 Welcome to the Mid-Week Menu, our roundup of East Bay food news.
1) Today, the Michelin food inspectors dropped their
2016 Bay Area "Bib Gourmand" list
— for restaurants where you can get two courses and a glass of wine or dessert for $40 or less (a somewhat amorphous set of criteria that allows some rather expensive restaurants to make the grade). This year's East Bay selections: Chevalier (Lafayette), China Village (Albany), Comal (Berkeley), Corso (Berkeley), FIVE (Berkeley), Gather (Berkeley), Great China (Berkeley), Ippuku (Berkeley), Michel Bistro (Oakland), Millennium (Oakland), Rivoli (Berkeley), Thai House (Danville) and Wood Tavern (Oakland). Oakland restaurants remain — in this critic's humble opinion — criminally underrepresented.
[jump] Left off the list were 2015 Bib Gourmand honorees Bellanico (Oakland), Iyasare (Berkeley), and Ramen Shop (Oakland) — but, as
Inside Scoop
notes, it's unclear whether all three of those were downgrades, or if any of them will be getting good news when next week's star recipients are announced.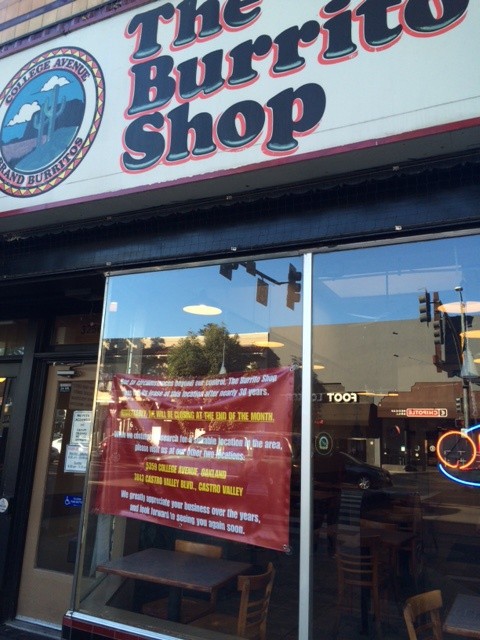 2) The Lakeshore location of Burrito Shop (3256 Lakeshore Ave., Oakland) closed at the end of September after nearly thirty years in business. Owner Dave Spott told me the restaurant lost its lease after he made multiple attempts to negotiate with his landlord on a higher, market-rate lease, but received no response. The
local mini-chain's
other two locations, in Rockridge and in Castro Valley, remain open.
It had been widely assumed — by Spott and in
earlier reports
— that the Burrito Shop space would be used for an expansion of the Peet's next door. But when I reached out to Peet's, a spokesperson denied the rumor and said, via email, "We do not have plans to expand the Peet's location on Lakeshore at this time." The space is currently listed as available
for lease
.
3) In a clever bit of cross-promotion, it appears that Coach Sushi (532 Grand Ave., Oakland), one of the restaurants where
East Side Sushi
was filmed, now serves a version of the Green Diablo Roll, a Latin fusion sushi roll that the protagonist creates in the film. There's a brief description of the roll, which is made with a roasted poblano pepper, in this
Remezcla
interview with filmmaker Anthony Lucero.
4)
Inside Scoop
reports that North Oakland vegan standby Shangri-La Vegan (4001 Linden St.) is adding a second location, at the former Tanjia/
Doukkala
spot (4905 Telegraph Ave.) in Temescal.
5) Over in Berkeley, the new incarnation of the beloved watering hole
Spats (1974 Shattuck Ave.) is finally open
, and the Cal-cuisine restaurant Gather (2200 Oxford St.) has a new chef:
Tu David Phu
, a veteran of Acquerello in San Francisco and Flora in Berkeley. (High-rollers can also check out Phu's food at the UC Berkeley Botanical Garden's $125
fundraiser dinner
on Saturday.)
6) The newest addition to the revamped Emeryville Public Market will a location of the Portland-based natural grocery store New Seasons Market,
Inside Scoop
reports.
7)
Berkeleyside Nosh
reports that the Albany location of Little Star Pizza has completed its move — just next door, to 1181 Solano Avenue.
8) Despite complaints from neighbors concerned about noise, Acme Bar (2115 San Pablo Ave., Berkeley) just got approval from Berkeley City Council to expand alcohol service to the bar's outdoor patio, the
Bay Area News Group
reports.
9) Finally, ICYMI, Perdition Smokehouse
closed unexpectedly
, and a
new delivery service
will bring growlers of draft beer to the doorsteps of East Bay residents.
Got tips or suggestions? Email me at Luke (dot) Tsai (at) EastBayExpress (dot) com. Otherwise, keep in touch by following me on Twitter @theluketsai, or simply by posting a comment. I'll read 'em all.